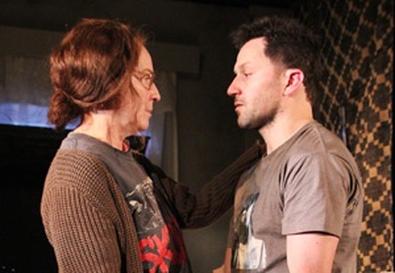 Winner of the 2009 Helen Hayes Award for best new play, "Honey Brown Eyes" asserts that civilians and soldiers on both sides of the Bosnian War were capable of incredible kindness. In making this point, Stefanie Zadravec's promising script occasionally totters on the brink of oversentimentality or hinges on credibility-straining coincidence, but Working Theater's production is easily rescued by a vivid staging from director Erica Schmidt and disarming performances from the cast.
Set in the town of Visegrad during the Serbian ethnic cleansing campaign of 1992, the play's cold opening finds a wired Serbian militiaman, Dragan, holding a panic-stricken Croat woman, Alma, at gunpoint in her kitchen. Her apartment complex is being looted, the occupants killed or, in the case of the women and girls, raped. As Dragan sniffs around for the young daughter he believes Alma is hiding, Alma realizes that he played in a rock band with her brother years ago, and Dragan admits he always had a crush on her. Though this remarkably convenient prior relationship doesn't lead to an obligatory happy ending, Dragan's sudden desire to do right by Alma and her daughter still fails to impress in light of the other horrific acts we learn he has committed. Act 2 finds Alma's resistance fighter brother, Denis, in Sarajevo, where he spends a delightful evening with a kind Serbian woman who agrees to give him sanctuary. American pop music provides the soundtrack, as well as an alleviating topic of discussion for the characters throughout.
As Alma and Dragan, Sue Cremin and Edoardo Ballerini offer authentic reactions to their strange circumstances, exhibiting a familiar though agitated chemistry. Kate Skinner is charmingly abrupt as Jovanka, the dear old lady who takes in Denis, who registers affecting levels of despair in the able hands of Daniel Serafini-Sauli. The set design by Laura Jellinek is thorough enough to include the insulation behind the kitchen's walls and ceiling, which exquisitely hints at Alma's daughter's hiding place.
Presented by Working Theater at the Clurman Theatre, 410 W. 42nd St., NYC. Jan. 16–Feb. 6. Tue., 7 p.m.; Wed.–Fri., 8 p.m.; Sat., 2 and 8 p.m.; Sun., 3 p.m. (Additional performance Wed., Jan. 19, 2 p.m.; no performance Fri., Feb. 4.) (212) 239-6200, (800) 432-7250, or www.telecharge.com. Casting by Judy Henderson.