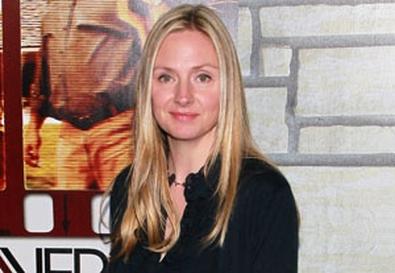 Although Hope Davis, star of the new comedy feature "The Family Tree," was nominated for an Emmy and a Golden Globe for playing Hillary Clinton in the HBO film "The Special Relationship" and an Emmy for playing Mia on HBO's "In Treatment" and was named best actress by the New York Film Critics Circle for her work in "American Splendor" and "The Secret Lives of Dentists," theater is her first love. Even after more than 380 performances on Broadway and in Los Angeles as Annette in "God of Carnage"—for which she received a Tony nomination—Davis says she was sad to see the show end. That may be surprising for someone who claims that she once had stage fright so bad, she considered quitting acting.
Back Stage talked with Davis about her fear of auditioning, how she got over it, what inspired her to become an actor, what she thinks about the upcoming film version of "God of Carnage" (which she's not in), and how one simple piece of acting advice has stuck with her more than any other.
Back Stage: When did you realize you wanted to be an actor?Hope Davis:
When I went to London for my junior year of college. I took this theater studies program and studied with various teachers from the RSC [
Royal Shakespeare Company
]. I just thought it would be a really interesting life. I thought it wouldn't be boring for a minute, and in fact it hasn't been. It just unfolded from there. That year in London, I saw a million plays. I saw Anthony Hopkins on stage and Tony Sher and Roger Rees and Helen Mirren, and I just thought this was the place to be. Of course, I've never been on the London stage in my entire career. Although that may change next spring.
Back Stage: Why? What's happening next spring?Davis:
There's a chance "God of Carnage," the play that we did on Broadway and in L.A., we might do it in London and in Paris next spring.
Back Stage: So what happened after college?Davis:
I didn't feel quite ready for New York. I thought I would just sink there; I didn't want to go there straight from college. So I moved to Chicago with a group of friends. In Chicago at that time, à la Steppenwolf, you could start a theater company in any sort of black box, any storefront space—anywhere, really—and people would come. I stayed in Chicago for four years total and did a bunch of theater there, at the
Goodman
and with various theater companies, and when I felt like I had a little bit of wind behind me, I came to New York. There I was lucky enough to study with Uta Hagen for a couple of years at HB Studio before she became really unwell. Then I studied with Victor Garber, who got me one of my first theater jobs in New York.
Back Stage: Do you remember how you got your SAG card?Davis:
Yes, it was for the movie "Flatliners." I had done a David Mamet play in Chicago called "Speed-the-Plow." Joel Schumacher, a film director, had directed the play, and then he asked me to be in this movie. You have to figure out a way to worm your way in [to SAG]. You can't hope to just walk down the streets of New York City or L.A. and get discovered. You've got to make a little path for yourself. You have to form a plan, some way of coming in the back door. So yeah, getting my SAG card was not so hard.
Back Stage: With "God of Carnage," you did so many performances on Broadway and then in Los Angeles. What's your best advice for actors for keeping a performance fresh every night?Davis:
For those of us who battled nerves during the audition years and stage fright, it does kind of feed you in the end. I was never the person who could joke around backstage and then hit the stage and knock it out of the park. I'm always very nervous. I need to concentrate. I was a very nervous auditioner when I was in my 20s. I was almost paralyzed with nerves, to the point where I thought of giving up a couple of times. I just found the whole idea so daunting. But that kind of works for you with a play like "God of Carnage." A play like that really demands that you be really awake and on, because two seconds later you're going to have a cue and you've got to stay with it. That play is also very unique—it's tremendously fun to do; the cast gets along beautifully; all four of us gave our all every night, so there was nobody that was sleepwalking through it. Really, with that play you couldn't. It's always a challenge to repeat something time after time, but we do find the play really funny and interesting, and that certainly helps a lot. I'm sure there are plays—you wouldn't want to do "Peer Gynt" that many times. [Laughs]. And it's only 85 minutes long, which also helps. I think my stage fright always keeps it interesting for me.
Back Stage: So you're saying you still get stage fright now?Davis:
I don't have trembling hands anymore, but I never feel blasé about the curtain going up. I'm always a little bit worked up right before.
Back Stage: Did you ever get over your fear of auditioning?Davis:
I did, actually. It took me a long time. When you're first starting out, you think you might be good at [acting] but you don't really know if you are, and there's all of that to contend with, along with just the intense competition and how many people are out there. I would say at some point in my 30s, I kind of realized it was something I was good at. It's when you try to prove yourself and nobody knows you—it just feels especially painful. But it's like that for everybody, and you just have to push through. I loved [acting] so much, I couldn't quite give up. I just kind of muscled my way through it. That did go away, thankfully. There are some bits of grace that come with getting older. [Laughs]
Back Stage: Are you interested at all in seeing the film version of "God of Carnage" that Roman Polanski is directing?Davis:
You know, I can't say that I am. I have young kids, and it's pretty hard for me to get to the movies as it is. I can't really understand how it's going to work. I mean, those are great actors: Kate Winslet, I love. Jodie Foster, come on, she's fantastic. But Roman Polanski making a comedy? I don't know. The thing to me that's funny about this play is watching four people moving in and out of one another's spaces, what happens when they get near one another, and what the other two people are doing when someone's speaking. I'm not sure how they're going to capture it on film. I imagine it will be just a totally different animal. I don't know. If it gets great reviews, I'll go see it.
Back Stage: What's the most important acting lesson you've ever learned?Davis:
It's so simple. Actor William Petersen was in "Speed-the-Plow" with me, the play
Joel Schumacher
directed. He was asked a question by someone in a talk-back after the play one night. He said, "I'll tell you what acting is: You have to be the guy." I have to say, over the years that has really resonated for me. You're not trying to show the guy or indicate the guy or explain the guy or make sense of the guy; you have to be the guy. Be the person that the script is telling you to be. You can't judge it and you can't change it; you have to just be it. For an actor, that just makes sense. I have to say I've thought of those words off and on over the years, and they've really helped. A lot of times I think actors become overanalytical, especially stage actors, when you're trying to play these great parts or these great characters, and ultimately you have to just surrender to the words that are on the page.