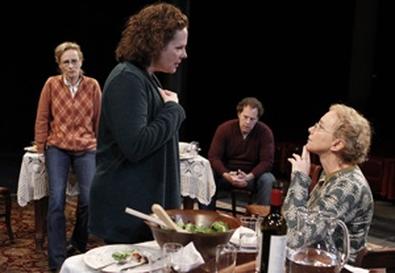 Richard Nelson, obviously disturbed by the sorry state of governance in our country, has lobbed a grenade called "That Hopey Changey Thing" onto the Anspacher stage at the Public Theater. The play, whose title is a reference to Sarah Palin's sneer at Barack Obama's followers, is not a tidy drama; rather, it is an outburst of anger and a plea for reason and hope. Nelson calls it a "disposable play," in the sense that many of its extremely specific references to our current world will soon date it, but I would use two other words: challenging and salutary.
"That Hopey Changey Thing" starts off in a Chekhovian vein as the Apple clan gathers in Rhinebeck, N.Y., on Nov. 2, 2010, for a dinner party. Richard is a lawyer who works in Andrew Cuomo's office. His sister Marian is a Democratic activist in Rhinebeck. Their sister Barbara teaches school in Rhinebeck and cares for their uncle Benjamin, an actor suffering from bouts of amnesia. Ann, a third sister, is a writer from New York City who has brought along her lover Tim, also an actor. As the night passes, societal overtones bleed into the family's personal conflicts, which center on Marian accusing Richard of becoming a Republican because he's taking a new job with a corporate law firm.
The first half of the play, in which we are exposed to the Apples' rather ordinary problems, feels overburdened with exposition, but the approach pays off when the fireworks explode in the second half. The strategy to let politics evolve from characters we already know and understand, rather than have politics define them, puts flesh on the bones of argument and deepens our involvement in the fray. At the end, when Benjamin reads a passage from "The Cherry Orchard," the link between the uneasy Americans and Chekhov's doomed Russians moves us, rather than coming off as a clever conceit.
As director, Nelson elicits crackling performances from his sterling ensemble of actors. Jay O. Sanders, J. Smith-Cameron, Laila Robins, Jon DeVries, and Shuler Hensley bring depth and shading to their characters, even when their dialogue veers into debate. Special mention must go to Maryann Plunkett, whose speech about the meaninglessness of our recent and current Middle Eastern wars lands with the force of a heavyweight's haymaker.
There's never any doubt where Nelson's sympathies lie, as evidenced by the play's lack of a true Republican voice. Fair and balanced playwriting is not his aim, however; he seems more interested in chastising the left for its failures of will and character than lambasting the right. "Since when has not being worse become what we are?" Richard asks Marian, and his stinging rebuke should give us all, right or left, pause to reflect.

Presented by and at the Public Theater as part of Public LAB, 425 Lafayette St., NYC. Nov. 2–Nov. 14. Tue.–Fri., 7:30 p.m.; Sat., 2 and 7:30 p.m.; Sun., 3 and 7:30 p.m. (No performance Wed., Nov. 3.) (212) 967-7555 or www.publictheater.org. Casting by Jordan Thaler and Heidi Griffiths.