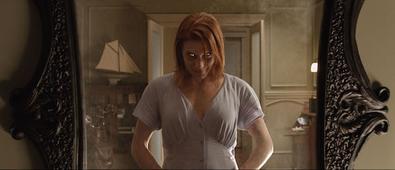 Bad acting in horror films is sadly not unusual—nor is it surprising to come across unconvincing plot points and mediocre editing within the genre. So when you don't find yourself watching the run-of-the-mill gimmicky, jump-scare-fueled supernatural horror flick, pay attention to who made it: They know how to work.
"When production begins, I want to have as much energy as possible to devote to the actors," says director-writer Mike Flanagan. "This is a genre in particular that doesn't always put as much importance on the quality of performance as I think it should."
Based on the 2005 short film of the same title, "Oculus" follows Kaylie and her brother Tim—played by Karen Gillan ("Doctor Who") and Australian actor Brenton Thwaites ("Maleficent")—as they rehash their painful childhood and try to outsmart a mirror's evil force with Kaylie at the helm.
"We wanted a strong female protagonist," explains Flanagan about casting. "The voice that we used in writing [Kaylie] was actually Katee Sackhoff 'cause I'm a big 'Battlestar' fan. We had a picture of her up on the wall, and that was the archetype we used to create Kaylie.
"As time went by, watching Karen's work on 'Doctor Who,' we thought, This is great—she's actually right in the pocket of what we want for Kaylie, so she was the first person cast. And when we we found out Katee was available [to play her mother], I started jumping up and down... I was in sci-fi fanboy heaven at that point."
It was more than just his fanboy fantasy coming out when it came to creating "Oculus." He spent months scouting actors until he had exactly who he wanted—or so he thought. Then the casting director brought him Thwaites' taped audition, and all that changed.
"There's this sense that when you put yourself on tape for a project you're just kind of throwing an audition into oblivion," he says. "You put yourself on tape, and then you go out there and then you never really hear anything, but we do look at those very closely and I think it's important for actors more than anyone else in this industry, which is fraught with discouragement, to just never quit on that."
"Oculus" is a relentless departure from the standard horror film, both in terms of the quality of acting and the way the story is told. "This was a movie about a family in crisis," says Flanagan. "The supernatural elements are just a lens which to look at that, to look at a family tragedy."
The full scope of the Russell family tragedy falls into focus piece by piece, building a fluid nonlinear narrative. "I wanted [the nonlinear storyline] to be the coolest part of it because otherwise, there's only so many ways to make a mirror scary," explains Flanagan, who began as an editor before stepping behind the camera. He describes the film as a braiding of two time periods, an "ever-tightening noose" that closes in until the two stories become one. And the noose gets tight, indeed. By the end of the film, speculating what's a flashback, what's the mirror playing tricks, and what's really happening makes it hard to breathe.