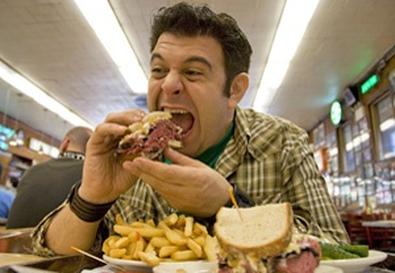 Based in Brooklyn, N.Y., Barbara Barna Casting is an independent casting and consulting firm specializing in reality and hybrid reality programming. Among other duties, Barna helps find the experts and hosts for these shows, such as "Queer Eye for the Straight Guy." Current credits include Travel Channel's "Man vs. Food" and "Food Wars," TLC's "What Not to Wear," Planet Green's "Wa$ted," and Animal Planet's "Underdog to Wonderdog." Prior to launching her own casting firm, she was the director of talent development at VH1, where she helped create "The RuPaul Show" and "Sex, Lives & Videoclips With Candace Bushnell."
What You Need
Though some actors may have reservations about hosting, because they think they won't be taken seriously, those ideas are changing throughout the industry, and the notion of selling out doesn't exist anymore. Hosting is another valid way for actors and comics to make a living. That is not to say every actor is a host. There are some very definite requirements.
A big personality is especially important, though the buzzword today is "authentic." Rachael Ray and Kelly Ripa are the female prototypes. Mike Rowe is the male prototype. He is funny, present, spontaneous, and in the moment. Men want to be him, and women want to date him. On his show "Dirty Jobs," on the Discovery Channel, he performs disgusting jobs that people have, such as cleaning barnacles off buoys or working on a leech farm. But he's never disrespectful of the people who have these jobs. At the same time, he articulates what the audience is feeling with charm.
Some of these hosting gigs are scripted, others are loosely scripted, and still others are not scripted at all. So the host has to be fast on his feet, well-spoken, and articulate. Wit and especially a good sense of humor about yourself are very important. It goes without saying that the ability to interact with the camera—to speak through the lens—as if it were a person is a necessity for the host.
Make It Reel
Most of the actors I cast as hosts come to me through agents who specialize in hosting. However, I look at unsolicited submissions, and many of the actors I cast have come to my attention without representation. The actor who is interested in hosting should have a separate hosting headshot. We're not looking for moody, broody, or even necessarily beautiful. The actor might even be beautiful, but we wonder, "Will that person connect?" Hosts have to be warm and accessible, and it goes without saying the headshot should look like the actor. While it's great to have professional headshots, it's not necessary. The reel is far more important, which I'll get to in a moment.
On the résumé, obviously it's great if you have some hosting credits. But with or without hosting credits, I love to see that the actor or comedian—or, in fact, anyone who wants to host—has studied improvisation. That training develops listening skills, risk-taking, heightened performance, an ability to connect with others, and the commitment to go with it.
I'm also very interested in special skills, such as carpentry, home decorating, archeology, cooking, or technology. Many actors make their bread and butter through home renovation, for example. And if they have the qualifications to be a host, they can incorporate their home-renovating skills. Think of all the hosts on HGTV or its sister channel DIY.
But what's most significant is the reel. We need to see you on tape. Within the first few seconds, I will know if I want to watch you. Can you walk and talk and interact with the camera at the same time? Are you interesting? Are you alive? Are you present? Do you pop? These reels do not have to be professional. Buy yourself a video camera—they're dirt-cheap—and video yourself interviewing the crazy deli guy on the corner. Practice, practice, practice, and when the performance is strong enough, send it out. We're not judging your technical prowess, though you should make sure you're not in shadow. Three minutes is fine, but there are no hard-and-fast rules in terms of the length of these snippets or the number of snippets on the tape. Frankly, I'd rather see one fantastic piece than three so-so pieces.
In the hosting world, we don't have the same protocol as casting directors looking for legitimate actors. It's a much more relaxed atmosphere, and we're looking for breakout talent.
Be Accessible
These reels—along with headshots, résumés, contact information, and anything else that might be relevant—should be posted on a website. I think every actor today should have a website, and it doesn't have to cost money. The important thing is that your materials are readily accessible. Send me an email with a link to your website, which should load instantly. If you have your reel on YouTube, you can send me a link to that. I do not want an email with an attachment. I don't open them.
I also think social media is really important, especially in the hosting world. If your name gets out there, you want people to be able to Google you. Facebook is where you can list updates and build networking relationships. And if someone has 10,000 followers on Twitter, that's a good thing. It shows me there is an audience for that person and the marketing is already in place. However, if you're using social media for business purposes, remove photos of your college vacation in Cancún.
I would also suggest having hard copy available. Have your reel burned on a DVD. Some clients may want it.
An 'Appealing Eater-Chewer'
The nature of the audition depends on the project. It can be as simple as a five-minute conversation, which is personality-driven. We'll notice how you walk into the room and size you up very quickly. We might ask you a question about current events and see you react. Again, it's about spontaneity: Are you fun and engaging?
Other auditions may be somewhat more involved. For example, on one food-driven project, we had everyone bring in a food, taste it on camera, and describe it. On the most basic level, the issue was, can you chew on camera and still look attractive? You've got to be an appealing eater-chewer. Your descriptive abilities have to be good too. Are you able to bring that food to life for an audience that can't smell or taste it? At the same time, you have to be warm, engaging, and connecting with the camera. We usually have one audition and one callback.
A thank-you note is always welcome. It's all about relationships and learning to be gracious. But please don't ask for feedback. We're just juggling too many projects. I like to be kept posted, and I look at post cards, but wait until you have something to say.
I also cast hosts for Web-generated shows. The requirements are not all that different. Personality is personality. Though the budget is small, the Web is a great place to launch a hosting career. And a hosting career may launch an acting career. Greg Kinnear's breakout role was as host of "Talk Soup."
For more information, go to www.barbarabarnacasting.com.