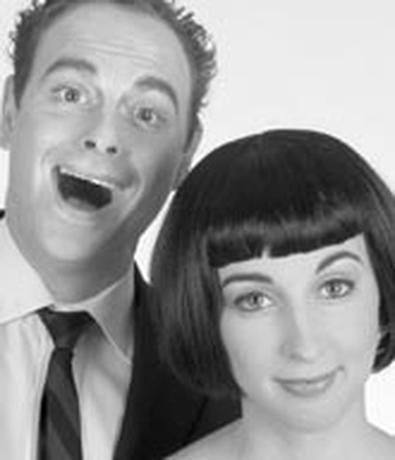 The 11-year-old Sacred Fools Theater Company offers eclectic fare, though terms like edgy and offbeat provide apt summations of the award-winning group's overall artistic vibe. Yet in summer 2008, when Rolls-Royces and Bentleys began pulling into the parking lot in the theatre's funky east Hollywood neighborhood — and fistfights between octogenarian patrons over standing-room-only tickets broke out in the lobby — it became clear something extraordinary was afoot there. That something is the explosively successful new biographical musical Louis & Keely Live at the Sahara — part nostalgic cabaret, part Oedipal tragedy, charting the ill-fated romance of 1950s Vegas lounge-singing partners Louis Prima and Keely Smith. After an extended summer run at Sacred Fools, the show opened last month for an encore engagement at West Hollywood's Matrix Theatre, where the frenzy continues. This attraction recently netted four Ovation Award nominations: for musical in an intimate theatre, director Jeremy Aldridge, and writer-performers Jake Broder and Vanessa Claire Smith, who are more surprised than anyone at the show's euphoric reception.
In an era of blockbuster jukebox tuners, it's astounding that no one thought of dramatizing this fascinating true story before. Backed by a sassy jazz combo, Louis and Keely thrived as a headlining duo at the Sahara Lounge in Las Vegas from 1948 through 1961. Their influence on musical styles — from jazz and swing to easy listening and rock — was profound, and their fame has steadily mushroomed over the years. The charismatic Louis, whose manic performing style is legendary, brought Keely into his act when she was 16. Their subsequent passionate though turbulent marriage eventually failed, largely due to Louis' philandering and his career obsession. Louis died in 1978, and Keely still occasionally performs. The play juxtaposes galvanizing musical sequences — that re-create the duo's most popular numbers — to heart-wrenching behind-the-scenes episodes depicting a great romance gone sour. The piece starts on Louis' deathbed, then takes a stylized spin back to yesteryear, recounting the blossoming of a marvelous professional partnership followed by its step-by-step disintegration.
How did Broder and Smith's labor of love commence? "About five years ago," says Sacred Fools member Smith, who plays Keely, "I was writing a screenplay about Depression-era New Orleans and was looking at historical figures who lived in the area. That's when Louis Prima [played by Broder] was a teenager, so I started to research him. I found a documentary that told his story prior to meeting Keely. I remember being introduced to that music when I was a kid and then being reminded of it when I was in college, when I became more drawn to the Keely story than to Louis' younger life. I decided this would be a great story that I would love to tell, but I also wanted to portray Keely. But I thought I dare not write the script until I could find someone to play Louis. These were huge shoes to fill, requiring not only a mastery of language but also the sensibility of music and being able to conduct a band. And the actor needed star quality."
Smith was working as a waitress at the M Bar in Hollywood two years ago, where Broder was performing his acclaimed show Lord Buckley in Los Angeles, a bio-cabaret about the 1950s comedian. Smith says she instantly knew she had found her perfect Louis. She approached Broder about it, and though it sounded very interesting to him, he wanted to see the script, which Smith hadn't written yet. She began work on it by herself initially, as Broder finished other commitments, and they ultimately joined forces to craft their vehicle. Though both performers consider themselves actors before singers, they love music and have experience singing, and they say they felt at home portraying nightclub entertainers. Broder found certain psychological similarities among the driven creative artist Louis and other characters the actor has played, such as Lord Buckley and Mozart in Amadeus on Broadway.
The element that took this piece out of the realm of crowd-pleasing cabaret entertainment — though it succeeds fabulously on that level — is its links with classic stories of tragically mismatched couples. Says Broder, "We looked at Pygmalion, A Star Is Born, that sort of canon. This story speaks very much to actors and artists. We have so many choices to make between career and personal life and relationship. That's what drew me to the story. [Louis] chose the love of the audience, the popularity — which were the things he needed the most. What we are putting forth in this show is sort of a devil's bargain. In this day and age, for everyone it's sort of 'Fame, fame, fame, look at me.' That's paper-thin — glorious and yet horrific."
The collaborators had a simpatico working relationship from the start. They say their overriding concern was telling the story in the most truthful and compelling way possible, rather than obsessing over their egos or personal stakes in the project. Smith says, "The whole experience has sort of been that if I get chills and feel something in my gut about something, it was the right way to go. You know the universe is telling you something. That's certainly the way I felt when I found Jake. When we were in about draft three and I was downloading everything I knew about Prima, I told Jake about the incident when Louis was in the hospital in a coma. He then suddenly said, 'That's it! That's our bookend!' " The production now starts and ends with scenes of Louis in a hospital bed.
The development of the characters posed interesting challenges for the duo. How do you convincingly play real-life personalities at least some members of the audience will remember, without resorting to impersonation? "I would never want to do an impression of Keely, because you just can't beat what she did," says Smith "There are suggestions of things she would do. I worked to capture her essence — trying to figure out why she [scratches] her nose all the time, for example — not to do as an impression but convey things she did for a reason." Broder adds, "Every time you create characters, whether imaginary or historical, you're not so much imitating physical attributes as going back to what made them the way they are. If I had the same preconditions and the same sorts of needs and wants as they did, how would that manifest truthfully in me? Trying to split a fine line, you want to have enough physical fidelity so people don't walk out saying, 'That's wrong,' but at the end of the day, what carries, what people are coming to the theatre for, is to experience these people, the deep truth of them — emotionally, spiritually, musically. When there is a choice between fidelity and truth, we go for truth."
Wide-ranging audiences — from baby boomers out for a nostalgically fun Saturday night to hip theatregoers who like experiencing what's currently hot — are packing the Matrix, getting swept up into the show's great music and infectious energy, only to be socked in the solar plexus when the stark tragedy sinks in. Smith says that before the show premiered at Sacred Fools, she worried it was not going to find its audience when people she spoke to didn't know who Keely is. But she stopped worrying when she saw how much toe-tapping was going on during the first performances and as she watched the standard Sacred Fools crowds diversify into widely varying demographics. Yet, Broder remarks, "This is one of the first times in my life I, like, kicked it out there and worked as hard as I could but didn't really care what followed. It was all about the experience." Smith concurs. "I love the music. I love this story. So if I can put it out there and introduce it to people, I'm satisfied." Broder expresses gratitude for the support of Sacred Fools: "This is a testament to that company's importance in this city, as well as other companies like it. The amount of sacrifice of time and energy that people put into launching this show was incredible, and all by a completely unpaid volunteer staff. The result is the most successful show in Sacred Fools' history. On Craigslist, there were people begging for tickets."
What about the show's future? "It's looking good," says Broder. "We're tossing around a lot of ideas. There's a fundraiser coming up in December. There are some really interesting people circling the show right now. I'm hoping by the end of November we will have formalized plans to take this to points east, perhaps even far east. We will see. We want to do a workshop and then end up in New York." From Vegas to Hollywood to the Big Apple, the Louis and Keely legend is thriving. Same goes for the dreams of two prodigious writer-actors.
Louis & Keely Live at the Sahara continues through Dec. 21 at the Matrix Theatre, 7657 Melrose Avenue, L.A. (800) 838-3006. www.louiskeelyshow.com.