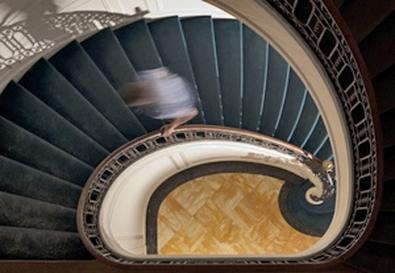 "And what about you?" a sincere bartender from Barbados asks. "How many lives have you lived?" Seated at the bar in Dominic Huber's absorbing "Hotel Savoy," a surreal environmental installation of virtual reality staged at New York's Goethe-Institut, you may have to stop and think, like I did.
A "theater architect" of German descent, Huber has deftly arranged settings in his simulated Hotel Savoy to blur fiction—including aspects of Joseph Roth's novel of the same name—with the real history of the Goethe-Institut building, a kind of German cultural center. Each audience member enters separately as a hotel guest and is promptly shown to a sparse, dimly lit lodging by a chipper elevator operator. Through the wall, you can hear the maid vacuuming next door.
Most of the fun of the bracing "Hotel Savoy" is the sudden disorientation of being led into rooms like this and given leave to snoop around. But there are also punctuations of intense human interaction, such as encountering the starry-eyed maid, played endearingly by L(na Greenberg, in a room of untreated wood, where water drips from the ceiling into coffee cans. More than "scenes," Huber has fashioned tiny pocket realities for us to confront and feel our way through. Any notion that I was at a play utterly evaporated when I was led into a hostel-like room with two people who spoke only Japanese. My discomfort and embarrassment were entirely genuine, as was my unexpected awe at a freshly painted white room, with its harsh fluorescent lights and eerily billowing drop cloths of translucent plastic.
Of the actors playing the chatty employees who populate Huber's hotel, Howard des Chenes is completely natural as the forthcoming clerk, as is the warm Heather Warner in the role of the bartender. Though I must say, the most surprising performance of the evening was my own. As these inviting characters talk candidly about where they are from, where they would like to go, and the many lives they have lived, you will find yourself wanting to speak too.

Presented by Performance Space 122 in association with the Goethe-Institut New York
at the Goethe-Institut New York, 1014 Fifth Ave., NYC. Sept. 30–Oct. 31. Wed.–Sun., 5:30, 5:45, 6, 6:15, 6:30, 6:45, 7, 7:15, 8, 8:15, 8:45, 9, 9:15, 9:30, and 9:45 p.m. (212)-352-3101, (866) 811-4111, or www.ps122.org.