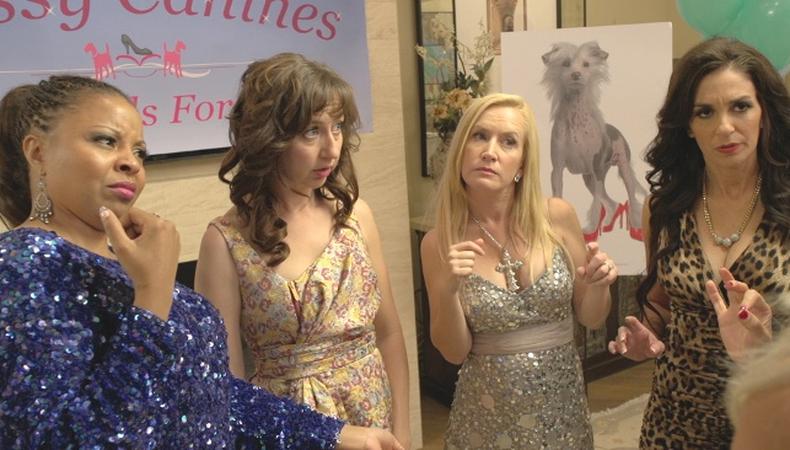 When Paul Scheer approached Upright Citizens Brigade alums Danielle Schneider and Dannah Phirman with the idea of creating a parody of the popular "Real Housewives" reality TV franchise, they jumped at the chance. "It was almost like the idea had been sitting in our souls," says Schneider. "It exploded forth." While Phirman came late to the 'Housewives' genre, Schneider calls herself a "superfan" and likens the genre to soap operas of old, the first opportunity many TV viewers got to watch women behaving badly.
Knowing the franchise so well gives Schneider and Phirman a deep well of domestic dysfunction from which to draw. "It's so much fun," says Schneider. "The makeup and hair really help. The minute we put it on we'd be like, 'Why don't I have my boobs out more? Why don't we look like this all the time?' "
Schneider and Phirman chose sunbaked suburban Orlando as home for their "hotwives" for a number of reasons. For starters, Schneider, a native Floridian, possesses a love for the state "that runs deep," she says, "runs true. You know how only you can insult your own family? That's how I feel about Florida." Both she and Phirman describe Orlando, the sprawling home of Disney World, as a precarious, superficial place, drowning in debt and gaudy with new money. The city is "just a little bit cheesy," says Schneider. "I say it with love. I grew up there, but there's no real substance underneath."
Joining Schneider's hotwife Shauna, a brash New Jersey transplant, are improv veterans Kristen Schaal, as former child star and current hot mess Amanda; Tymberlee Hill as Phe Phe, whose catch phrase, "I got to be Phe Phe," lets her get away with murder—or at least character assassination; Andrea Savage as Veronica, whose posh English accent seems about as real as her boobs; Casey Wilson as Tawny, who is as unabashed about the affair she's having as she is about her wish that her decrepit husband would die already; and Angela Kinsey ("The Office") as subservient, born-again wife Crystal, who really "sees religion as a country club membership," according to Kinsey. Phirman rounds out the cast as Alli, "the friend of the hotwife who's always stirring up trouble," she says. "On all the 'Housewives' shows," says Schneider, "there's always some wannabe wife who's always sticking her head in."
"The Hotwives of Orlando" premiered on Hulu July 15. Over the course of the first season's seven episodes, viewers will be treated to a veritable smorgasbord of "Housewife" genre tropes, including "catfights," says Schneider, "a lot of drinking, a lot of boozing. Fighting, sex, terrible making out. People being friends one minute and then hating each other the next and then sort of loving and hating each other at the same time." Says Phirman, "What's kind of amazing is we wrote this a while ago. And when you watch 'Housewives' now, they're doing something we did—as an exaggeration!"
Says Schneider, "We were the Nostradamus of the 'Housewives.' "
Like this story? See more of our Now Streaming articles here!