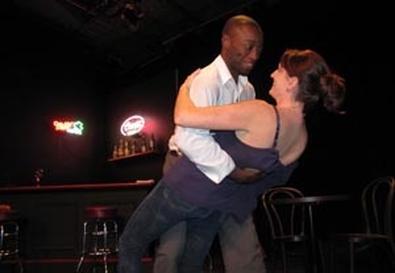 The noblest of intentions and moments of passionate conviction are evident in E.M. Hodge's new play, which explores the challenges faced by the loved ones of cancer victims. Dovetailing several such stories in the setting of a cocktail lounge could result in a potent variation on a time-proven dramatic formula. Unfortunately, the parts don't add up to a smoothly integrated whole, as plot elements incorporating budding romances and personal crosses to bear mostly feel dramatically diffuse. An uneven ensemble effort further hampers this premiere rendition.
Employees and relatives of patients in a cancer ward convene at a nearby lounge for friendship and emotional support—sort of a "Cheers" for the downtrodden. Greeting the guests is John, the bar proprietor (Daniel Hutchison, a capable actor in a blandly obligatory role). The 20-something bartender (Bob Moran) remains concerned about his estranged ailing father as he embarks on an affair with the 30-something Nola (Elise Hodge, the playwright), a medical aide devoted to her patients. Exposition of the commitment-shy Nola isn't fully revealed until the play's climax. A highly emotional patron (Ed Dyer) has checked his wife into hospice care. Lana (Shannon McManus) must come to terms with mixed feelings over the death of a sister she didn't like. Meanwhile, she's carrying on a flirtation with a married man (Siaka Massaquoi), whose young son is in remission and has been released.
Director Paul McGee achieves moments of tenderness and insight, but he has trouble keeping the meandering play involving. In the closest to focal roles, Moran and Hodge don't convince us we're observing a romantic attraction infused with tension. Their early scenes are particularly stiff. Hodge improves when the stakes for her character rise, late in the play. Dyer, McManus, and Massaquoi make valiant efforts in roles that feel underwritten.
The sentiments behind the production deserve heartfelt applause. Here's hoping future renditions cure the dramaturgic afflictions.
Presented by 68-Cent Crew Theatre Company at Theatre 68, 5419 W. Sunset Blvd., Hollywood. Dec. 1-22. Wed.-Thu., 8 p.m. www.plays411.com or www.theatre68.com.