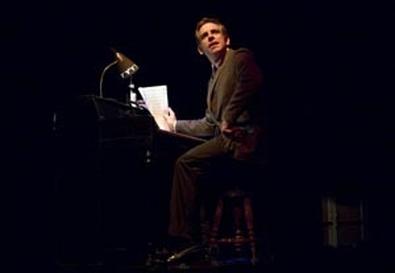 Sometimes the current hot director is not the best choice for a big Broadway revival with star names. David Cromer scored an Off-Broadway hit with a naturalistic staging of "Our Town," and though it had a short run, his Broadway production of "Brighton Beach Memoirs" bravely forsook punching the punch lines to emphasize the strong family connection among Neil Simon's sad-funny Jeromes. The producers of the current revival of John Guare's 1971 "The House of Blue Leaves" must have taken a look at Cromer's résumé and figured he'd be perfect for this sad-funny portrait of shattered ambitions and celebrity worship. Unfortunately, director and play are not a perfect fit. Cromer's kitchen-sink approach doesn't work for Guare's zany dreamers, who are simultaneously nobodies and larger than life.
The goofy plot centers on Artie Shaughnessy, a zookeeper from Queens with dreams of penning Oscar-winning songs, fueled in part by the success of his boyhood chum Billy Einhorn, a Hollywood helmer. The trouble is that most of Artie's songs are terrible and the few good ones sound like Irving Berlin. Egging Artie on to pursue his insane fantasies and leave his psychologically damaged wife, Bananas, is his mistress, Bunny Flingus, a vulgar yet vital woman with dozens of former occupations. To complicate matters, Artie and Bananas' son Ronnie has gone AWOL from his Army base. All this comes to a head on Oct. 4, 1965, the day the pope visits New York. All of these characters have bought into the American dream of fame, and it drives them crazy that they can't seem to claim their share.
Jerry Zaks' lauded 1986 production for Lincoln Center Theater struck the right balance between outlandish farce and piercing pathos. Cromer leans too far toward the latter and misses the laughs. When the proceedings get really zany in the second act, Guare's inspired script takes over and the laughs combine with the tragedy for a riotous double vision of Marx Brothers madness and Edward Hopper realism. But the necessary craziness soon fades.
To add to the damage, there's no chemistry among the three principals. As the hapless Artie, Ben Stiller, who played Ronnie in the 1986 production and whose mother, Anne Meara, was the original Bunny, is too confident and strong to be totally convincing as the deluded, schlubby would-be songwriter. In addition, Stiller's Artie fails to forge a believable bond with either Edie Falco's hangdog Bananas or Jennifer Jason Leigh's flat Bunny. Falco does capture Bananas' desperate yearning to be loved, but Leigh misses Bunny's buoyant humor and irresistible charm, leaving only her shallow lust for stardom.
Oddly, the most successful performance is turned in by Halley Feiffer, as a young nun who, along with two fellow sisters, wheedles her way into the Shaughnessy residence to watch the pope on TV. Feiffer takes her relatively short time on stage and creates a fully realized portrait of an innocent seeking self-worth from stars, whether it's the pontiff or a movie personality. Mary Beth Hurt and Susan Bennett also give weight to their brief turns as her fellow nuns. Christopher Abbott as Ronnie, Thomas Sadoski as Billy, and Alison Pill as his film-star girlfriend also bring depth to their supporting roles, but it's not enough to make up for the lacking leads.
Scott Pask's skewed-perspective set makes a valid artistic statement—the Queens apartment is as out of kilter as the people who live in it—but its weird angles cause numerous blocking problems that Cromer fails to solve. Unfortunately, Pask's set is like the production itself—an interesting idea that just doesn't work.
Presented by Scott Rudin, Stuart Thompson, Jean Doumanian, Mary Lu Roffe/Susan Gallin/Rodger Hess, the Araca Group, Scott M. Delman, Roy Furman, Ruth Hendel, Jon B. Platt, and Sonia Friedman Productions/Scott Landis at the Walter Kerr Theatre, 219 W. 48th St., NYC. April 25–July 23. Mon.–Sat., 8 p.m.; Wed. and Sat., 2 p.m. (212) 239-6200, (800) 432-7250, or www.telecharge.com. Casting by MelCap Casting.