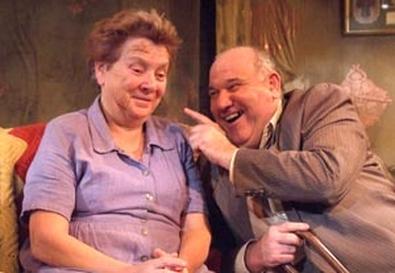 This obscure Tennessee Williams play premiered in its finalized form in 1982, less than a year before the playwright's death. Now making its West Coast debut, it proves to be more an intriguing slice of theater history than a fully successful piece. Yet it's fascinating to see how a great writer continued stretching his creative muscles, and there are many flashes of brilliance in director Simon Levy's production. An exceptional cast and astonishing design add to the rewards of his bracingly intelligent rendition.
Williams' script describes the play as a "Southern gothic spook sonata." The collapse of genteel Southern society is represented by a dilapidated Mississippi home (magnificently conveyed by Jeff McLaughlin's meticulously detailed set), barely offering refuge from an ongoing rainstorm. Befitting the setting, moral decay and emotional disarray dominate the household, where blustery Cornelius McCorkle (Alan Blumenfeld) and his physically fragile wife, Bella (Sandy Martin), have returned from the funeral of their ostracized gay son. They discover that their shiftless younger son, Charlie (Daniel Billet), has returned with his born-again pregnant girlfriend (Virginia Newcomb) in tow. Greedy Cornelius tries to force the confused yet sometimes shrewd Bella to reveal the whereabouts of a cash inheritance from her late grandfather. Others entering the fray include Emerson Sykes (Robert Craighead), Cornelius' womanizing neighbor; Jessie (Lisa Richards), Emerson's cosmetic surgery–obsessed wife; and an assortment of creepy characters played by Chip Bent and Kevin High, offering fine support. Monologues delivered directly to the audience move the play away from a realistic style—a shift that's further supported when ghostly figures begin appearing behind an upstage scrim. The play's disparate stylistic elements don't completely cohere, but the imagery is powerful and the characters are fascinating.
The performances of Blumenfeld and Martin are riveting, illuminating the craziness and torment within this toxic family, without lapsing into melodramatic clichés. As a character who's somewhat closer to sane, though hardly a beacon of class, Billet provides a good counterpoint to the adversarial parents. Newcomb has hilarious moments as the sexually liberal Bible thumper.
Salutes are also due for Ken Booth's versatile lighting effects, Naila Aladdin-Sanders' costumes, Misty Carlisle's props, and Keith Skretch's video design, cumulatively creating an unnerving atmosphere. The Fountain is to be commended for taking a chance on an imperfect but powerful piece that is must viewing for all who consider themselves Williams aficionados.
Presented by and at the Fountain Theatre, 5060 Fountain Ave., L.A. Feb. 26–Apr. 17. Thu.–Sat., 8 p.m.; Sun., 2 p.m. (323) 663-1525. www.fountaintheatre.com.