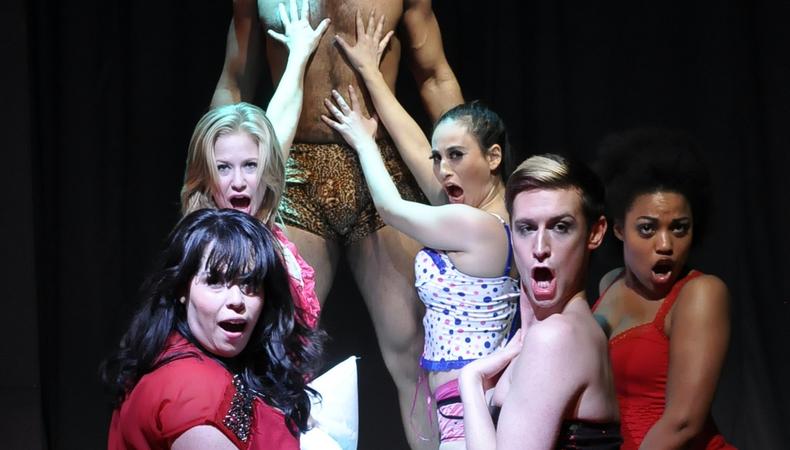 It's rare that a costumer designer steals the show, but Tristan Raines does just that in "The House of Von Macramé," a delirious new musical at the Bushwick Starr. The outrageously hilarious fashion collections he creates for Edsel Von Macramé, the mad clothing designer at the heart of the show, perfectly embody the evening's witty, fearless, and savagely satirical tone. Think Dior meets "The House of Usher."
But don't assume the rest of the production pales in comparison. The writing, acting, and directing are all similarly over the top and almost equally as entertaining. Although 20 minutes too long—the second act possesses at least one extraneous number—"The House of Von Macramé" successfully blends the cattiness of high fashion and the gore of slasher movies into a work of theater that produces gasps of shock and gales of laughter in equal measure.
The musical began life as a serialized play performed at the Flea Theater. While its creators, book writer Joshua Conkel and composer-lyricist Matt Marks, have skillfully transformed it into a two-act musical, occasional lapses of focus in plotting betray an effort to retain as much of the original serial as possible, even if that means sacrificing narrative drive. Still, Conkel's script is full of delicious can-you-believe-he-said-that lines, and Marks' tuneful songs brim with smart, playfully raunchy lyrics.
The story begins with Britt Greenpoint's arrival in New York. An innocent beauty from Iowa, she quickly becomes Von Macramé's top model. At the same time a serial murderer dubbed the Lipstick Killer dispatches model after model. When Von Macramé's latest collection flops, he, Britt, and the rest of his Warhol-like entourage retreat to his vast mansion for a gigantic blowout. Reporter Rosemary Crawley comes along too, hoping to uncover Von Macramé's many secrets. The Lipstick Killer appears and takes care of most of the entourage before his identity is revealed, in a final scene filled with enough carnage to make Shakespeare jealous.
Director Nick Leavens does a splendid job organizing the chaos onstage while managing to find space for small but juicy comic bits of business. The entire cast is, literally, a scream, but three actors deserve special commendation. Paul Pecorino creates a demented but likable Von Macramé, Rochelle Smith gives Britt just the right mix of innocence and ambition, and Megan Hill, as Rosemary, demonstrates a dazzling comic sensibility that should serve her well in either theater or TV.
"The House of Von Macramé" is not for all tastes, but if you wish to indulge in an evening of delicious camp and spend time with a brace of young talents that I suspect we'll be seeing more from soon, go to the Bushwick Starr. I mean this in the best possible way: It's bloody fun.
Presented by the Bushwick Starr and the Management at the Bushwick Starr, 207 Starr St., Brooklyn, N.Y. Jan. 23–Feb. 16. (800) 838-3006 or www.brownpapertickets.com.
Critic's Score: B+