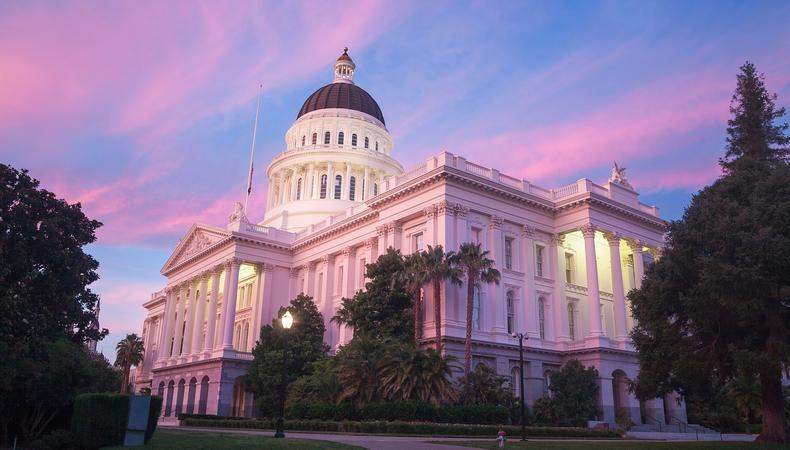 In 2020, a new law will change the way Californians do business—including actors. Assembly Bill 5, known as AB-5, is a landmark law mandating that independent contractors in California be classified as employees. The law, heralded by the state's progressive legislature, adds protections for working people in an increasingly gig-based economy that conditions the side-hustle lifestyle. However, since the bill was signed into law in September by the state's governor, Gavin Newsom, confusion around how it will impact the workforce ensued for big and small businesses alike.
According to the new law, if a worker is under a company's directive while doing labor that's essential to the company's business model, and they don't perform the same service for other companies, in 2020, they will be an employee, not an independent contractor.
"AB-5 is not directed at our industry, and we do not believe it will trigger a change to industry practices," stated SAG-AFTRA, along with other Hollywood unions, in September. So, if the bill isn't intended to shake up Hollywood, which industry are lawmakers after? Rideshare companies like Uber, Lyft, and other corporations of the app-based renaissance are preparing for a dramatic shift in their inceptive business model of nonunionized, freelance labor. According to a study from the National Employment Law Project, employee misclassification is a pervasive loophole, allowing companies to withhold payments to social services and benefits. According to the report, businesses save up to 30 percent by misclassifying an employee as a contractor.
"AB-5 is an important step toward reining in the abusive practice of companies who can unfairly misclassify workers as independent contractors, undercutting fair wages," said Mary McColl, executive director of Actors' Equity, in an exclusive statement to Backstage. "A healthy and thriving theater economy means the actors and stage managers who bring a show to life are fairly compensated and are protected with standard protections that employees in other industries have, like workers' compensation if they become injured onstage or backstage. We applaud the courage of the state legislature and Gov. Newsom, who have set a new standard for critical protections for performing artists in the workplace."
Since September, lobbyists from all corners of the Golden State's industry have advocated for exemptions or "carve-outs" for their field. In an August statement, SAG-AFTRA reassured members that it was vigilantly hawking the law, especially when it comes to the industry practice of establishing loan-out companies. What is a loan-out company? Sometimes, to take advantage of specific tax code incentives, actors will develop personal companies and loan their services as an artist to film studios or employers. According to unions, such tax classifications create a more balanced tax load for freelancing workers.
"We want to reassure our members that AB-5 will have no impact on the use of loan outs by our members," the union wrote in August. Collective bargaining agreements, unions emphasize, protect artists' classification as employees, and leave loan-out practices untouched.
As 2020 inches closer, another entertainment union reached out to its members about AB-5: the Stage Directors and Choreographers Society. In a December letter, the union notified members that its relationship to the bill is unique because of the industry hierarchy. Newly elected SDC Board President Evan Yionoulis and SDC Executive Director Laura Penn underline that, despite employee status, directors and choreographers with full membership to the union own their creative works as property—not the company that hires them.
So, what differences can California artists expect in 2020? Mainly, a tax form. Under the new law, employers can no longer file the miscellaneous catchall Form 1099. Instead, employers must submit a Form W-2 for employees, requiring the business—not the worker—to pay into social services. However, not all California freelancers are happy about the bill. Recently, Vox Media laid off 200 freelance workers, citing the new law as the reason. As to whether other states will adopt similar legislation, it is unclear. In 2020, California will be the frontier.
This story originally appeared in the Jan. 2 issue of Backstage Magazine. Subscribe here.