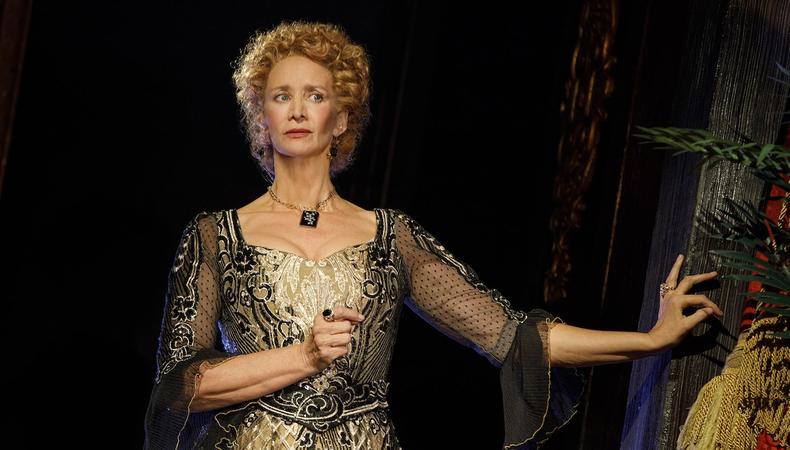 Two-time Tony Award–nominated costume designer Toni-Leslie James is back on the Broadway boards with Roundabout Theatre Company's "Bernhardt/Hamlet," running at the American Airlines Theatre through Nov. 11. The new play from Theresa Rebeck stars Janet McTeer as storied actor Sarah Bernhardt. It's a period piece with distinctly modern flair—in part thanks to James, who spoke with Backstage about how actors can provide productive feedback and the differences in costuming straight plays versus musicals.
What is the role of a costume designer for theater?
We're basically visual storytellers. As soon as you see that character onstage, you want to connect with them and [create a] past for that character that we see, a present, and we are going to hopefully predict what they will be in the future. All of that comes into what we're trying to convey visually through clothing. The clothing is so important, and how people wear their clothes and how they interact with other people and the reaction that their clothes may or may not have on another character, all of that is part of what we do.
READ: How Actors Influenced the Tony-Nominated 'Harry Potter' Broadway Sets
Is costuming for a straight play very different than for a musical?
Absolutely. In musicals, the clothes first and foremost act and move. If you design a costume well enough, that really catches a choreographer's attention. The choreographer will choreograph for those clothes. I usually do a skirt for a dance; if there are a lot of turns, I like to do a "circle and a half," so by the time the dancer is facing front, the skirt is still turned. It makes beautiful art.
Was there anything unique about costuming for "Bernhardt/Hamlet"?
There's that famous photograph of Bernhardt standing and she has this draping [on]. So I said to my illustrator, "Well, I don't know what the hell that is, but put that in there because we're doing this costume." Then we go into the fitting room, and Janet [McTeer] came in and she just looped it over one shoulder and she picked it up in her hand, and it was like a costume, and it was so impressive. Just the fact that she can work and have opinions that are great opinions that—I don't want to discount actors' opinions, but sometimes you don't want 'em. Everything Janet does, she knows the character, and it contributes to the character and makes my work better.
Do you appreciate actor input, then? Or does it get in the way?
I appreciate it if it's smart—because a lot of times it isn't. The thing I always tell my students is we're like doctors: Our first job is to do no harm. I've been very lucky, because actors feel like they're protected when they're working with me, and I'm really open. I have never been married to a costume. I'm not going to fight somebody over a costume that they don't feel comfortable in and I know doesn't work, just because it looked pretty on paper. The costume designer and actors, we work so closely together. I've seen a lot of knuckleheaded designers who have made situations worse. A mutual respect in the room for what we're trying to create together is what makes for a wonderful collaboration.
How do you work with actors as the costume designer?
I first work everything through with the director. I use an illustrator now, one of my former students who's a gifted illustrator. It takes a great deal of time, because I have to be very specific with the information that I'm giving her. It's changed my whole approach to design, because now I'm taking the time to actually think about what every piece is, what every button is. I put that all together in a story board so when I meet actors and we're doing a design presentation, not only do we have the sketch, but we also have the story board. It makes the actor feel much more comfortable because they see the minutiae of it, they see the actual piece, they see the actual button, and then they can talk more with me. They're more open, because they have more information to talk to me about the piece. It's so helpful to both of us.
Do you have any advice for someone looking to pursue costume design?
You have to love it. There are a lot of good programs, and it's also timing. I'm an approachable person, you can write me. Anybody who wants to get in the business, love it, and write people and ask if you can come by, if you can look at a fitting, if you can talk to them about their work. I think we're a lot more accessible than people think we are.