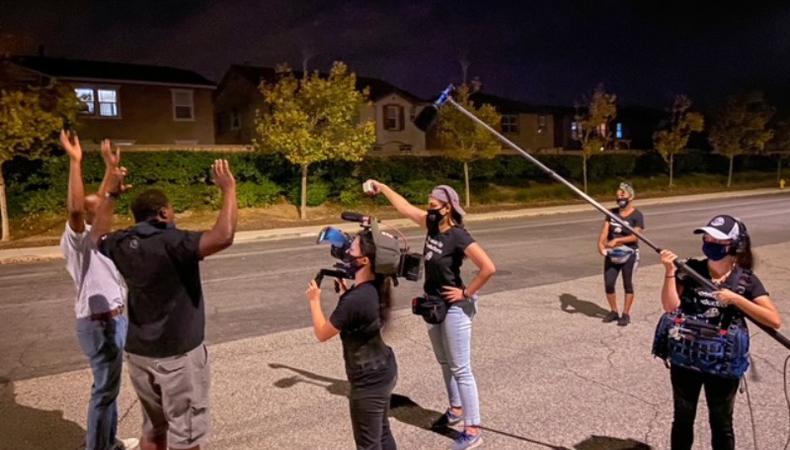 Kayona Ebony Brown does it all. The entrepreneur started her own record company, wrote books ("Of Music and Men," "Tenth Letter"), created a podcast ("Of Music and Men"), and even started directing her own work and others'. It should be no surprise then that the writer-director-producer hasn't let the pandemic slow her down. She recently wrote Before Jackie, a short which aired on CBS before the Super Bowl.
She also cast a short film focusing on voting which will be part of a larger anthology, "00:08:46" (working title), by filmmaker Denton Adams. The anthology includes Brown's films as well as films from 11 other filmmakers and is being produced by Heartfelt Pictures in association with Dawn Aneada Entertainment. Adapting to the times, she cast the project remotely and turned to Backstage to find fresh talent. Based on that experience she has some advice for actors looking to get cast.
Keep it simple.
The film only has two actors, both of whom Brown found on Backstage. "We had the freedom to do the casting and the casting is very diverse because we wanted these different voices and different perspectives to be seen in the film," she says. She needed two strong actors who could handle heavy dialogue and a wide range of emotions. Even though her preference was Latinx, she auditioned all types of actors in case someone made her see the role differently.
Be flexible and keep an open mind.
When she couldn't use the union actor she'd planned on casting, she opened up her search for the lead character, who is based on Alexandria Ocasio Cortez, and found Guadalupe Campos, who looked similar to Ocasio Cortez. She was the first to audition and, Brown says, "She just blew me away. And everyone else for that role had to beat her out essentially. But she wasn't beat out. She ended up being cast for that role, and come to find out she's a theater actor here in DC…. She teaches children acting so she's really seasoned in this, she's young, and she's just really, really good."
"I specifically wanted the lead to be female-identifying, but for the supporting role, I was open to different gender identities, so it was fun seeing how the different genders approached the character," she says. "I ultimately cast a gay, Cuban, cis-gendered male, and he's a phenomenal talent: Hansel Porras Garcia." Garcia was based in Miami, but Brown didn't know this initially. "He really wanted to do it… and was willing to pay for his own plane ticket—he didn't have to, but he was willing to."
Relax.
Actors aren't generally given much time for an audition, but having the audition virtually gave Brown the freedom to spend more time on each one. "I spent a little more time in the beginning loosening them up with small talk about who they are, then told them a little about the project and me, and then gave them all two strikes at it." Brown spent 20–25 minutes with each actor.
Give as much material as possible.
Brown suggests that actors make sure they have a simple website "with some sharp and clear pictures and a few videos of you in action. It doesn't have to be professional films you've been in." She notes she auditioned actors who had recorded monologues on their phones. She was just looking for actors who could give her what she needed for the film.