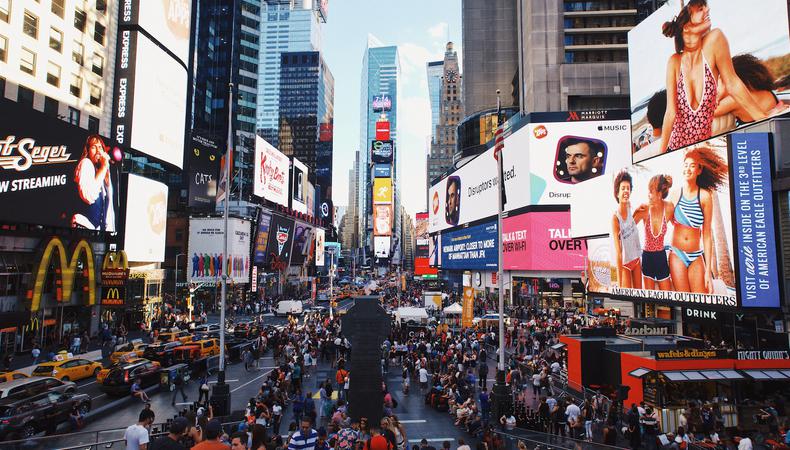 With the coronavirus pandemic tightening its stranglehold on the American economy, brands are embarking on a near-universal shift away from their standard messaging, instead racing to churn out COVID-19 response ads on all fronts.
The change is driven in part by necessity—agency budgets have been slashed and production hotspots New York and Los Angeles have shuttered—and in part by public opinion. But its impact can be plainly felt by the many commercial actors, casting directors, and creatives who have been put out of work as a result.
"I think most people are not working," says John McCarthy, president of the L.A.-based Commercial Casting Directors Association.
In mid-March, when the pandemic began to spike stateside, in-progress productions were halted by a wave of stay-at-home orders, with others further hampered by abrupt budget cuts. Many commercial hubs, including L.A., New York, Chicago, and Miami, have banned on-location shooting, closed nonessential studios, and indefinitely suspended the issuance of filming permits.
For McCarthy, those measures mean the closure of casting offices and the total transition to self-taped auditions for actors, who are now screened using YouTube, Zoom, and Vimeo. And unless current guidelines are rolled back or a vaccine is found, he says he thinks returning to a pre-pandemic normal is "quite a ways off."
"[Offices] have one big bullpen for actors to sit in, so social distancing is almost impossible in casting directors' shared studios," McCarthy adds, noting that actors—particularly those who don't have studio-grade equipment setups at home—will likely get the short end of the economic stick.
Of the projects still moving forward, many are leaning on techniques suited to remote development, suggests casting director Matthew Wulf.
"A lot of what I'm seeing is using animation; things that aren't live-action, things that can be done remotely," says Wulf, who owns Wulf Casting in New York.
Data collected from Backstage's casting platform supports Wulf's observation, with an industry shift toward remote casting work and a more than 200% increase in remote roles available from March to April 2020.
Commercials in the Time of Coronavirus
Last month, amid a record surge of unemployment claims, Domino's Pizza launched its first-ever national recruiting commercial. The TV spot, created by ad agency Crispin Porter Bogusky, stars several real franchisees reading scripts filmed via Zoom video call—an occurrence that's becoming more and more commonplace onscreen as well as in the world of casting.
Even earlier, when COVID-19 cases first began to soar in the U.S., Budweiser released its uplifting "One Team" commercial to honor first responders and frontline healthcare workers as part of a larger campaign with the American Red Cross. That ad was largely cut together using still images under a male narrator's voice.
And on social media, some ads that use sheer creativity to circumvent the need for on-camera talent while social distancing measures are still in place have gone viral.
In April, for example, a dramatic PSA from the Ohio Department of Health meant to highlight the benefits of social distancing made the rounds. Garnering more than 20 million views on Twitter, the 30-second spot was made with little more than intense music, mouse traps, Ping-Pong balls, and text.
While the bulk of ad sectors have taken a hit due to the coronavirus—most notably out-of-home, which encompasses billboards and bus benches—television, a prime ad vehicle, shows no sign of slowing down. In March, as millions were forced to stay home, TV viewership in the 18-to-54 demographic was up an average of 37 percent over last year, a report from media analyst Comscore shows.
Conversely, marketing has fallen sharply: One survey from Influencer Marketing Hub suggests at least 69% of U.S. brands will decrease their ad spending this year.
That decline translates to TV, too. Even as audiences for scripted programming rise, cash-cow events such as March Madness and the Olympics continue to be axed, leaving advertisers no choice but to pull back. For the first half of 2020, digital research group EMarketer has projected lost TV ad revenue to be between $10 and $12 billion.
Meanwhile, streaming services are on track to have a banner year. Netflix recently reported its strongest-ever quarter, adding 16 million new subscribers in the first three months of this year, while new players such as short-form, ad-supported streaming app Quibi look to gain a foothold with original content.
Raising Your Voice(over)
While in-person acting gigs are tabled for the moment, there appears to be a glimmer of hope for those pursuing voiceover work, which hasn't declined as severely as on-camera roles.
For SAG-AFTRA voice actor Brandon Paul Eells, his recent workload has been lighter than usual, but still existent.
As an industry veteran with his own recording hardware, he's been in touch with core clients, though almost all of the scripts he's come across have been dominated by coronavirus response content.
"There's definitely a serious tone, and rightly so," says Eells, who has lent his voice to brands including McDonald's, Allstate, and Valspar over his 26-year career. In the past couple of months, he says he's noticed scripts generally ranging from the aspirational to the somber, but one thing's certain: "It's not a time to party."
For brands that are itching to remind consumers they exist, creating voiceover ads is typically seen as a win-win strategy.
Cheaper to produce than flashy commercials, voiceovers also pave a clear path for companies to distinguish themselves: a commanding, reassuring voice—as in the aforementioned Budweiser spot—can generate sufficient buzz, while the use of on-camera talent is essentially outlawed.
"I would imagine that the voiceover market would actually be pretty good" due to the current volume of PSAs, brand responses, and informational campaigns, says Annette Stilwell, CEO of entertainment group Smith & Stilwell, Inc., which operates Stilwell Casting in Atlanta.
"Everything they show on a video, they've gotta have that voice," she says.
Looking for remote work? Backstage has got you covered! Click here for auditions you can do from home!