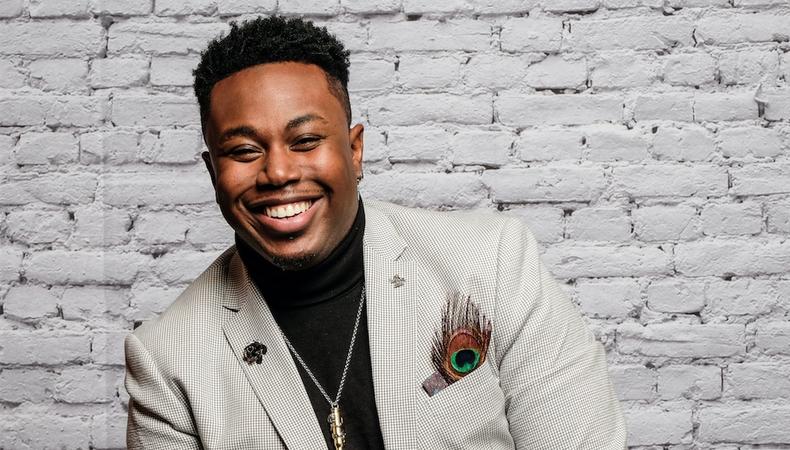 The following Notes From the Field essay was written by actor Marcel Spears, who can currently be seen starring on "The Neighborhood" on CBS.
I'm a preacher's kid—a "PK" for short. From the time I was about 9, my dad sat at the edge of his bed, pulled out scriptures from his bible, and stitched them together. He would stand in front of a group of people once or twice a week, and tell a story that he hoped would inspire someone to change the way they looked at life and to bring them closer to God. Like many PKs, people expected me to take up the "family business." It was a natural assumption; I was the preacher's oldest son, and one with a knack for public speaking. However, I talked to the Lord, and we both agreed that was not the plan for ya boy. The plan was see my name on the marquee as: "Dr. Marcel A. Spears: World Famous Zoologist!" I'd be an animal scientist by day and a jazz musician by night.
And next to that marquee would be a picture of me standing with a trumpet in my hand and a lemur on my shoulder. Just so you can get the full idea, the lemur and I would be wearing matching New Orleans Saints jerseys. That was a solid plan for an 11 year old boy. Fast forward to now, and I find myself almost 30, standing on a stage in front of a group of people, telling them a story that I hope would inspire someone to change the way they looked at life. God be working.
I am an actor. And more specifically, I am a storyteller that is functioning as an actor at the moment. I'm lucky enough to be working a dream job as I currently write this piece, and I consider that a huge blessing. To be honest, I have not, by any stretch of the imagination, figured this "working artist" thing out. It feels like I'm a 29-year experiment, and whoever is conducting it has no idea what to make of the data. This is a tough gig. Actors face a seemingly constant stream of rejection, and until we get to that "yes," it's easy to feel like we are creating in a bubble. (And sometimes that bubble can feel very small.) In addition to that, we have to figure out a way to pay for food and shelter, or some compromise of the two. In fact, I was technically homeless when I found out my first TV pilot, "The Mayor" on ABC, had gotten picked up to series.
My girlfriend and I received a notice of eviction from our landlords in May 2017. Our lease in New York City wasn't up until August, but we had fallen behind on rent, and the landlords felt it was better if we see other people. We went to the local housing court and asked for a stay of eviction, while we tried to scrape up the money, and the court gave us 10 days. Two days later, I got the call that "The Mayer" had been picked up, and we were set to start work in August. I would be homeless for a couple months, but in my mind, I could swing that. I had friends I could stay with some nights, and couch surfing is on the résumé of many great artists.
My girlfriend, Amber, and I had enough money to get her a flight back home to Texas; the plan was for her to hang out at home while I set up a place for us in Los Angeles. Surprisingly, I got another call from my agent telling me I booked a play I had auditioned for a month earlier in April. If I accepted, they would fly me out to La Jolla in California at the end of May, and I would work through the rest of the summer through to the end of July. I went from having no job, very little money, and no place to stay to having two—one of which would give me an apartment for the entire summer, and the other gave me a stipend to relocate from NYC to L.A.
As I said, God be working.
"You gotta take the Crookeds with the Straights." I think about that August Wilson quote often, especially when I get career whiplash. I used to think it meant I had to develop some kind of iron will. I have this feeling inside that says, "I need to be an actor; I must numb myself enough to accept hard times so that I can make it to my next big break." I know a lot of actors make lives that way—good lives. I don't think that's how I did it, though.
I don't know how to "make it in the business" yet, but if I had any advice to give my younger self, and other young artists like me, I would advise to have faith, to be grateful, to be tenacious, and to find joy. Faith will serve you when your will has run out and you feel like giving up. Have faith in yourself, in your talent, and—if you so choose—in God. Be grateful for every opportunity, every "small victory;" every day you wake up with the chance to share your art with someone is a win. Do not give up! If you love what you are doing, be fiercely tenacious! Finally, in every situation, try to seek out joy. You have to remember as hard as it may seem at times that a career in acting and the arts is supposed to be fun. Being an artist is a gift as much as it is a calling or duty. If we can't find the joy in our work, then we do a great disservice to ourselves and our audience.
I wish you luck on your journey. As I write this, I sit in the dressing room of my new show, "The Neighborhood" on CBS. "The Mayor" was cancelled—see? Highs and lows, thank God.