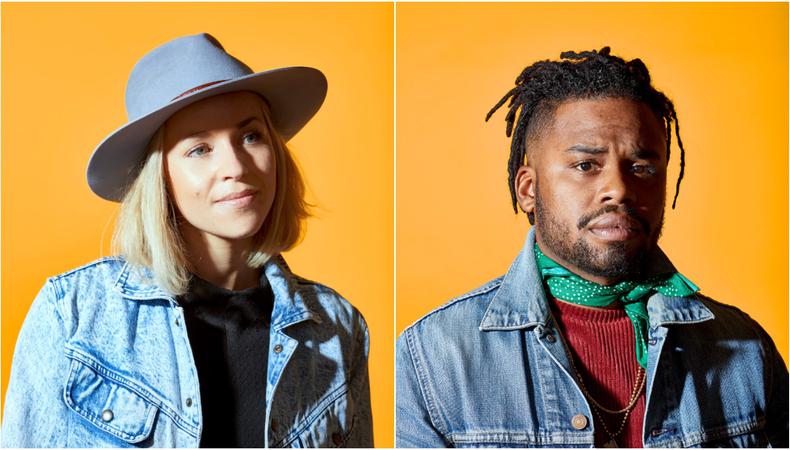 The entire media industry was shaken up in the wake of George Floyd's murder last year. Amidst the wave of protests and activism that took over the news and social media, many companies offered their solidarity through press releases and posts of black squares. Two members of Palette Group, a Brooklyn-based creative agency and production company, felt that this wasn't good enough; so they decided to do something about it. Nate Nichols, the founder and creative director of Palette Group, and Steffi Behringer, a partner at the agency, co-founded the Allyship and Action summit, which aims to address the role the advertising industry plays in perpetuating systemic racism and create foundations to effectively hold the industry accountable. We recently hopped on a call with Nichols and Behringer to discuss how they are using their platform in commercial branding and advertising to uplift disenfranchised voices, and to establish transparency and accountability within the space.
For those who aren't already familiar, tell us about Palette Group.
Nate Nichols: The Palette Group is a creative agency, so our clients come to us for campaign concepts and ideas, and then sometimes execution. So a little bit of both, and then we are also a production company; clients will come to us with a creative idea already set, and we'll produce. So we are a creative agency and production company, very simply, but at the core is something that we thrive on, which is really centering and platforming the creatives—ensuring that they feel like they have a space to thrive.
Steffi Behringer: Yeah, and to add on to that, really the root of our work is in creatives of today disrupting limits of tomorrow. We are striving to be a remote production company that works with freelancers and creatives around the globe. So, we have a big network of creatives in North America, Europe, Asia. We are very fortunate to have this wide network. I'm leading the production side of the business for commercial campaigns, photo video productions, and experiential production. And Nate is heading the creative department. So he is the man with the vision and puts down the crazy ideas that we are striving to implement and bring to life.
"We call it the Allyship Army. We are building this groundswell that slowly comes up and erupts like a volcano. That's how we, hopefully, put enough pressure on the industry and on leaders to then finally make change."
Why do you feel that the field of advertising is so important today?
SB: It's interesting; I have been in advertising for only two and a half years, actually. I think it's important and a space to really thrive, because it's all about storytelling; and storytelling is such a powerful tool to change narratives, to change perceptions, to change people's spirits. And just going into the Allyship and Action work that we're doing, it's powerful to see how much you're able to put pressure on [the industry] and make them think about their systems and tools and processes that they have in place that, in a lot of ways and a lot of times, is not allowing the storytelling to be fully inclusive and diversified. So I think it's the storytelling piece that I really like within the advertising industry.
NN: Yeah, and to piggyback off the storytelling portion, how I grew up, the only heroes that I saw that looked like me were on mixtape covers, like seeing Lil Wayne on the "Tha Carter II" [and] "Tha Carter III" album covers. You couldn't really see us on TV unless it was Chris Tucker and Jackie Chan in "Rush Hour." And you're walking past billboards and ads, and you just don't see yourself being reflected in your full power unless you're watching a music video. There was this desire, I think, to want to express myself in a way that I felt like wasn't being expressed. And by myself, I mean us as a community, as Black people, as people of color. That's what I enjoy. Now I'm on the other side of it, where now we get to build a company that we get to reflect our identity in.
How does Palette Group typically go about casting commercial projects?
NN: I think it depends on the project. It's community-based outreach—elevation of locals in a pocket that we want to represent in a project. Within our network, we go through talent scouts or agents, as well. So we have a network of agents, like the Collective Speakers—they're a great organization we constantly go to. They represent marginalized communities, from people who are in wheelchairs to, like, Ice-T. And then Backstage—Backstage is something we've been using for years.
SB: Yeah, Backstage has been such a helpful tool—the way all the functions allow you to really be specific but also keep it open. It has all the possibilities, and it's just so clean and easy to use that you will get amazing talent. Like, we sometimes put up a posting and get 300 submissions within, like, three hours. It's wild! And there's amazing talent on it. So we are super grateful that this Backstage tool exists.
How did Allyship and Action come together, and what sort of influence did you see advertising playing in systemic racism as a whole?
NN: When George Floyd was murdered last year, a lot of companies put out these press releases; they said a bunch of things. And we exist in their machines, exist in their culture; we exist in the systems that they have enabled and perpetuated for decades, and we don't feel safe. You expect us to believe that press release? You expect us to believe that black square? So we wanted to get down to the bottom of what they meant by that black square, what they meant by that press release. You know, there are companies like WPP that have stated, "We're going to grant $30 million to Black-owned and -operated companies over the next [three] years." We had a conversation with the CEO of WPP, and we were like, "What does that actually mean?"
SB: And not even just, "What [do] you mean," but, "What do you do?"
NN: Right, "What are the actions?" And so that's really what it was birthed by. We just decided to do it. And a week after we partnered up with some folks, 2,500 people showed up to the first event. Then we did two more for the rest of the year. And we have brands like Nike and Spotify, agencies like WPP. Just amazing, provoking conversations and workshops. All these people are like, "I want to be an ally!" But how do you define your role as an ally? And so our vision and goal was to develop systems for us to elevate marginalized voices, people, and communities by enabling allies to understand what we need and give them systems to design allyship.
SB: And over the course of the year, we gained this community of individuals that really wanted to be productive. They didn't want to wait for their leader and CEO to finally understand what needs to change. And so we have a Slack channel with over 600 humans who are eager to work on new systems, on new policies. And that's how we understood that we also can't wait for the C-suite. We call it the Allyship Army. So [there are] 600 humans and more—whoever wants to jump on the train and just do the work. We are building this groundswell that slowly comes up and erupts like a volcano. That's how we, hopefully, put enough pressure on the industry and on leaders to then finally make change. We want to change our approach from [the] top down; we now go from the bottom up.
So you're using your platform to put pressure on these companies to establish more transparency and equity for everyone?
SB: Yes. And accountability. That's one pillar item from Allyship and Action; that's the core of it. We're still going to invite the C-suites. We still want the leaders to come and have that kind of conversation onstage. But, yes, we really want to work with the people who also want to do the work, and we don't want to wait for anyone, either.
Having said all that, what advice would you give to talent looking to market themselves in these advertising projects—and specifically for suppressed voices that we aren't really seeing in these spaces?
NN: I think you have to take a TikTok mentality and just create and share. I think we have such an opportunity to create and share and flex our creative muscles on how we think—how we approach the challenge of hearing this song, creating a story for that song. I think there's an entire generation of Gen Z–ers who have totally finessed what it means to be self-expressed on the internet. Completely just taking every bit of self-expression that has been created throughout time, like music, and then the internet, and then mobile applications, and then social networks. And now they're just gelled in this TikTok thing where people can just be self-expressed and share it. And so whenever I'm sitting down with someone who's trans, Black, Latino, and they're like, "What do I do?" I'm like, "Just go create something." I work out on this yoga mat every day that says, "Keep calm and create something."
SB: Yeah, I would agree. The advice would be don't think about it; just do it. Really get rid of any self-doubt or comparison—scrolling through Instagram and looking at all the other people's profiles and you keep thinking about what you should be doing, what's your uniqueness. But nobody is more unique than yourself. So you just do you, and give zero fucks! Literally put that somewhere. Draw it on a big poster; put it above your bed. And every morning, when you get up, you read the poster, and that's how you go about your day.
This story originally appeared in the June 24 issue of Backstage Magazine. Subscribe here.
Looking for remote work? Backstage has got you covered! Click here for auditions you can do from home!