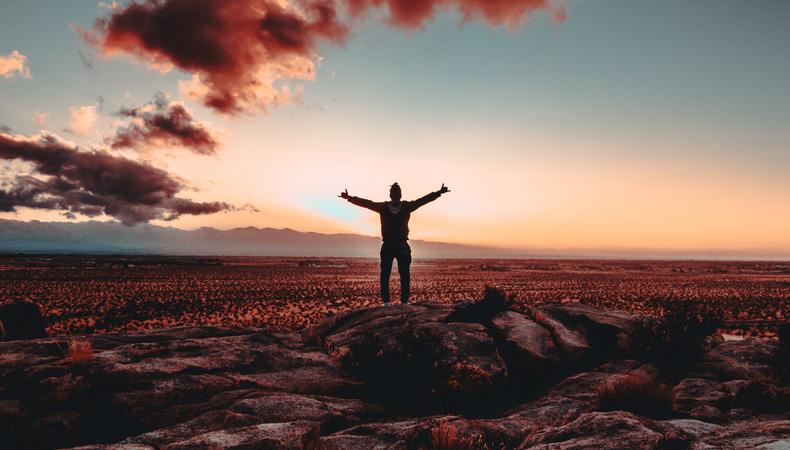 Have you ever had that moment when your mind wants to give up as a performer? Have you ever stood on a cliff overlooking the water and said, "Forget it! Just jump! I'll explore how jumping into the water feels"? I've certainly experienced both. I've spent my life trying to relive that moment in time. I was 12 years old, by the river in Mayaguez, a town on the west side of Puerto Rico. The kids were playing and jumping off the cliff. I was fascinated. I remember how fast I climbed that rock, eager with the idea to jump, and as I made it to the top, BOOM. I was afraid. I froze, even as more and more people kept on jumping.
I've carried this moment with me and it's influenced my approach to life. To tell you the truth, I'm grateful for the way it marked me. When I went to NYC and started auditioning, the same feeling arose. I was standing on the cliff every time. Every dance step, every single moment that I had to go in to sing 16 bars, I was on the cliff and people were jumping right by me while I was often still waiting on the rock, nervous to jump. In this case, the sensation and feeling were different. It wasn't just about jumping, it was about the impact of what they would think of me. Am I ready? Is my accent a problem? Is the color of my skin right for this character? Are my notes clean enough?
The present moment feels just like that. Our industry is mostly on hold. We have to think about how we're going to jump in next and into what. I had to travel back home to Puerto Rico due to COVID-19. It was "safer" to be near family. I tremble writing "safer" because I'm an artist that aims to never play it safe, hence the cliff, the jump, the rock, the water. Here I am again, aware of how I could be standing still not daring to jump. But, time requires a different awareness.
Recognizing and facing frustration and despair is an important step, just like understanding why we fear jumping in the water. It's most likely because we don't want to drown. That fear might be protecting us in our careers as well, from failing in an audition to failing at launching a new project, especially during our current times. Still, the thrill of daring to jump, the satisfaction of that bravery, and the daring that might be on the other side awaits. That's also why this limbo moment is an interesting place to study.
I'm often reminded to embrace the fact that art is my life. I've wanted a life in the theater since I was 9 years old. Jumping off the cliff of art was my leap of faith. Living in NYC, needing to find a job, having to take care of a family, all of these are real things to consider, embrace, and take care of. But not jumping, while the water awaits, not taking a risk again in the chosen calling of our life, is that ever a real option for performers and artists?
Just like the fear of auditions challenges us, life is challenging us like that moment on the cliff. If I have to believe that I became an expert at anything, I'll tell you I became an expert at saying "just jump!" That's the thing to remember. While all those wonderful humans jumped by my side I had to think "just jump." While in all of those auditions my name was called, I had to say "just jump." While wondering if I should travel from Puerto Rico to New York and dare to follow my dream, leaving it all behind, I said "just jump." And yes, it paid off. I jumped into that marvelous Mayaguez river and it felt so good. Then I just kept jumping. Now the fear is different. Now I fear not breaking free from the fear.
As Disney said, "that day I lost the fear of losing and I started to fear not winning...I stopped caring about who was the winner and who was the loser. Now I care only about knowing more than yesterday." In every single class I teach, I don't teach dance. I don't teach acting. I teach people to jump! The cold water awaits and the fear will vanish the moment you touch the water. Joy will envelop you and that's what I wish for all performers. That the potential fear of today's world evaporates. Stay focused and follow your path. We are not all the same, so you have to apply the idea to how it might serve you best. You've trained for this. Do it, dare, and go beyond regardless of fear. Don't abandon what you love. There are still many ways we can be creative and take part in the industry and community even if we can't be in-person with each other right now.
Dancers, dance. Choreographers and directors, create. Writers, write. We need your art and stories now more than ever.
Looking for remote work? Backstage has got you covered! Click here for auditions you can do from home!
The views expressed in this article are solely that of the individual(s) providing them,
and do not necessarily reflect the opinions of Backstage or its staff.