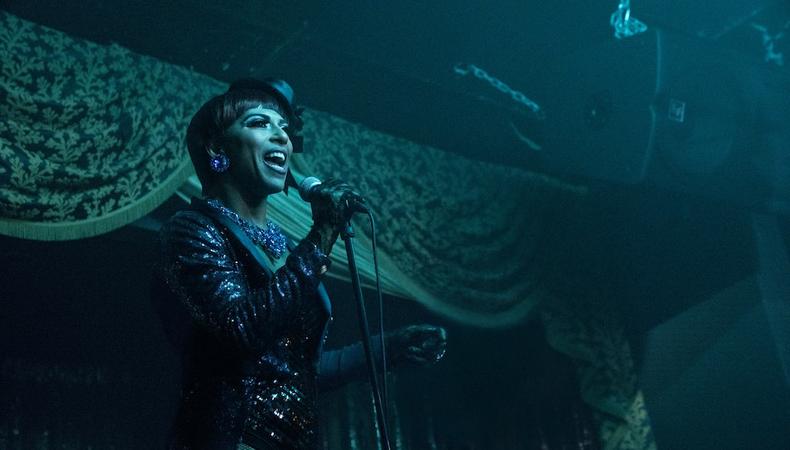 To a certain audience, D.J. Pierce—better known as Shangela—needs no introduction. As a two-time contestant on "RuPaul's Drag Race" and finalist on the Emmy-winning series' third season of All Stars, Pierce and his drag persona have become a fan-favorite success story for the long-running reality hit. But he's about to gain a whole slew of new fans thanks to his feature film debut in Bradley Cooper's "A Star Is Born." He plays the scene-stealing drag emcee and bar owner who first gets Lady Gaga's Ally singing at his open mic; when Cooper's Jackson Maine sees her singing "La Vie en Rose," sparks fly, and her star's set on the rise. Pierce jumped on the phone with Backstage to talk about his big screen debut with Gaga, his transition from reality TV to acting (other credits include guest stints on "2 Broke Girls," "The X-Files," and "Glee"), and the lasting advice he has for anyone pursuing the performing arts.
You're no stranger to emceeing in your drag career. Did you feel like it was just another day at work or was it especially different being on this film set?
You're exactly right—this year I'm on a 181-city tour around the world, which is the largest single tour of any "Drag Race" contestant in history. So I'm very well versed in emceeing a drag show. But for this particular character, I wanted to bring more to it than just my usual Shangela. I wanted to dive more into what the relationship was between this drag bar emcee and owner and Ally, Lady Gaga's character, and how that played into it. I just wanted to do a good job as an actor.
When you find yourself in the audition room, how do bring your best self?
The first thing is prepare—be prepared. The more prepared you are and you feel, the more confident you're gonna be in your performance. I've been pounding the pavement working as an actor since I moved to Hollywood right after Season 2 of "RuPaul's Drag Race." I got my first job, which was a guest star on a show called "Terriers" on FX. It was directed by Adam Arkin, and I'll never forget: I was playing this hooker with a heart of gold, and for the audition, it was my first time going in for a drag role on television, and I just had to tell myself, "You know what, girl? Either they want you, or they don't, but you're going to have to put forth your best effort." And then you can leave that room and go, "I killed that. I don't know what the decisions gonna be, but I know I did a good job." That's how you have to feel.
Have you pursued any technical training in acting since moving to Hollywood?
Yeah, I have taken some courses in acting, and also in standup comedy. But the biggest boost that I've had in education in Hollywood has been working alongside and being mentored by Jennifer Lewis. I actually lived in her basement, and I started working as her assistant when I first moved to L.A., then after "Drag Race," she always tells me, "Well, honey, you got too famous for my assistant, but you can live in my basement." I get a master class from someone who has weathered the storm of Hollywood for 30-plus years and knows how to ride the highs and the lows and stay sane and in the middle. That's where she helps me to be. She keeps me grounded, [and] sometimes she even helps me prepare for roles.
What's something that you've learned from Jennifer acting-wise?
The most important lesson that I've learnt is that nothing is given to you in this world, you have to work for it. She always says to me, "Honey, the elevator to success is broken—take the stairs." And that's what I feel like I've been doing. Whether it's through "RuPaul's Drag Race" and going there competing three times and never winning but never giving up, whether it's working as an actor in Hollywood and taking small roles to continue to get me to this point here that I'm at today—always she says you have to put in the work. Everyone loves to think its glamorous and fabulous, but at the end of the day, it is a job, and you have to show up and do your job.
While we're on the subject of industry mentors, what's something that you learned from working with Lady Gaga?
Honey, I was taking notes left and right. I was living! First of all, I'm a fan first and a co-star second. I've seen every tour, I love her as an entertainer, I think she's so talented. Her as an actor, she's very focused, she's very professional on set, but also she was very laid back and you could see her genuine heart. The thing most I learned from Lady Gaga is to be honest. You can see in her performance that she is honest and authentic and she really puts her all into her work, and that's the kind of actor that I'd like to be, that I strive to be.
This being your first studio feature film, what advice do you have in terms of making the most of your time on set?
I listen. As entertainers, a lot of times we want to be heard, but most importantly, you have to listen. And when I went onto that set, Bradley Cooper—who was a fantastic director, who knew what was going on, he knew what he was doing—he also invited me to explore my character. He told me, "Shangela, you know this world. Take it there, go as far as you want, and if I need to pull you back, I will." And that was really cool because then I felt free to do it. I heard what he was saying, I listened to him, and on set, I listened to Lady Gaga as her character so that we could vibe and have a relationship in that way. You just have to listen.
Final question: What is one piece of advice that you would give your younger self?
I would tell my younger self, "Honey, focus more on how to blend that makeup, baby!" I would also say to my younger self to have fun and really embrace every part of who you are. When I first came out as gay at 18, I thought, Well, there goes my career as an actor. That dream's gone. Because at the time, I never saw any gay actors on television or in movies. I didn't think you could be openly gay and be an actor; that didn't seem feasible to me. I would tell my younger self [to not] think that way—go on and be who you want to be and be proud of every part of that. I think that will help you land jobs, too. When I go in a room, whether I'm in or out of drag, I love every part of who I am. You have to have a confidence in who you are as a person when you walk out of that room [and] when you walk into the room. That's what I've learned through the years. I would have loved to tell my younger self, "Figure that out faster, boo!"