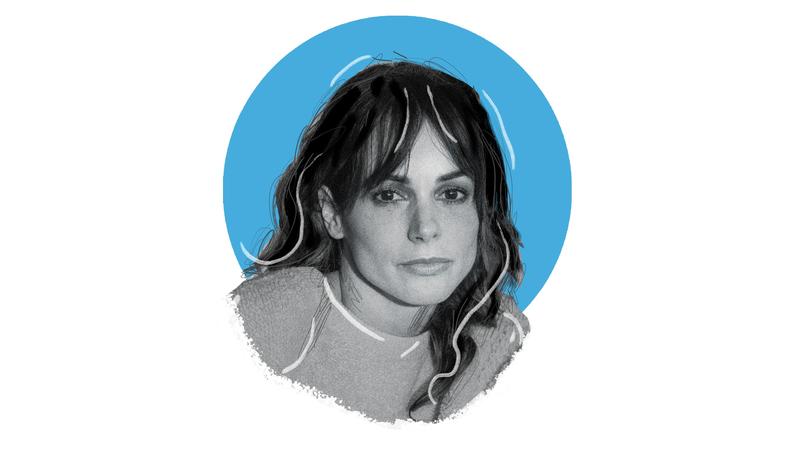 Stephanie Szostak memorializes her past auditions in the form of a reel full of self-taped clips for roles she didn't get. As important as it is for actors to cherish the highs in their careers, the French-American actor knows it's essential to reflect on the missed opportunities, too. Now, starring on ABC's "A Million Little Things" as Delilah, the widow of a man who dies by suicide, Szostak remembers what it's like to move past moments of nervousness and self-consciousness.
Who was the casting director who gave you your first big break?
[The film was] "The Devil Wears Prada," and that was [cast by] Ellen Lewis. She was fantastic. I had never done a studio movie, and I got the call and I was like, Oh, my god, I'm opposite Meryl Streep. I was in the waiting room so nervous and thought I didn't do anything great, but then I got a callback with the director.
On the flip side, what is your worst audition story?
This is my own doing, but I had a callback for "World War Z" with the director, and it was a major self-doubt period [for me]. I was psyching myself out in the waiting room. I went in there and was so nervous, my heart was beating and it was terrible. They were just like, "Thank you. Thank you so much for coming." You know there's no chance.
Sometimes nerves, regardless of what you do, will get the best of you.
That's why it's so important to do the work and sit down and think of times where this happened and nerves kicked in and I absolutely lost my edge and my ability to perform. Now look at other times where I performed to the best of my ability and I felt so confident. Then you see what your inner dialogue was and you realize what are the situations that are going to trigger the self-doubt and the negativity. When you're aware of that, you have tools and things you tell yourself that really resonate truthfully and help you not get into those moments. It works. I work on it every day.
What are some of those moments you transport yourself to mentally that help you feel confident?
I wake up every day and try to get some quiet time and think about what I want my day to be like and be aware. Then, if I'm on set or I'm going to an audition, I have little things that help me, like hearing the silence around me or the sound of the room. If I'm working, I have a sense of place and hearing the sounds to help me drop in the moment. You realize when you get nervous, you're not in the moment and it's driven by fear of something happening or not happening in the future. Anything I can do to bring me back to the moment and to my body: breathing, feeling my ribs and my back, knowing where tension creeps up in my body and releasing that. I actually listened to a YouTube interview with Michael Gervais, who is a sports psychologist who works with the Seahawks. Their goal is to bring their players to their best potential. It was fascinating. It was about all that inner work to get to the best place you can. That really helped me a lot.
I know you played golf in college. Do you draw any similarities between being an athlete and your work as an actor?
Yes, definitely. As actors, our instrument is our body. We have to warm up, like a dancer—a dancer would never start dancing without warming up. There's the confidence aspect of it, and how your mind can affect your performance. I played golf in college, so you're by yourself and there's a lot of room for thoughts to creep in and psych yourself out. It's the same as acting, in a way. Concentration is really important, and [so is] being in the right place in your mind.
How do you typically prepare for an audition?
I typically try to warm up my instrument, meditate, and then do vocal exercises—everything that is going to help me feel prepared. I'm a person who can relax if I feel prepared. Once I'm there, the thing that helps me [is thinking it's] an opportunity to act today, which is what I love to do, so just do it today as opposed to [worrying about] what they want. I used to think like that—What do they want? What should I do? It's an opportunity to show my game for what I have. Also, something that I've learned along the way is to dare to be different. I started acting when I was 29 years old, and I have an accent and I didn't know anybody in the business. Bring something to the table that nobody else will have and trust that.
With that in mind, what advice do you have for actors looking to relocate to the U.S. from abroad?
I worked on my dialect, and still do, with a coach. Think of what you will be at the top of your game and do those things. Then, once you're auditioning and you're working, trust that you have something unique and trust that if you don't get it, it's not the part for you. Trust yourself, which is a hard thing to do.
What has your latest role on "A Million Little Things" added to your acting skills?
It's the first time I'm on a network series and it's my first time being a part of an ensemble, which I absolutely love. It's such a lovely, lovely cast, as well as producer and creator.
All the characters in "A Million Little Things" deal with Jon's death in different ways, but your character, Delilah, has to care for her children as well in the midst of it. How do you portray that strength within grief?
When you meet my character, she's in complete shock because she's just learned her husband died by suicide. She has a lot of unanswered questions and pain and guilt and anger and shame and fear. But she also has to keep going for her children. I think she's in such distress that it makes it hard for her to face the facts, and there's a strong temptation to hide from the truth in order to avoid more pain. And that's a really interesting thing for me to discover. She's in this grief and dealing with all of these conflicting emotions and trying to ease the pain of her children and not knowing what tomorrow is going to be like, and it's hard sometimes to be objective.