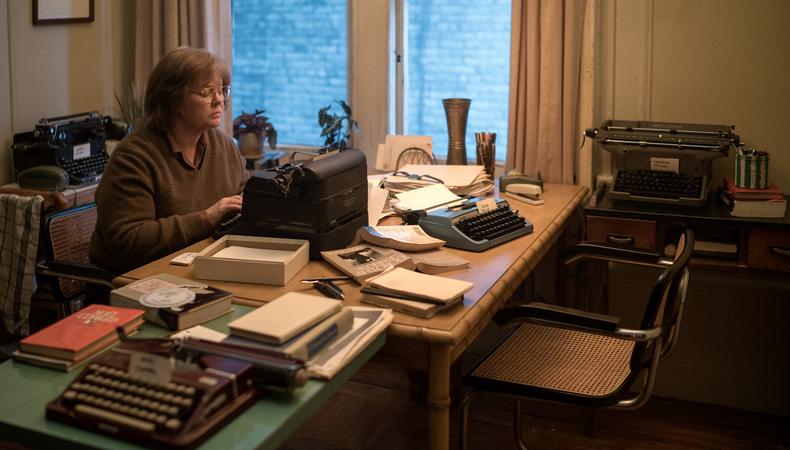 "Can You Ever Forgive Me?" was the project that brought producers Amy Nauiokas and Anne Carey together to form production company Archer Gray, and it's fitting this was the film that gave them their start. "We don't go for the easy wins. We don't go for the obvious stories," says Nauiokas, the company's founder and chair. "Amy and I came together partly courtesy of Lee Israel," adds Carey, who serves as Archer Gray's president of production.
The tale of Israel—a cranky, middle-aged author tending to her sick cat while forging literary letters by famous authors—is not your typical Hollywood story. But Nauiokas and Carey saw its potential. "It's a perfect project to hang our origin story on because it's symbolic to who we are," says Nauiokas.
Carey optioned Israel's 2008 memoir in 2009, and eventually got the script to Nauiokas in 2011. "She gave me the script at lunch, and I took it on holiday with me. I remember reading it for the first time by candlelight inside a little tent in Tanzania," Nauiokas recalls. "It was this very romantic moment of watching Lee Israel come to life in my brain. I got back from holiday, and I called [Carey], and said, 'Let's find a way to make this movie.' "
Through the long, arduous process of getting the film made, she never lost faith that this was a project she knew she loved. "It's hard to get a movie made about an angry 50-year-old woman and her sick cat, and I kept it alive over time," Carey says. Teaming up with Nauiokas through Archer Gray was the extra push the project needed to get it going. "I got excited about the idea that we could make a movie about someone that everyone else might have just ignored," Nauiokas adds. "We might have a real chance at influencing our culture."
READ: Melissa McCarthy Is a Writer on the Run in 'Can You Ever Forgive Me?'
The script penned by Jeff Whitty and Nicole Holofcener was originally meant to be directed by Holofcener, and the role of Israel was originally intended for Julianne Moore. When neither worked out, Carey recalls, it felt like the project had come apart. "It was one of those really dark periods, because we had been quite close," she says. But the bump in the road didn't make her "love the movie any less. I'd already spent eight years trying to make it, and we had a fair amount of momentum, so the question was: How do we keep going?"
The answer came in the form of Marielle Heller, a promising young female director the Archer Gray producers had worked with on the feature "The Diary of a Teenage Girl." Melissa McCarthy became aware of the script through her husband, Ben Falcone, who had already been cast. And Richard E. Grant being cast in the role of Israel's friend and confidant Jack Hock came shortly thereafter.
The producing duo both agree on being steadfast in your convictions when bringing a project to fruition. "My [word] for 2018, and I'm going to hold it over for 2019, is 'unapologetic,' " says Nauiokas.
"For me, I'm always able to say everybody who's saying no is wrong, and it's just a matter of finding the right team that says yes," adds Carey. "Keeping it airborne on the long journey is both the hardest and best part."
But for both of them, the long process was worth it. "We have a tendency to dig deep and find stories and people who others haven't heard about, who may have gotten overlooked," Nauiokas concludes. "We find a way to make great art out of those particular stories. I think this film is a great symbol of that."