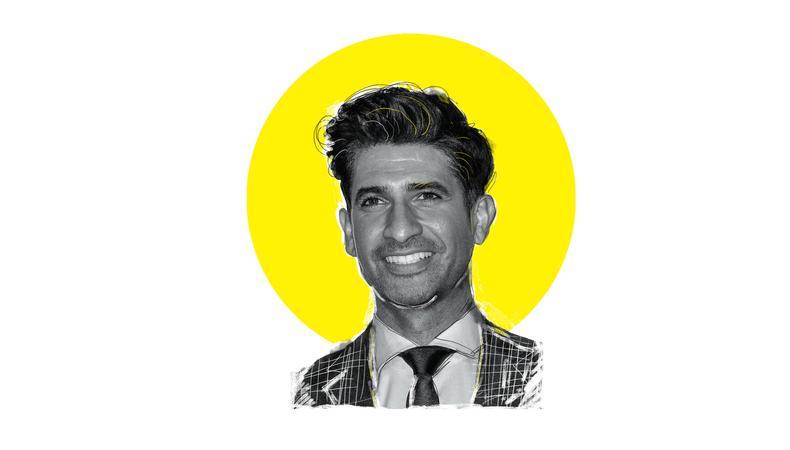 Raza Jaffrey is no stranger to spy-tinged thrillers. The British actor, now starring on NBC's "The Enemy Within" (premiering Feb. 25) as FBI agent Daniel Zain, previously played Aasar Khan on "Homeland" Season 4 and Zafar Younis on the BBC espionage drama "Spooks" (known stateside as "MI-5"). Now, heading into the premiere of "The Enemy Within," in which the FBI enlists the help of a traitor to capture a foreign spy, Jaffrey discusses the similarities between theater and television acting, audition preparedness, and more.
This isn't your first spy drama. How does "The Enemy Within" keep the genre fresh?
It's far more gritty than other shows about the FBI that have been around the last few years. It's darker than cable shows we've seen in recent years that tell the stories of espionage. It's different in [that] this is an FBI unit, it's not a CIA unit; it's about people trying to bring other people to justice, so it's about the procedures involved in all of that as well as spycraft.
What has your latest role on "The Enemy Within" added to your acting skills?
It's been very nice to play an American! It's very nice to stretch my muscle in that way. I also think the pace in television filmmaking is a great thing for an actor to be around. You're forced to make creative decisions very quickly and tell stories in the way you know best without the privilege of rehearsal you get in other media, whether that's film or theater.
Because it's TV, does not knowing the ending, as you would in a play or a film, impact the way you approach a role?
I remember Mandy Patinkin on "Homeland" talking about this. He said that when he first started, he wanted to know what was coming down the pipe. The writers on that show were always good at not letting people know what was around the corner in case anyone started playing the end of the story in some way. If you want to keep the audience guessing in that way, then keep the actors guessing, too. As in real life, you don't know what's around the corner. That's a privilege to not knowing the full 13 hours of television when you're on the first hour. As an actor, it's a privilege to tell stories in the moment.
READ: What Makes TV Acting Different?
Your early career featured a lot of theater work. How do you parlay what you learned onstage to television and film?
The wonderful thing about having that background in theater is the need to focus on a television set. If you're in theater and you're able to go out and face what's coming back at you from the audience or whatever's been thrown at you onstage, then you can work on a film set where there are all kinds of curveballs and all sorts of moving parts all the time. You have to stay focused in the moment. That's a wonderful tool to get to learn. I did a show for CBS called "Code Black" a couple of years ago. We had a lot of business to do—we were doctors doing operations and we had a lot of extras in the scenes with us. Sometimes those scenes would run seven or eight pages at a time. Without having that background in theater, [I wouldn't] be able to perform it like a play, as opposed to doing half a page of dialogue at a time as you're used to doing on television. I loved doing that job. It gave me the courage to treat what we do on television a lot more like we treat it in theater.
Is it rare to play TV like a play?
It is really rare. The nature of television and the way things are shot [is] that coverage is very important and you cover what you can so it can be edited. When you're on film, it's very different: you rehearse the scene that way and the director will know what shots he wants. Onstage, you're doing the full experience, and you have even more rehearsal to do it. The idea to get to perform seven or eight pages of dialogue on television and be in the moment is something you're not used to. It comes in and out of fashion. I know on "ER" they used to do that kind of stuff. I did a film recently with [director] Reed Morano ["The Rhythm Section"], who did "The Handmaid's Tale," and she's very much of that ilk of winding the actors up and seeing where the story takes you. That's a luxury you have with a little more time. Sometimes, with a tight TV schedule, you have to play shorter scenes in that way to get the coverage.
What advice would you give your younger self?
That focus I mentioned earlier is really important. I wish that I'd been better at being able to stay in the moment and focus and not worry too much. I'd encourage my younger self to meditate and stay in the moment as much as possible and not worry about the bigger picture in the show or story that others are telling. Audition advice is that way, too: going in there and being present rather than worrying about getting a job. Just being present enough to enjoy that.
How do you typically prepare for an audition?
It changes job to job. You've got to dig in and do the research that works for you. Music's always been a great thing for me; I like to figure out what a character would listen to. If there isn't a backstory (and often there isn't when you get a script), you have to make one.
What is your worst audition story?
There was one, it was for a classical play. It was a great director, and I remember going in and doing seven or eight pages of this classical text that I'd worked really hard on making interesting. At the end, her response was, "Well, good luck with everything." No small talk at all. I remember walking out and being absolutely crushed inside. Now, [as] my older self, I'd go, "That's great, because that wasn't a working relationship I'd be proud to foster anyway." But at the time, it's absolutely crushing. The other one, I remember going for a television musical, it was a quite high-profile one at the time. I remember going along with the Billy Joel song I'd chosen to sing for them and not being able to hear the music and skimming through and making up the words to "My Life," which really isn't a song you can make up words to very easily. His response was, "That was a very joyful performance." [Laughs] I didn't get that one either, needless to say.