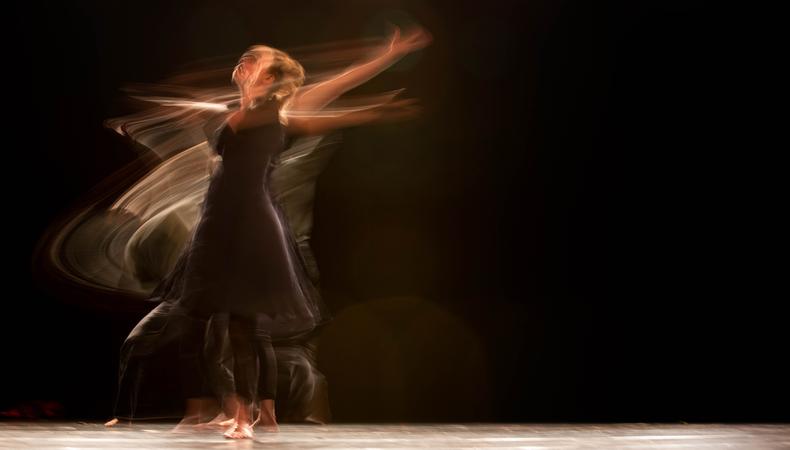 Imagine the following scenario: You achieve your dream of becoming a professional ballet dancer after a lifetime perfecting positions, sharpening lines, and honing technique. On the first day of rehearsal, the choreographer walks in and announces, "Shoes off, lie down on the floor, and here are your scripts."
Scripts?!
Similarly, you want to audition for a play with your dream theater ensemble but the part calls for movement and singing. Can you do it?
Performance is becoming increasingly interdisciplinary with productions often requiring performers to show their flexibility—and not just with stretching! In a sense, this means we're returning to roots. Performers in ancient Greece, Japan, and India regularly confounded present-tense boundaries between theater, dance, music, poetry, and visual art.
Today, across disciplines, companies want performers who say, "Yes, I can do that," or are willing to try. Versatility means marketability. Here are some tips to grow your versatility as a performer—and as a person:
Take an acting class (especially if you are a dancer).
Acting develops multiple skill sets. You learn how to develop characters, strengthen your voice, relax, and memorize text. Additionally, you improve timing, learn to work with partners, and how to breathe.
Even when executing abstract movement, theater training will enable you to communicate emotion, convey intention, and become more comfortable onstage. A surprising number of dancers love class and rehearsal but hate performing. Acting will help break you out of your shell.
Take a dance class (especially if you are an actor)
A common problem among student (and even professional) actors is limiting performance to the face and hands. Characters become more believable when you use your entire body. As you might expect, dance trains you to learn movement patterns, develop flexibility, and improve timing, but actors will find that dance helps them transform. You can become chameleons, able to shift your physicality to realize roles.
Most communication happens nonverbally and getting in touch with your physical instrument will make you more expressive. Also, many roles require period dance or fight choreography. Even in traditional plays, you need to be able to absorb blocking quickly and accurately.
READ: 4 Reasons Dance Class is Important for Actors
Learn to read music.
Dancers and choreographers should know their way around a piece of sheet music. Time signatures, note values, keys, and the basics of chord structures and progressions should be givens. If you're in music, musical theater or opera, you already live and breathe music, but there's always more theory to learn.
Actors shouldn't underestimate the importance of being able to read music. You can follow melodies, communicate with musicians or conductors, and otherwise follow what's going around you in the presence of music. The process of learning to read music will also develop your sense of rhythm, which sharpens comedic timing and dramatic beats. You'll start to think of monologues or entire scenes like musical passages and shape them with dynamic variation.
Take voice lessons.
As we become adults, we get more careful, less willing to make creative messes for fear of doing something "wrong." For many, singing in front of others can represent terror in its purest form. Much of voice training comes down to relaxation and confidence, key skills for any performer. Singing also trains breath, projection, and musicianship.
In addition to adding song to your wheelhouse, being able to hum a melody comes in handy when working with (or as) a choreographer, accompanist, or musicians. Like an acting class, getting in touch with your singing voice can help you break through limitations.
Get to know art.
Nothing in performance exists in isolation. Attaining familiarity with periods or styles across the arts will deepen your performance practice. For example, if you're a ballerina rehearsing a part in "Giselle," a Romantic-era ballet, learn what Romanticism refers to. Your dancing will benefit from seeing the works of Romantic painters, listening to Romantic music, and reading Romantic poetry.
Read, a lot.
Technique is the core of any art form but the more you know about history, philosophy, and the world in general, the more background you can bring to your role. Read novels. Read graphic novels. Read poetry. Read history. Read philosophy. Read anything—just read!
For example, if your school is producing "Dutchman" by playwright Amiri Baraka, get up to speed on the history of the Black Arts Movement. Discover the relationships between playwrighting in the 1960s, jazz music, and hip hop. Explore gender issues, probe the intersection of factors in identity politics, and also read plays by Sonia Sanchez, Ntozake Shange, and Audre Lorde. Writers need to consume text but all performers should make reading part of your professional practice. Everything you take in becomes material for expression.
These ideas should get you started. The underlying point is that you should take ownership of your training. Take in everything your teachers have to share but stay hungry for knowledge on your own and keep expanding your competencies.
he views expressed in this article are solely that of the individual(s) providing them,
and do not necessarily reflect the opinions of Backstage or its staff.