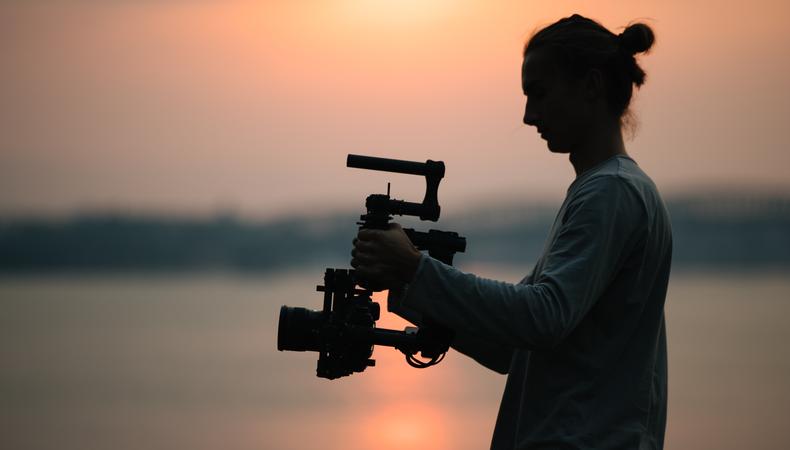 Ever experience that old recurring dream where you show up to set, but nothing has been planned and you totally have to wing it? If you work in the world of video production, I'm betting there's a 99 percent chance that you have. Luckily, there's one sure-fire way to prevent this nightmare from ever becoming reality: create a production book. (Cue the angels singing.)
A production book is a collection of documents that contains all the key information about your video production, specifically pertaining to the days your team will be on set. It's the organizational road map for what will happen, who will make it happen, and how and when it's all going to go down. Typically assembled by the lead producer with input from the director (sometimes they're all you!), this document is distributed to the client and key crew members 3-5 days prior to the first day of shooting.
At Tongal, we work with filmmakers at all levels of their careers, from film school grads building their portfolio to seasoned directors picking up client work between feature films. No matter where they're at, we're passionate about arming our creators with the tools and skills they need to level-up their professional output. For the majority of our video productions, we require the independent filmmakers we work with to align on various pre-production elements long before shoot day. One of the ways we help our creators to do their best work is by offering several production templates, which not only is a boon to our less design-inclined members but most importantly clearly lays out expectations for what to include.
We take this a step further and require an entire production book from the creative team when we know that a client will be on set. This ensures everyone is on the same page, that we're planning to capture what needs to get captured, and the production is as buttoned-up as possible. Through meticulous planning, all our stakeholders can be confident that the final product will reflect the goals of the project at hand.
To illustrate exactly what you might include in your production book, here is a sample outline: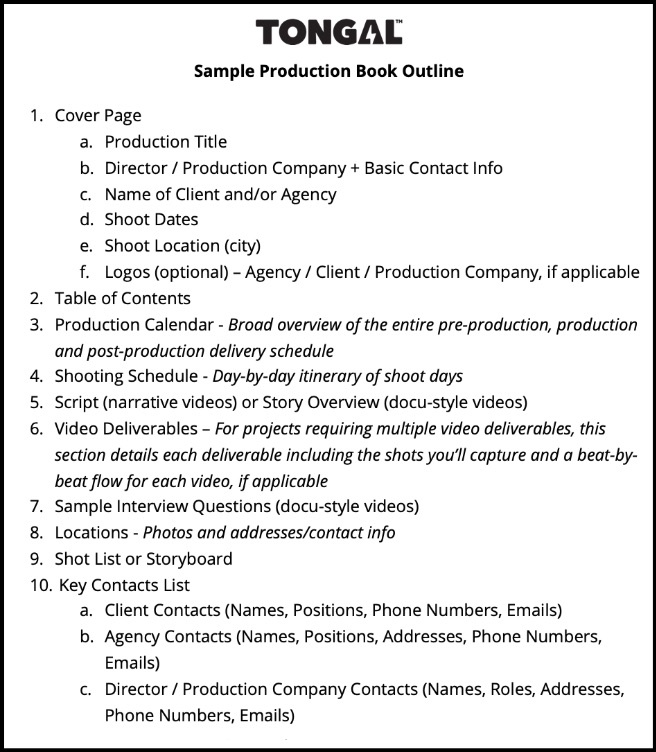 Your production book documents will vary based on the nature of your project, but the above outline should give you a sense of which core elements to include. With the aid of our production templates and the above outline (along with a trip to your local office supply store), it's completely doable to build your own book. You could also take advantage of one of the many services that charge a fee to access their more robust library of production templates, like StudioBinder (where Tongal members get 10 percent off their first month) or Yamdu.
No matter what kind of production you're planning, having a production book can go a long way towards managing expectations and keeping your budget and schedule on track. More importantly, you'll have fewer set-related anxiety nightmares keeping you up at night.
Download all the Tongal production templates here.