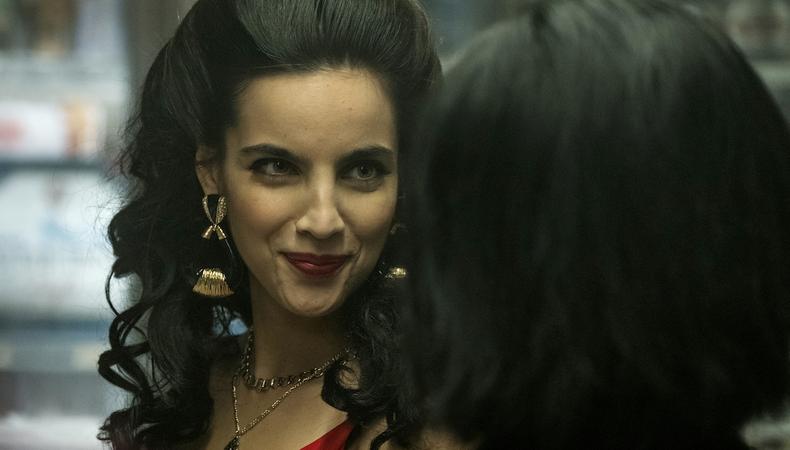 The following Career Dispatches essay was written by Venezuelan actor María Gabriela de Faría, who currently stars as Maria Salazar on Syfy's "Deadly Class."
My career in entertainment began 21 years ago when I was "discovered" by a commercial director while on vacation with my family on a popular island in my native country of Venezuela. Even as a child, I soon learned two things:
Building a career in this business is a titanic task that maybe only the strongest, most committed (and slightly twisted) can accomplish.
Dreams are accomplished not by lack of fear, but by facing fear and being brave and persistent—by showing up and looking the fear in the eye and doing it anyways, always trusting blindly in yourself.
I moved to Los Angeles for the first time in late 2012. I was 19, spoke no English, and although I had a successful Spanish language career in Latin America, I had no experience in the United States—not even a a single acting class under my belt. My new American manager kept pushing me to make the move. I knew that I had a long road ahead of me, with 1,000 things to learn, and it was scary. But I wanted to learn, and I wanted to be better, so I faced the challenge.
NOW CASTING: Broadway's 'Harry Potter and the Cursed Child' Needs its Harry, Ron, and Hermoine + More Acting Gigs
The first year was really rough as I learned to navigate life in a different language and culture. I took class after class, and faced rejection after rejection, until my money ran out and I had to go back to Venezuela for a really good job that presented itself at the right time (the lead in "Virgin de la Calle," which here became "Jane The Virgin").
After six months of working in my hometown and feeling whole again as a human being and professional, I decided it was time to face my biggest fears at the time (loneliness and failure) and give it a second try in the States. After all, I wouldn't have forgiven myself otherwise.
I came back to L.A. with $3,000 in the bank that, after renting a room and signing up for a few acting and dialect classes, was spent very quickly. But this time (by the time panic and uncertainty hit me again), my country was literally on fire. A revolution against the government had begun, and going back was not an option.
It took a whole other year and a half of rejection, walking dogs to pay rent, getting sick from stress, and so. much. more. rejection. before I decided to take a job in Colombia to keep my career going down there, earn a little more money, and feel like myself again. There's only so much rejection one can take before it takes a toll, and I believe it's important to get a "fresh perspective" occasionally.
I took the lead role in a movie, then a lead role in a TV series (and a second, then third season of that show), then another movie, then another show and another—until almost three years flew by. I finally came back to L.A. for the third time, older, wiser and with a renewed attitude and spirit from actually being able to do what I have done best since I was five years old.
My manager in the U.S., who had stuck by me through all the defeats and retreats, decided it was time to also change teams and find a new agency that better reflected my new self and was willing to support me as much as I needed. I cannot stress enough how important it is to surround yourself with people who believe in you so much that they would push you to limits you never thought you had.
"Sweet are the uses of adversity which, like the toad, ugly and venomous, wears yet a precious jewel in his head," Shakespeare would say.
READ: How to Conquer Shakespeare
And he was right: I booked "Deadly Class" three months later.
I'm not going to lie: shooting the pilot and the series was nerve-wracking for me. As I looked at all the lights, the cameras, the crew and the huge trailer with my name on it, on a Sony Pictures production, and as I went through fight training classes and stayed up late doing dialect exercises to make myself understandable in a second language, I kept feeling like a fake. I kept feeling that, despite my experience and success in Latin America, maybe I wasn't up to this massive task that was in front of me.
But I tried. And every day I whittled away at the insecurities and fears; I trusted that inside all of us lies a strength that we don't know exists until you put it to the test.
I found so many jewels on the tops of so many ugly and scary toads during the four wonderful months that we shot Season 1, and I will now continue to hunt them down for as long as I live.
After all, Shakespeare is always right!