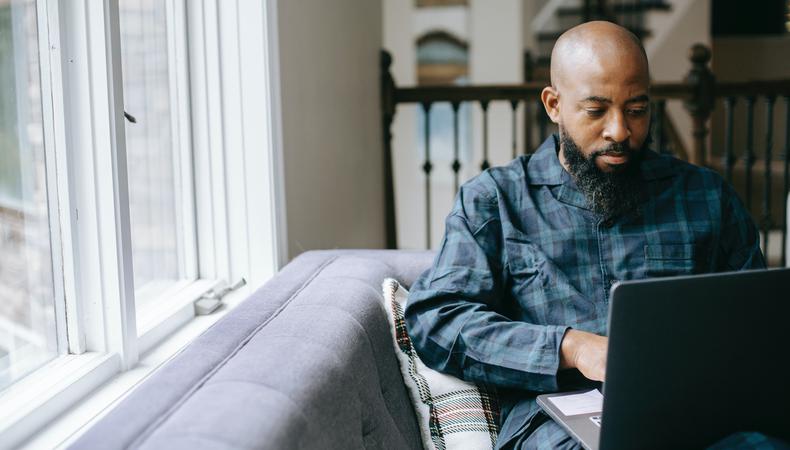 You've started your first script! How's the writing going? Four years ago my shamefaced answer was, I have no writing discipline. Approaching writing from acting, I wasn't aware of the paradigm shift I sought to undertake.
For actors, our output is dictated: We're assigned calls and breaks. Craft services answer our prayers precisely when our blood sugar dips. When it's over, someone else calls that's a wrap. Teamsters drive you to base camp, you shed your costume, you go home. Finite.
Now that you're writing, the onus is on you. So maybe you're asking how can I cultivate my acting-writing discipline? Here are five tips.
1. Honor your curiosity.
When do you write best? You aren't beholden to office hours, but selecting a time might require some trial and error. Don't be discouraged if this doesn't come easily. Experiment with curiosity. After failing to write at a more "sensible" hour I embraced my impulse to sleep in, work money jobs from noon on, and follow the muse late into the night. When can you meet your script energized and without distractions?
How long should you write? Limitless time to work doesn't necessarily yield productive output. Our attention spans are better suited to shorter sprints, 90 minutes at most. To this end University of Pennsylvania theater lecturer Dr. Jennifer Joan Thompson introduced me to Cal Newport's book "Deep Work" which analyzes multiple working styles you can test out; in addition to the Pomodoro Technique, a timed approach to generating in short bursts.
Craving accountability? I'm an actor. I'm social. How could I work consistently without other people? Jennifer was researching in Chile; I was in Brooklyn. So we employed Pomodoro across the equator, writing for 25-minute intervals until the clock ran out. Team up with a firm finisher, someone aligned with your burgeoning work ethic.
Do you have the basics? Initially, I refused to shell out for Final Draft. This writing thing could be a lark! I'll format my script myself! The writing equivalent of subbing a selfie for a headshot. Showrunners Effie Woods and Duncan Macmillan led me to WriterDuet as a cheaper, efficient alternative. Then there was my ancient laptop that rainbowed whenever I clicked save. Cut to Jennifer sneaking me her student discount toward my new computer. It cost my whole tax refund, but these were the best investments I ever made in my own curiosity.
2. Honor your time.
Set deadlines. Actual dates. When's your first act due? Your third? What about your first draft? Put them someplace you'll confront every day. Stick them to the door of your fridge. Prioritize writing like an old friend. Don't bail on them. If something important interrupts your writing, reschedule it immediately.
And if something important is an audition? Actor instinct dares us to drop everything in pursuit of the gig. But honing my writing discipline, I grew to better assess the quality of those gigs. Is this opportunity worth pausing my writing? Can I write around it? Do I believe in this script more than the script I'm pouring my heart into every day? More and more, I realized the full value of what I brought to every collaboration, not only as an actor but as a visionary of story. Honor your vision with your time.
3. Honor your emotions.
If writing is torture it doesn't mean it's not for you. Conversely, if writing invigorates you it doesn't mean you're not making something meaningful. The more I explore my own creative process, the more I realize the role of tortured artist is a fallacy. Like a part that writers choose to play. At the end of the day, creative people need the same basic things as non-creative people—namely, to be OK.
So let the feelings come. All of them. Explore them on the page. Then allow the cycle of feelings to complete itself. Close your laptop. Do yoga. Slap your couch with a pillow. Talk to a therapist or someone you love. Cry. Call it a day. Swing by the fridge to refuel. Then dive back in tomorrow. Honor what it takes for you to be OK.
4. Honor your identity.
"I'm not a writer…" Sound familiar? Good luck finishing your script with this apology front and center. Stop saying you're not a writer. Right now. Today.
Then tell people you're writing. Tell your agent, your friends, tell Mom! They'll reflect your purpose right back to you. When I joined Mark Fisher Fitness to flee my screen, every class began with an icebreaker. Every class I told a roomful of lovely strangers in spandex I was writing a pilot. They cheered. They asked about it after class. Months later one of my cohorts offered to host my first reading at Joe's Pub. Open your mouth and claim who you are.
5. Honor your story.
Memorize your logline and story engine. They're part of your life now. On days plagued with doubt, return to your story documents and remember what lit the spark in the first place.
I won't lie, actor-writer. This was the most harrowing chapter of the journey for me. You're building a new set of habits not limited to the act of writing, but a new philosophy you're creating around it—all the way to the End. But be gentle with yourself. Acknowledge the discomfort, the shame even. Then let it go. Because you're an actor; you can do anything.
Looking for remote work? Backstage has got you covered! Click here for auditions you can do from home!
The views expressed in this article are solely that of the individual(s) providing them,
and do not necessarily reflect the opinions of Backstage or its staff.