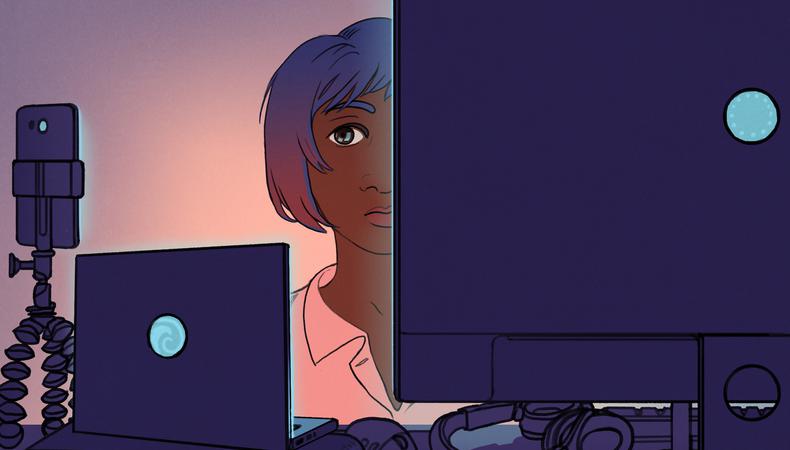 At this point in the pandemic, I have to assume you've spent a lot of time on all the various video platforms. Zoom, FaceTime, and Skype have become ubiquitous not only for meeting your personal needs, but for work, as well. The move to self-tapes has been growing for the last few years, but add COVID-19 to the mix, and virtual auditions are becoming the norm.
So how can you foster a real connection through a screen? Well, you should still treat it like a face-to-face interaction. Unlike a self-tape, Skype and Zoom allow for a real connection between yourself and the casting team. If you're given the opportunity to have a chat with the casting or creative team, you should research them before you get on that call, just like when you're auditioning in real life. Look up the credits of all the filmmakers on the project; you can use this information to your advantage. Of course, you have to take the temperature of the room to see if there's enough time to have them get to know you, and then you can treat this audition as a general meeting.
A general meeting is where you meet the casting director and get to know each other. Unfortunately, this type of meeting has gone the way of the dodo for a couple of reasons. One is because we are so slammed for time. When we start a project, the studio or network already wants our lists of ideas and availability. We've barely closed our deal, and we have to jump onto a speeding train. Another reason is that many of the upcoming CDs haven't been taught by their bosses or mentors that this is a great way to get to know talent.
I like an actor to come to these meetings with knowledge about me and the filmmakers, ready to let us know who they are. Have a couple of stories about yourself on hand. I like meeting actors whose work I've seen, and then learning something new about them. Maybe they've secretly been training to sing and dance for years, but they've never done it on film before; or they sculpt in their free time; or they have a degree in political science. All of that only adds to your rich life experience, which can be translated into your performance.
I remember one casting session in which an actor told us she thought she had a flea. She went on to say that she had found a few bites on her stomach, and that she and her boyfriend had named said flea. She was witty and authentic. At the end of the audition, the producer said, "I liked flea girl." She had left an impression on us.
All of these stories can be shifted to your video audition.
Because you know the credits of the creators you're auditioning for, you can ask them about their prior projects. Instead of blowing smoke up their asses about how much you loved their movie, you can go a step further by asking them how they found that great kid who starred in it.
All in all, you should be using the same skills that you've used in the audition room and shift them over to your Zoom meeting. Once you get comfortable with the technology, you can treat it just as if the director were sitting across the table from you.
This story originally appeared in the April 1 issue of Backstage Magazine. Subscribe here.
Looking for remote work? Backstage has got you covered! Click here for auditions you can do from home!