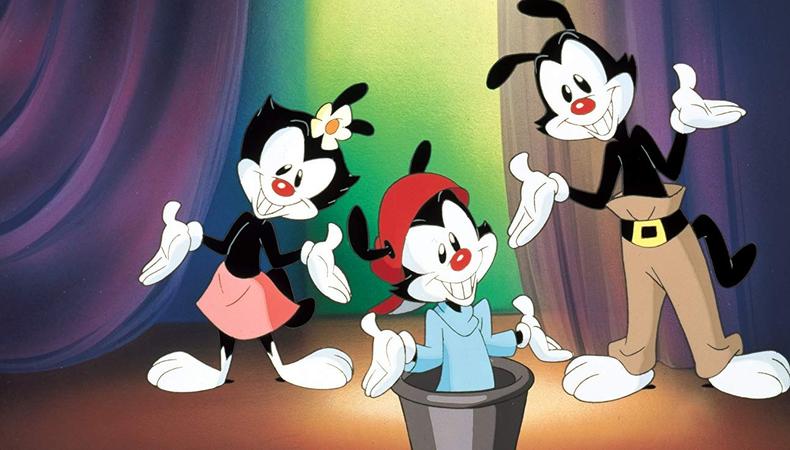 You may not recognize his face, but you'll recognize his voice. Actor Rob Paulsen has brought to life countless animated characters like Yakko from "Animaniacs," Raphael from the original "Teenage Mutant Ninja Turtles," Carl Wheezer from "Jimmy Neutron," and Pinky from "Pinky and the Brain." Soon he'll be returning to "Animaniacs" in the reboot for Hulu with the rest of the original cast. Until then though, fans can learn more about his impressive career in Paulsen's book "Voice Lessons: How a Couple of Ninja Turtles, Pinky, and an Animaniac Saved My Life" that discusses his experiences, his work, and the lessons he's learned along the way.
For actors looking to follow in Paulsen's footsteps and get cast on an animated show, he has some advice for you: remember voice acting is about a small "v" and big "A" because ultimately, it's all about the acting; it's the reason people love characters like Marge Simpson from "The Simpsons" or Philip J. Fry from "Futurama" or Bugs Bunny.
"It's not an accident. The reason Billy West works over and over again or the reason Tara Strong works over and over again or Tress MacNeille, Nancy Cartwright, or Seth Macfarlane, is because they're terrific performers," Paulsen tells Backstage. "Everybody can say, 'What's up, Doc?' but not everybody can have a conversation as Bugs and have it be utterly authentic and something that entertains hundreds of millions of people for 50 years."
Success in animation comes down to being fearless, adds Paulsen. Improv, thinking on your feet, and not being afraid to jump right into a role are huge. It's something that's been reiterated for the voice actor now that he's added voice directing for "Rise of the Teenage Mutant Ninja Turtles" to his résumé after more than 30 years in the industry.
What he's learned on the other side of voiceover work has confirmed the importance of being bold and ready for anything. "I've been in situations where the producers ask someone to jump ahead and look at another character if they're doing something the [producers] like. Some actors say, 'Can I go home, work on this, and come back?' and of course we don't have time for them to do that," Paulsen explains. "Nobody gets angry, it's just, 'OK, no problem' but then the next day, someone says, 'Sure, what do you got? Let me see,' and they jump right in. They not only get the chance to do the job and impress the producers but because of the fact they're willing to play right now, that will more than likely get them brought back on maybe a different show and that's how you develop a career."
Everything You Need to Know About Voice Acting
Being asked to do something spur of the moment in animation is common, says Paulsen. For him, even if you don't nail it, it's worth trying if you make it memorable, so when those people work on another project, they remember your take and hopefully match you with the perfect opportunity. Jumping in will tell the people on the other side of the glass that you're willing to be creative, take a risk, and "be in the moment."
Even when there's no money involved, Paulsen recommends voice actors give projects a try—you never know when someone will get a deal down the road and reach out with a paying gig.
"It's about being creative and the money will come as a result of the good work. That is the lesson to young people," he says. "[If] it's a great project, say 'I want in.' It might take five years to sell it but you were the one who was helping this guy out. For 'Phineas and Ferb' those guys had that in their back pocket for about 12 years before Disney bought it. That's a valuable lesson and that's not unusual."
Perhaps the most important lesson he's learned? It's about the character and not the actor. The characters are famous and the actor is one part of them, along with those who draw and write them. It's a realization that truly hit home while he was finishing treatment for stage three throat cancer three years ago. He'd seen how characters helped sick kids get through tough times over the years but the true power of the characters and the perseverance of those they helped through those times, in turn, helped him during his cancer.
It's that power that means classic characters like Mickey and Minnie Mouse, Bugs Bunny, and more will live on even when their original voice actors pass away. It all ties back to that original big "A".
"It's not false modesty. We're good at our jobs, but the characters are powerful and timeless. Mel Blanc [who voiced Bugs Bunny] is gone, but there are other actors who continue to keep that legacy alive because it's about the character," Paulsen says. "It's not just about a goofy voice. It's about the heart and soul of a character. It's not trying to make a bigger deal about it then it is, it's true. 'Teenage Mutant Ninja Turtles' is in its I don't even know what iteration, but its arguably as popular now as it was when we did it 35 years ago. It still sells a lot of toys, but moreover, it gets people through impossibly difficult things."