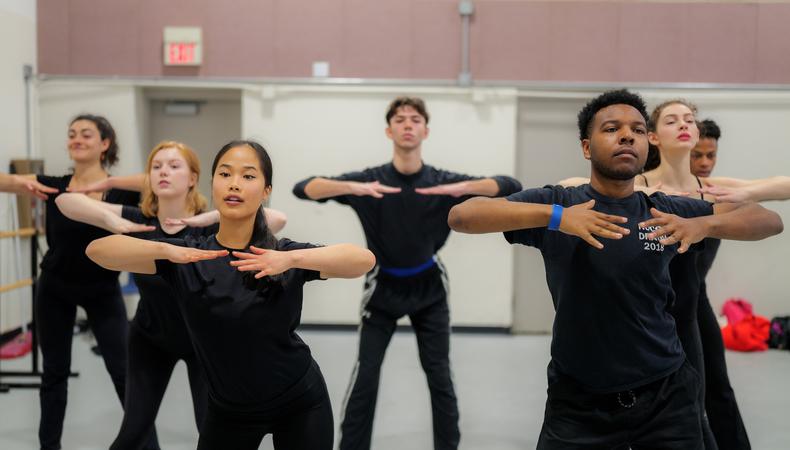 We're profiling the best performing arts programs in the U.S. and beyond with Reaching Higher, our inaugural questionnaire series diving deep on all things higher education: What should you look for when choosing the right school for you? What do college admissions pros want from their freshman class? What opportunities await students during their studies and post-graduation? Learn everything you need to know right here!
Considering the slate of recent graduates taking over the New York theater scene (Isaac Powell in "West Side Story," Rebecca Naomi Jones in 2018's "Oklahoma!" revival, David Thomas Brown in "The Book of Mormon," and Jordan Boatman in "Medea" at BAM earlier this year, to name a few), it's evident that the University of North Carolina School of the Arts School of Drama should be on any acting student's list of college considerations. And as its director of recruitment Quin Gordon (who's also an assistant professor) explains: It's not just for theater actors! UNCSA incorporates on-camera acting training for all four years of the program. Learn about that and more as Gordon answers our questionnaire below.
First off, UNCSA is the only publicly supported standalone arts conservatory in the country—there is no one else quite like us. As such, our tuition is by far the lowest of the top-ranked drama programs in the country. At UNCSA, we are not trying to mold our students into an idea of what an actor's career should look like but rather expose them to a variety of tools and working methods so that they can then apply them to the career trajectory that they ultimately desire. In short, we're trying to train a working actor who is as employable as possible.
Our students encounter a wide spectrum of material during their time in our program, so that they are prepared for anything from Oregon Shakespeare Festival to a national Butterfinger commercial (as one of our most recent graduates just landed). We incorporate on-camera training into all four years of the program, so students are prepared not only for the stage but for a variety of opportunities on film and the emerging media landscape (as well as mastering the important art of the self-tape). We offer a year-long devising curriculum in the third year, so students train across the full spectrum of the industry not only as actors and directors, but as writers, content creators and developers, and producers. UNCSA is also unique in that it houses five arts conservatories—Dance, Music, Filmmaking and Design & Production, in addition to Drama—creating a unique arts ecosystem. Our collaboration with the School of Filmmaking, for example, has students acting in student films, learning motion capture work, voiceover, and more.
Over four years, we hone, shape, and create greater expressivity in our students' physical and vocal instruments, as well as the acting instinct itself. An actor's ability to tell a story is only as good as their ability to communicate that story to an audience on the other side of the stage or screen.
Each year of the training program at UNCSA builds on the work of the previous year. The first year is focused on the basic building blocks of technique. In second year, you begin to apply those techniques to a variety of in-class presentations. Beginning in the third year, your craft is tested as you are cast in a main stage production every semester of your third and fourth year. Fourth year is a focus on getting our students ready to enter the profession: mock auditions with industry professionals, singer-actors build up their books, showcase, etc. We are a BFA program, so students do take academics, usually completing them over their first three years. Academics are curated to the artist and my colleagues in the Division of Liberal Arts at UNCSA are interested in teaching to a different kind of student.
In a given cycle, we generate around 800 applicants for 30 spots—28 actors and two directors. Acting applicants are asked to prepare three monologues: one classical and two contrasting contemporary monologues, as well as a 16-bar cut of a song a cappella. The audition is followed by a short interview. Directing applicants are asked to prepare two monologues: one classical and one contemporary, and then have a lengthier interview where we look at their portfolio. My biggest advice to applicants is to think of the audition as an opportunity to showcase several different sides of yourself. We're really just interested in getting to know who you are as an artist and what your impulses are.
We are looking for students who have a theatrical impulse—someone who needs to be on our stages and screens. We want a student who really loves this craft, because we can't teach that. Someone with a vast imagination, it's what separates the artist from other folk. A student who is professional and dependable. We want a representative ensemble of students from a wide spectrum of society as we want to tell all kinds of stories on our stages, screens, and in our classrooms. When we have a variety of backgrounds and voices in our classes, everyone benefits. Above all, we want good citizens in the School of Drama at UNCSA.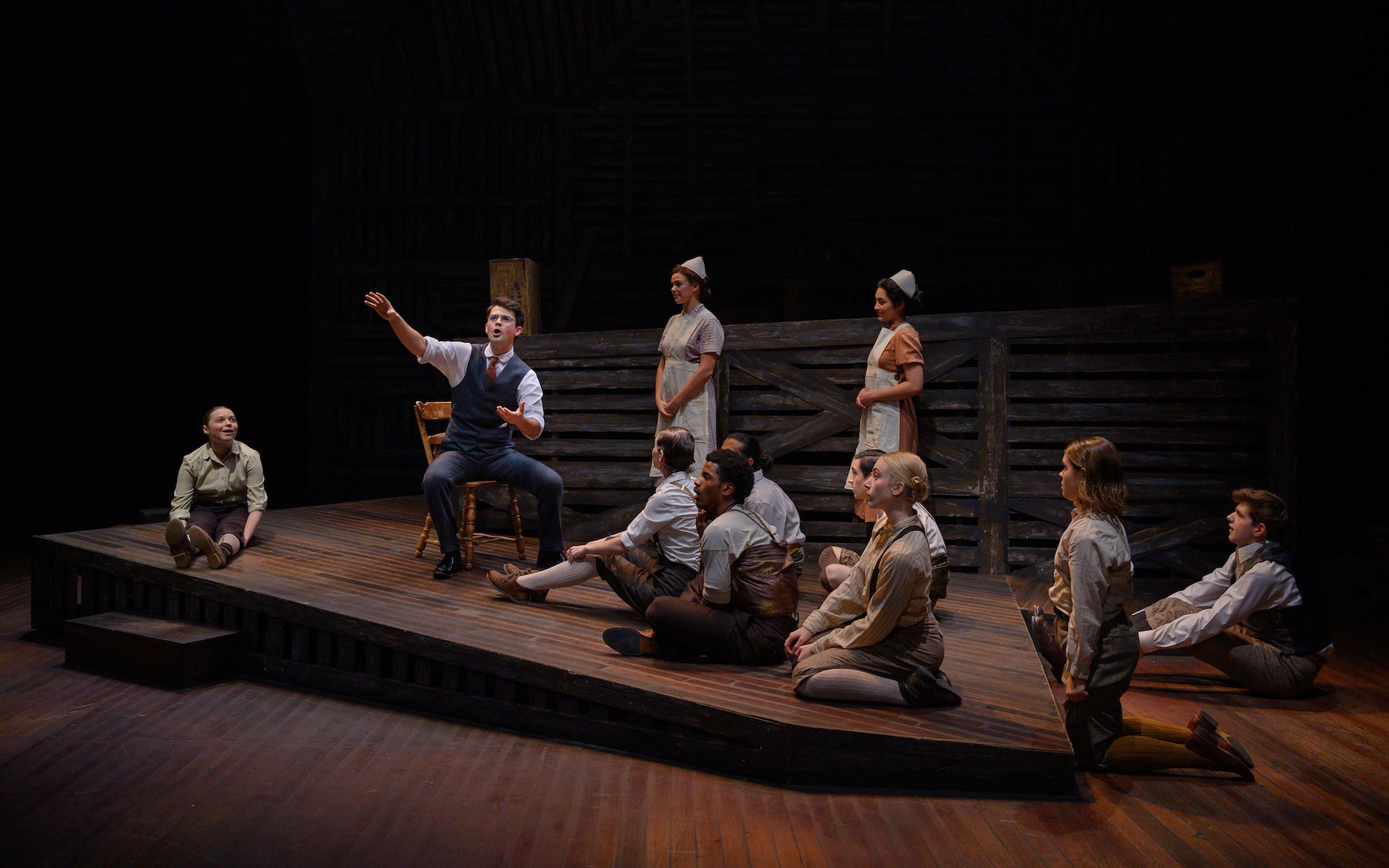 "Cider House Rules" (Credit: Peter J. Mueller)
At UNCSA, our students present an hour-long showcase of short scenes and a few songs (from our competitive singer-actors that desire a future on the MT stage) in the spring of their senior year. I believe that we are the only conservatory that takes its showcase to four different cities: New York, Chicago, Los Angeles, and Atlanta. We want to expose our students to a variety of markets so that they can figure out where they might want to land after graduation. It is designed as an introduction of the graduating class to the industry itself and is presented to an audience of agents, managers, casting directors, and other industry professionals. In an industry where roughly 8% of all card-carrying union members have representation, at UNCSA we are proud that typically around 75% of the graduating class signs with an agent and/or manager right out of showcase.
There are a lot of great schools out there. In fact, I'm friends with a number of teachers at peer institutions and greatly respect and admire the work that they do in their individual programs. Not every school is right for every student. Applicants need to ask themselves what they ultimately want out of their college experience. For instance, because we are a standalone arts conservatory, our students are intensely surrounded by multiple disciplines of art for four years—there are no sororities, fraternities, or football games. Our environment is right for a certain kind of student who knows that they want a career in the entertainment industry right out of school and is maybe less interested in a more traditional college experience. If conservatory training is the right path for you, look at the alumni who are working from the various programs. Who do you look up to? Once you narrow the list down and go through the audition process, pay close attention to the audition experience. Whose rooms did you feel comfortable in? Chances are that if you did not like the audition experience, that's what you'll be in for when you train there. Once you know where your offers are, that's the time to visit and get a feel for things up close. Talk to current students and see how you vibe with them. Get a sense of your potential future classmates and see if this is your tribe.
The rigor, focus, and intensity within the conservatory environment is nothing like a liberal arts pursuit. It is much closer to going to law school, medical school, or perhaps Division I athletics. The days are long and hard—I know this because my schedule mirrors my students' schedule.
We [have implemented] "hybrid" training, which is a combination of online and in-person training, with at least one-third taking place in person. Students returned to campus mid-August and we have radically altered our spaces and protocols to ensure student, staff, and faculty safety. It's not easy—I think we're all a bit sick of Zoom. That said, I'm proud of the resiliency that my school has shown, especially the students. Scott Zigler, Dean of the School of Drama, has worked tirelessly to reimagine a production season that prioritizes the health and safety of our students and faculty while reflecting the ways the industry is adapting as well. We are doing a mix of outdoor projects, socially distanced performances, radio plays, plays that are being filmed, edited, and streamed at a later date. The theater has always been a place where invention is bred by limitation. Our school is not interested in mourning what the theater was but rather embracing what it will be, and preparing students for that.
The craft of acting has been around for thousands of years; it's not going away any time soon. Just think of all the content that we've been churning through during the pandemic. People have been watching more stories from streaming services because there's nothing else to do. The industry is already starting back up and trying to fill the glut of material there's going to be. The opportunities will be greater than ever before.
If the pandemic has taught us nothing else, it is how important on-camera training is for the student actor. Unlike most of our peer institutions, we incorporate on-camera into all four years of the training program. Due to Dean Zigler's 30-year friendship with Bob Krakower, our students get to study with the person considered the finest on-camera teacher in the country. They also get to put that training to the test during their time here by participating in student productions from our highly-ranked School of Filmmaking. Most of our students have already put together a decent reel for themselves by the time they graduate. They are also making lifelong connections with the filmmaking voices of tomorrow.
Looking for remote work? Backstage has got you covered! Click here for auditions you can do from home!