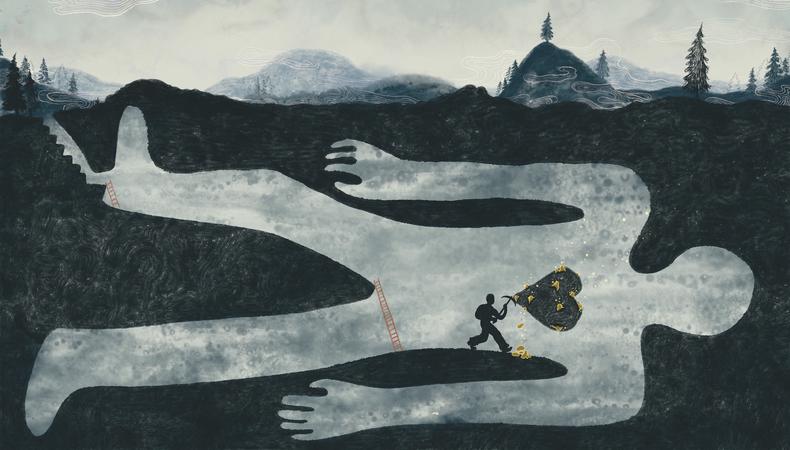 The University of Southern California's proximity to the hub of screen production is an obvious draw for those looking to "make it" in Hollywood, and the acting program's deliberate focus on screen and new media disciplines help it stand out. But stage acting is certainly not forgotten in the multidisciplinary program. Beyond focusing on the talent students can bring to the School of Dramatic Arts, the admissions team says that it invites different points of view, especially from those who feel underrepresented in the arts. In conversation with Backstage, three of its members explain what they look for in applications and auditions to build their classes of 18 acting and 14 musical theater students each year: Kenneth Noel Mitchell, co-head of undergraduate acting and head of musical theater; Anita Dashiell-Sparks, co-head of undergraduate acting and associate dean of equity, diversity, and inclusion; and Sergio Ramirez, associate dean of admissions and student services.
What are you looking for in prospective USC students?
Kenneth Noel Mitchell: I think everyone is a leading lady or leading man in their life. I'm interested in what is unique and not trying to be unique. What is their voice? They don't have to be trained. I want the raw potential.
READ: Do You ACTUALLY Have What it Takes to Study
Acting in College?
Anita Dashiell-Sparks: One of the things that always gets me excited is getting a sense of the student's creative curiosity and passion for what they do. I get excited about listening, watching, and hearing that spark that makes them want to do this. It's very challenging. It's incredibly rewarding and fulfilling, but it requires an amazing amount of focus and discipline. I'm also interested in what they have devoted their extracurricular time to doing. It helps provide a holistic point of view about who they are. It's not just indicative or contextualized by scores or grades.
Is there a certain background or training you expect students to have?
KNM: I'm looking for a facility to work, to reveal what is human in your voice, heart, soul, and through your movement. You need to express yourself. There could be a wide range of experience, but it's really that basic facility.
ADS: Have a capacity for your imagination—those possibilities of versatility and range within story and experience and circumstance that the student has the potential to embody. That's so much of the training over the four years; you are really able to stretch and strengthen and expand that. But you have to have a willingness and creative curiosity and suggestibility to play and explore and investigate in that way.
What should students know about how you build a class?
Sergio Ramirez: Don't look at everything I do as indicative of how you did in the audition. The evaluation comes in two touch points: the application and the audition. The more confident you are about who you are and the more you're willing to share is always enlightening for us; our goal is to try to understand who you are. You can tell the difference between a student who, when you ask a question, is really thinking about what you've asked them versus a student who has answers ready. That translates to the audition. If there's a redirect in the audition and you see the student think about what the faculty members shared, we know they thought about how to move forward. That tells us how you're going to be when you're here. You're not just going to take direction from us; you really are thoughtful in every direction you take, whether it be in a casual conversation, an audition, or a class.
READ: 7 Steps to a Successful College Audition
What is the process if someone hopes to become an undergraduate acting student?
SR: The Common Application has always been required, and then, obviously, transcripts. In this particular cycle, we are not requiring the SAT or ACT. Every student who applies to the drama school requires a supplemental application that asks for a résumé, a personal statement responding to questions that hit in the heart of what they understand of this industry to offer them, as well as what do they see in the experience moving forward at USC. We can gauge how much they've thought about this and hear their personal story. We have an opportunity for them to do what we call Take Three, which is basically three pictures, and they post a caption of what's meaningful to them that speaks to their personality. And then, this year, we have a creative submission video instead of a live audition to get a sense of their personality. That's a big part of putting together the class. We need to make sure that they gel well. We ask for their monologues, a classical and a contemporary, no more than two minutes each. We will make a decision around January as to whether or not a student will be moved to the second round of evaluation. We will be hosting a callback experience in February. If we're given clearance to allow students to come back to campus in spring, a big part of the decision is for them to come to campus and get a sense of it. If we are unable to do an in-person callback experience, that will all just be a live virtual experience. Then we will go back and forth with our Office of Admissions. We have to make sure that the student is going to succeed academically, because there's still a liberal arts component tied to our degree. And then offers are extended.
"Just because you don't see yourself onstage or in movies or films, don't discount that we don't need to—those "invisible" people are the people that need to be seen."
What advice would you give someone who hopes to join the program?
SR: The easiest thing is really just to speak to the heart of why it is that you want to do this, aside from the camaraderie of being in a cast and being onstage; we hear that a lot from students, and that's great. But the students that offer the most compelling cases are those who you can tell have thought, in depth, what this represents to them. The monologue selection is a huge aspect of this. That is representative of your personality and your own personal story. KNM: Choose pieces you love to do that you can do. Not pieces that you think are funny, that I'll think are funny or clever, or that Anita will think are dramatic. Choose pieces you can't wait to get in the room and do, and have fun. If you have fun, we'll have fun. ADS: It's not about trying to figure out picking monologues and going into the room with the pressure or the obligation or intent to please or appease. This is an opportunity for you to go in and do you. Share your point of view and perspective, your truth, through the story that you're telling. KNM: There are schools that want you to please them, but this is not one. This is a school that celebrates you for who you are. Just because you don't see yourself onstage or in movies or films, don't discount that we don't need to—those "invisible" people are the people who need to be seen.
What shouldn't people do when they're applying?
SR: We're not expecting Oscar-winning recordings of your audition. However, we are expecting that you actually look at it yourself and you say, "Hey, that's a good representation of me." We've received submissions where there is no way the person watched the video and said that. You don't need to have a fancy camera, you don't need to have a fancy location. You just need to be in a space with a blank wall, and for us to see your whole body. Use a smartphone to record it. That's one of the biggest pieces. The other is in your personal statement. Don't waste real estate on what we already know; don't regurgitate your résumé. A lot of people apply to USC because of the brand power in the name. They haven't really done the research. We all work here. We know how great opportunities are. What we want to know is your own story, who you are, what you're going to do with this experience, and then allow us to translate that. That person is going to be a great fit for a place like USC because I know what I can offer and connect them with while here.
This story originally appeared in the Oct. 8 issue of Backstage Magazine. Subscribe here.
Looking for remote work? Backstage has got you covered! Click here for auditions you can do from home!