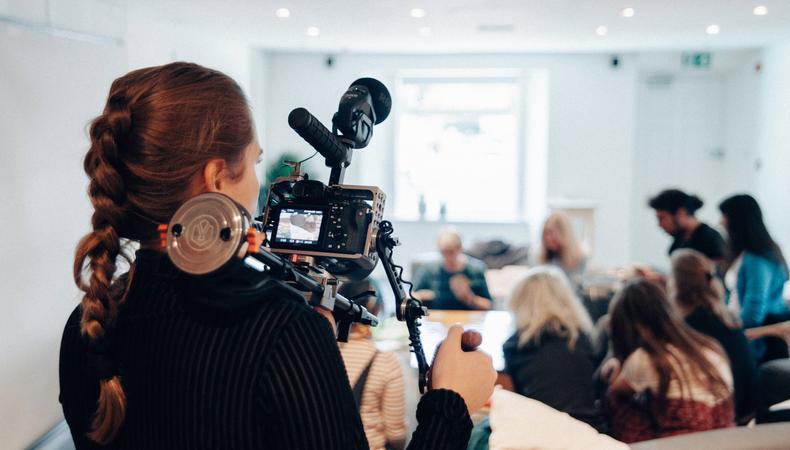 When crafting a short film, it's critical to not only have a good script you're confident in, but also the right script that best represents you as a director.
Finding the right idea to exemplify your voice is key because a short film is like a calling card and it's your chance as a filmmaker to have a lot of creative freedom. (You're working for yourself, after all!) As with any script, though, it's all about getting that first draft done and then asking colleagues and trusted pals for feedback and notes. From there, it's polish, polish, polish until you're comfortable sending it to potential collaborators.
Once I have a script done, I like to build a visual deck for it. I'll pull in images from other films and photography or my own previous work—things that really match my intended tone, setting, and characters. My latest project, "DISPEL," is a genre film so I wanted to work with a concept artist to get a good visual sense of the TV superhero and monster elements.
After my visual deck was complete, I began looking for other department heads to collaborate with. Finding a producer was the critical next step and being able to show my visual aids alongside the script helped give candidates something to be excited about.
READ: How to Become a Film Director
Next, it's all about building your team to execute on that vision. For this project, I wanted to work with as many female department heads as possible, both past collaborators and new ones alike. Again, it's your film so you get to make the creative decisions—figure out what you want and stick with it.
With casting, too, it's key to look for the right fit rather than getting hung up on the kind of look you expected. I find that when I'm casting and the right personality walks into the room, I just know I've found your actor. Listening to your guy is one of the most important things you can do as a director.
Scope is also a critical consideration when undertaking a short film project. Prioritize what's important to you, figure out what you can do yourself and where you should bring in outside talent. Since I'm comfortable with editing, post-production, and conforming, I was conservative with the post-production budget of "DISPEL" since I knew I could handle some of those tasks myself.
Learn how to bargain. Work on your friends' projects for free and then ask them to help our with yours. Not only does this provide free crew for your project, but you'll learn something every day you're on set and that will help you as a filmmaker down the line.
Don't be afraid to try to learn something new. If you've never edited a film, watch tutorials about Premiere or whatever software you have. Learn a little bit of motion graphics or VFX. (YouTube is a great resource for this.) It might take you longer to do something yourself than if you paid someone, but not only will it help your budget, it will also inform you as a filmmaker for your next project, like learning how to best shoot coverage to make editing easier. Really being proactive and learning these skills is one of the smartest things you can do while working on your short film.
As a first-time filmmaker, there's a difficult balance between being patient and just getting something out there. Wait for the right idea that best represents you as a director. That said, don't let the amount of money you have be a detractor. You can make something within your budget, no matter what kind of story you're trying to tell. With crafty and careful planning, mutually beneficial collaboration, and a drive to learn as much of the process as you can, you can bring your vision to life.
"DISPEL" is currently on the Academy film festival circuit, but audiences can watch now on YouTube.
The views expressed in this article are solely that of the individual(s) providing them,
and do not necessarily reflect the opinions of Backstage or its staff.