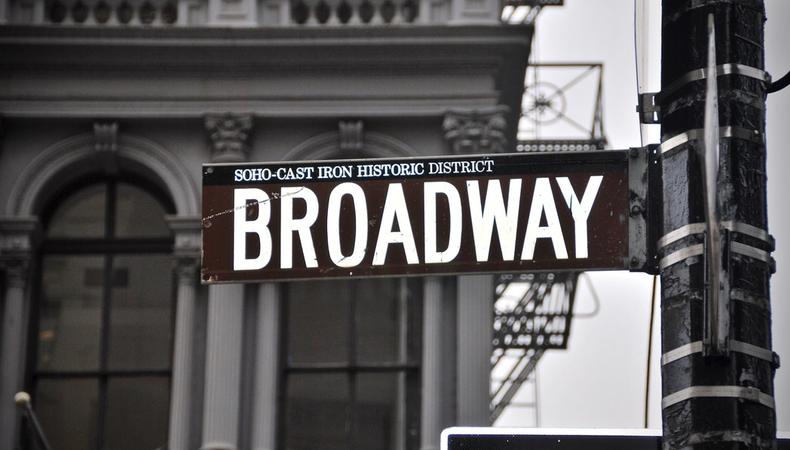 Fall is in the air and so, too, is a crop of fresh Broadway shows. If the rising curtains have your theater itch beckoning once again, Backstage is here to help. Below, industry and Backstage Experts share their best advice for how to get hired on Broadway.
There is no one recipe for success.
"It's important to understand that there are no magic secrets to having a successful career, and that everyone's path to reaching their goals is different. What works for your best friend might be completely different from what works for you, and that's OK!
"That being said, my advice is simple. Your job boils down to two things: Make sure your skills are on point, and get into as many audition rooms as possible.
"You have to be honest with yourself about your competitiveness in the professional market; take a hard look at where your skill level is and decide if you need to continue training. Many performers take ongoing acting and/or dance classes, as well as private voice lessons. Most also have an audition coach to help prep music and/or sides. The best way to find classes, teachers, and coaches is through referrals from your network of actor friends and resources like Backstage." —Mark Christine, music director, actor, vocal coach, and Backstage Expert
Your talent is what will establish you.
"For me, the definition of talent is executing skills with confidence. I see incredibly talented people come in the room [who] lack confidence, which makes any audition unappealing. Confidence is magnetic and captivating. Figure out what it is that you have to offer and why you're sharing it.
"Our office is only a little more than six years old, so we don't have decades' worth of files. We're building our files and we're making new relationships. We need to cultivate our network and continue to bring new players to projects because we're always out looking for talent." —Benton Whitley, casting director, co-owner of Stewart/Whitley, and Backstage Expert
Your conduct in the room speaks to your conduct onstage.
"When your name is called, walk into the room with confidence. Have your organized music binder under your arm and head directly over to the accompanist. Give brief but specific instructions to the accompanist regarding tempo and any other notes you may have in order to have him/her play the very best for you. Walk into the center of the room in front of the panel, and should they ask you what you are singing, state the name of song and then start with no delay or apology. As I mention above, trust in the power of the song's words (and yourself as a singer). Stillness is your friend here. Hands down by your side. You are not stiff by any means, but instead presenting a clean, crisp image. Keep your eyes open and sing over the heads of the panel instead of looking them directly in the eyes.Once your song has ended, immediately thank the panel and start out the door, not forgetting to collect your book from the accompanist." —Duncan Stewart, casting director and co-owner of Stewart/Whitley in New York City

Your physical binder is part of your presentation.
"Let's start with the basics: Your sheet music should be presented to your pianist in a three-ring binder. You never want to bring loose sheets of paper into an audition, because individual pages will not stay on a piano's music stand. Sheet music books are also a no-no; these books have a nasty habit of not staying open to the correct page, unless the binding is broken to within an inch of its life. When purchasing a music binder, I look for ones marked 'heavy duty,' with a rubberized edge. A cheapo model won't do; the rings on these are flimsy and tend to separate, possibly causing a page of your music to fly out of the binder midsong. (There are a variety of opinions about using sheet protectors; I'm in the pro–sheet protector camp, as long as they have a nonglare finish. They protect your music from wear and tear and from inevitable spills. Coffee-stained music doesn't make anyone look good.)" —Andrew Byrne, voice teacher and Backstage Expert
Put together your "diaper bag."
"Long ago, moms figured out that, if they were going to have a successful outing away from home with a baby, they'd better bring along a bag containing everything their baby might possibly need while they're out. I learned this the hard way when I foolishly took the baby with me to run some errands without one. It was not pretty.
"As an actor, you should have an 'audition diaper bag' you can just grab on your way out the door that has everything you might possibly need for your audition. Photos, resumés, business cards, audition log, hairbrush, makeup, breath freshener, umbrella, water, a snack, something to write with, something to read, etc. You get the idea. And don't forget to pack your book before you turn in for the night so you don't leave without it in the morning." —Philip Hernández, Backstage Expert and audition coach
"One of each" is a myth.
"Many recent grads think they need to pack it all: Gilbert and Sullivan, Tin Pan Alley, hip-hop, etc. That's just not true. Your everyday book should have a handful of versatile contemporary MT, traditional MT, and pop/rock songs that show what you do best, and that's it. Anything beyond should only be something you specialize in and excel at. 'Know your type, but have things in your book that show you're more than your type,' advises Broadway actor James Monroe Iglehart ('Aladdin,' 'Hamilton'). Meet the expectations the team has for you, then find ways to defy them." —Amy Marie Stewart, actor, voice teacher, and Backstage Expert
Hold your head high—literally.
"Pay attention to how you walk into the room. How you represent yourself is important. It's hard enough to get ready for an audition, show up, and put yourself out there; don't worry about others in the room. Focus on you and give the best you're capable of." —JoAnn M. Hunter, Broadway choreographer/performer and Backstage Expert
Take it one step at a time.
"Most likely, your first audition for a Broadway musical will be a prescreen. This is a chance for the casting director, associate, or assistant to get the chance to know you and your work. You'll probably sing a song of your choice in the style of the show and prepare a side (a scene) from the piece. There will be an accompanist in the room, so be clear and concise about the tempo of your song, any cuts, repeats, etc. There may also be a reader in the room, so use them! They're your acting partner, and they've likely been directed into the performance they're giving by the creative team.
"Callbacks can be overwhelming. Broadway shows nowadays have a lot of producers, most of whom will be in the room for final rounds (we once had 12 producers in the room). Alongside the producers will be the director, music director, casting director, writers (composer, lyricist, and book writer), choreographer, accompanist, reader(s), and any assistants or associates of the aforementioned.
"That's a lot of people! But remember two things. One: You made it this far, so obviously you're right for the material. Two: You love an audience. Use this as an opportunity to perform." —JV Mercanti, head of acting for the musical theater program at Pace School of Performing Arts, author of "In Performance," and Backstage Expert

Ready? Check out Backstage's Broadway auditions!