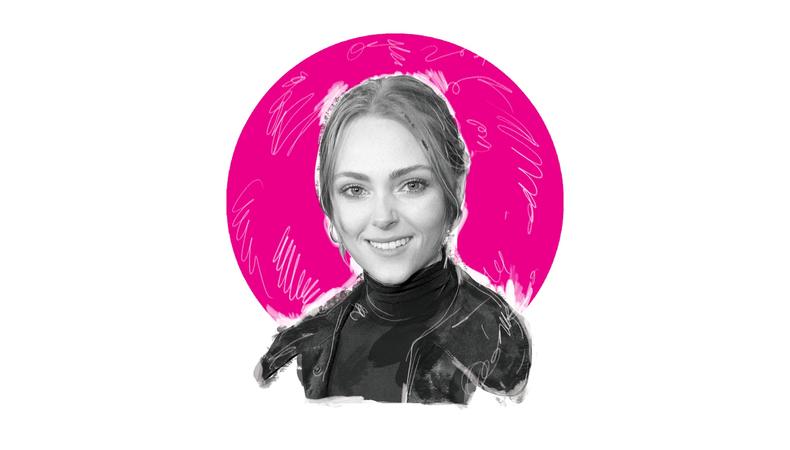 At only 25, AnnaSophia Robb is practically a veteran of the screen. Starting with leading roles as Opal in "Because of Winn-Dixie" and Violet Beauregarde in "Charlie and the Chocolate Factory" as a child actor, then appearing as Bethany Hamilton in "Soul Surfer" and a young Carrie Bradshaw on the CW's "The Carrie Diaries" as a teen, Robb managed to build an impressive résumé early on, even while attending New York University. (She graduated last May.) Next, Robb stars alongside Patricia Arquette, Joey King, and Chloë Sevigny on Hulu's "The Act," a true-crime story based on the Buzzfeed article "Dee Dee Wanted Her Daughter to Be Sick, Gypsy Wanted Her Mom Murdered" and subsequent documentary.
The cast of "The Act" is tremendous. Did it feel special when you all came together?
I remember sitting down and everyone at Hulu flew out. I wasn't expecting a giant table read, and there was, all of a sudden, all these people in the room. My heart started beating and I thought, Oh, God, they'll fire me if it doesn't go well. That was one of my thoughts. [But] I was sitting next to Chloë, and I looked down and I saw Joey and I saw Patricia and the majority of people in the room were women—our female executives and our director and both of our showrunners. I thought, Wow, there are a lot of women in the room, and all the actors here are women. That was a special moment. I thought, I think I'm doing the right thing. Everyone's performance is incredible.
It's nice to see these really complex female characters finally being given their due diligence.
These are real people, and that's what's so exciting about this project. It's letting the messiness of life, the weirdness, the bad decisions people make—it's love and hate, these complicated emotions build into these eight episodes. I think people will be fascinated by it. I think it really humanizes a very complex and somewhat salacious story. It really shines a light on why they made the decisions they did. Being allowed to have all of these different emotions is important in television and film.
Because this is a true story, what did you do to prepare to stay true to reality but also give a compelling performance?
I would often be on set and look around and think, All of this is happening because two people made a decision, or because this mother abused her daughter, or this daughter couldn't stand to be suffocated by her mother so she actually killed her. All of us are employed and we built an entire mini-neighborhood and all of these people will be watching what we do because of these two people. In terms of preparing, my character is based on a combination of real people and a lot of fiction—what the writers needed in order to tell that story for the audience. I watched the documentary, I watched news footage and read articles, and I listened to a couple of books on tape about mother-daughter relationships and the complexities of that. I listened to different accents of the region, which vary widely.
What has your latest role on "The Act" added to your acting skills?
The story takes place over eight years, so one day I'd have to play 16 and the next day I'd be playing 24. It was a different process playing younger and older. Obviously, we're telling a story and there's a lot of exposition, but how do I distill all the information that the audience might need to know about this character and her life through this perspective?
What advice would you give your younger self?
I've been meditating recently and I love it—being present and enjoying whatever season I'm in. I graduated from NYU in May and I stayed in school and I was really focused on school, but I was also [worrying], "Should I be working? Is there another project I should be doing? Should I take a semester off? How do I juggle this?" And I think I could've relieved a lot of stress if I had just been like, "Hey! Do what you're doing and don't try and do a bazillion things at once." I feel like it's better to do one thing well than five different things marginally well. Because then you feel good about yourself and you know you've given it your best. Enjoy where you're at.
How do you keep yourself from burning out?
It's weird being out of school and having time. Just creating some sort of routine of self-care. I was not sleeping all throughout college—that was my last priority. I noticed myself wearing down, and I started reading all these articles about the importance of sleep. Instead of finishing a paper or homework, I would go to bed. And that helped me so much, and everything managed to get done. I just slept more and it made me wildly more productive. Just listening to your body; I think that's really important. And nature. We filmed in Georgia, and Savannah is so gosh-darn beautiful. New York is a concrete jungle and I love it so much, but I need to get out into the woods and take a walk.
How do you typically prepare for an audition?
I love asking people that, and I feel like it's so nosy if you're another actor, but I'm so curious about what people do. It depends on the role. For this one, I did a little bit of an accent and I read the pilot, went in and I did it and it was right. I think a lot of it is if you're casting your essence and if it matches what they envision. I'm doing "Macbeth" in May, and my audition for that, I worked for weeks and I spent tons of time on the material and walking and running it outside. Doing it different ways and picking up different props. It depends on what the material is and what you feel like is required of yourself.
I can imagine it's difficult if you're not getting a lot of material, like only a few pages for a secretive project.
Acting can be very lonely. If you're just auditioning and you're not necessarily working with other people, it can be a very lonely thing. You're sent these sides, and you work on them, and you go in. I started to look at auditions like a fun thing, it's kind of like a little workout. I have actor friends, so [if] we can't get together in person, we'll FaceTime and run it. It doesn't feel like work; you're just playing pretend. I always work better around other people and in collaboration. Rather than being nervous stepping into an audition, I'm like, "No, I just ran this with my buddy and we had a blast." I like to do my research as much as possible, and I research who's doing it, the director, what have they done before, watch their films, read the script—all the basic stuff. And then in practice, I think doing it with a live human being helps to bring more out.
When you include another person, all of a sudden you've got an audience and it's a performance.
If you are with a casting director that you know or if they seem like a kind person, sometimes you don't have a chance to run it with another person, [you can ask,] "Hey do you mind, can I run this with you before we do it?" I don't recommend that for everybody, for sure. But if you need to get one out of the way, and you're in the position to do it, sometimes it can help. Sometimes it's actually even better, because you feel free and you don't feel all this pressure to make it perfect. Let's just run lines. There's less pressure put upon it.
In what sort of situations would you recommend someone do this?
If you know the casting director and you've been in the room before, I would ask, "Do you mind if we run it once together before?" Usually you can tell if they don't have much time for you and they're in a hurry.
Have you had a nightmare audition where it felt like nothing went your way?
Oh, yeah. So many. I usually get a giant pastry afterward and eat my feelings. But I think, to be honest, you can learn more from the bad auditions than you can from the good ones: Well, I guess I know that I'll never do that again; next time I'm going to have a bit of a thicker skin and not read into their behavior. I look at it as a learning opportunity rather than failing. I didn't fail if I didn't get the job. I wasn't right for it or I learned from it. I love casting directors. You might not be right for a certain project, but if they're a good casting director, they have a register in their mind. I've had that happen before. That's always really important to remember: Just because you didn't get the job you walked into, that doesn't mean there isn't another job coming your way.
Who was the casting director who gave you your first big break?
Todd Thaler cast me in my first film. Speaking of a bad audition, I was 9, and I walked into that room and I came out and I cried to my mom. I couldn't remember any of my lines, but it was the same thing where, if you're a casting director and you know what the director has in mind, he was like, "No, she's the right person for this job." You can work with people. It's nice when they give you a shot. He taught at NYU—I ran into him, actually. He was so kind, as well, when I was so young.