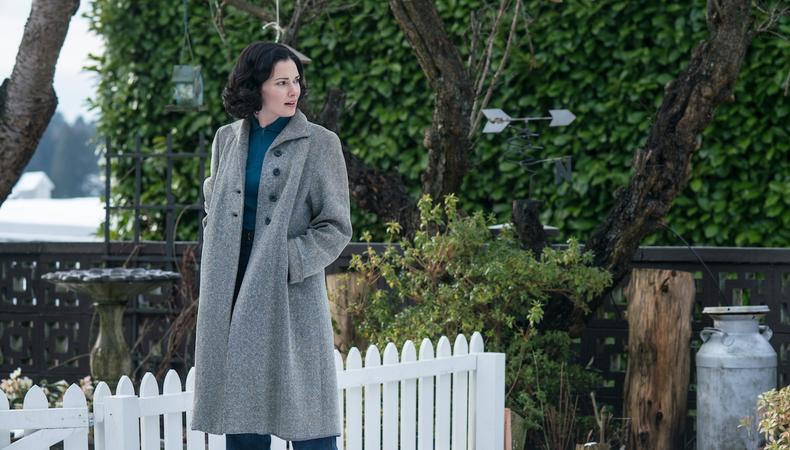 The following Career Dispatches essay was written by Canadian actor Laura Mennell, who can currently be seeing starring on History's "Project Blue Book."
At age 17, the reality of choosing the life of a full-fledged actor finally hit me, and I was petrified.
Curled up on the balcony, crying my eyes out, I wondered what the hell I was doing. Maybe it was teenage angst, but the fear was real. I knew deep down I wanted to be an actor since the time I was little. But now, on the cusp of graduating high school, I was filled with anxiety and second guessing myself. Could I really be an actor? Could I actually make living as one!? Or am I going to fail miserably? I had no clue where to begin and how to make this huge leap of faith—and really, in an industry full of constant rejection and unemployment, that's what it's all about: taking a leap. You have to love it, and even though it scared me to death, I knew it's what I had to do.
READ: How 'Project Blue Book' Star Aidan Gillen Built a Career in Prestige TV
I've gone through my share of nervousness, self-doubt, and even had a few debilitating panic attacks over the years. I've also learned fear and anxiety only hold you back. In many ways, acting is about quieting the negative chatter in our minds, which can probably be said of the secret to life in general. I had to get over this need for perfection. These feelings are crippling and a complete waste of energy that can be refocused and used to hone your craft.
Acting is really all about calming your mind and being in the moment. I find meditation and positive affirmations are extremely effective. Simply getting your endorphins flowing in the body through movement can also be effective in letting go of negative energy.
I wish I could have told my younger self to simply let go and not worry about taking the wrong path. Letting go of this fear of mistakes is the key to surviving as an actor. And honestly, screwing up is the only way you'll learn and get better! Experimenting with what works for you is essential. Accept that, yes: You are going to fail miserably (I still do!), and that's okay. It also makes us human, helps us become more empathetic and understanding of others, and in turn, transforms us into better actors.
Embracing and learning from your mistakes is an ongoing process, but the more we let go as actors and are simply present in the moment, the freer and easier it will be.
And choosing to be a performer can't be about the trivial need for fame, or money. It has to be about passion; if you have that, it's hard to shake. Simply trust yourself. Let go. Be you. And love what you do. It's taken awhile to allow that intuitive voice inside to guide the way, but looking back, my younger self always knew who I was inside.
I was, still am, and always will be an actor.