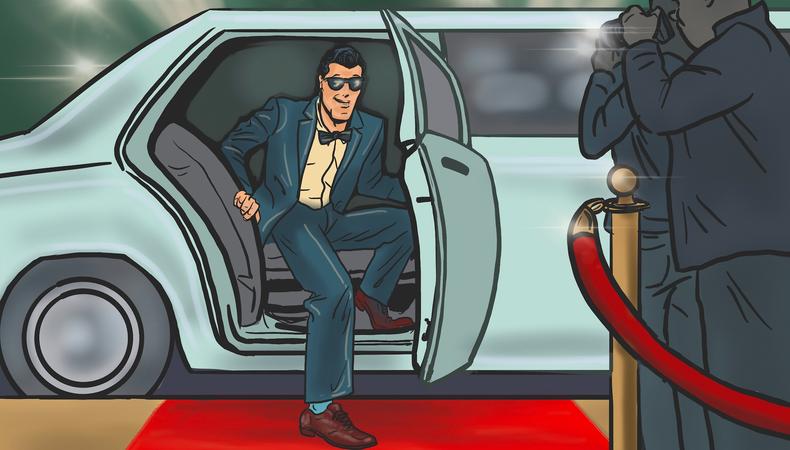 Would you like to know what's on my desk right now? It's not a casting breakdown or a headshot; it's a betting pool for the Emmys. I rarely win these things, but it's still fun to play. And there's a new category this year: Which actor is most likely to hit someone in the face? My money's on Steve Martin.
You're probably not at the point in your career where you have to worry about the Emmys, but here's something you should consider: What do award shows, film festivals, and other special events have in common? I'll give you a hint: crimson-colored fabric.
The red carpet is one of the most important pieces of real estate in the entertainment industry. Stars are well-versed in red carpet etiquette, but actors who venture out for the first time usually end up dazed and confused. Let's assume this important publicity event has a place in your future. To prepare for that moment, here are a few basics:
1. There are going to be a ton of photographers there, so you must look your best. That means choosing your outfit carefully. Wear something that makes you feel like a million bucks without sacrificing comfort. You should also consider hiring a professional to help with your hair and makeup.
2. Check out some red carpet events. You can attend one live or watch it on television. Study how everyone poses for the cameras. Trust me: It's all rehearsed. I once had a client show me her pose before going to an awards ceremony. I tried not to laugh, because she looked ridiculous with one hand on her hip and her chin turned down; but guess what? That same pose looked amazing in all the pictures that were taken that night.
3. Red carpet events are like the prom: You don't want to go alone. Walking the carpet from start to finish takes a while, and you're going to be facing a gauntlet of press people. That's why it helps to have someone there leading the charge by telling everyone who you are before you actually reach them. This role is usually played by a publicist, but an agent or manager can help out, too.
4. Don't rush. You want to give the press enough time to shoot pictures and ask questions. Make eye contact, and be sure your answers are short and fun; they need to be sound bites that can be used on social media.
5. Before starting your walk, make sure there are no big stars in front of you or behind you. Celebrities are black holes that suck up energy. That's why you don't want to get caught on either side of one. The press won't care about you if they spot Tom Holland standing right behind you.
6. When you reach the finish line, go have some fun. Mingle and network. Enjoy your beverage of choice. Congratulate yourself on a job well done.
I'm sure some of you are thinking, Who cares about stupid red carpets when I don't even have an agent? That's a fair point, but I would argue it's smart and inspiring to focus on the distant future. And speaking from experience, that future might be closer than you think!
This story originally appeared in the Aug. 11 issue of Backstage Magazine.