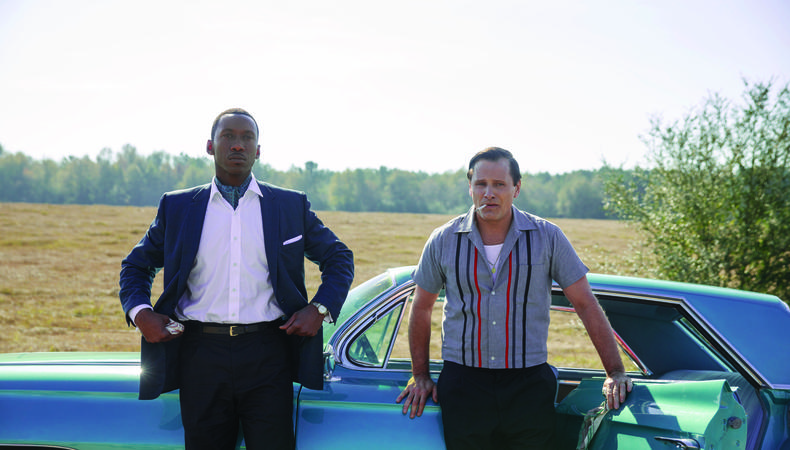 Peter Farrelly, best known for films like "There's Something About Mary" and "Dumb and Dumber," wasn't actively trying to find a drama to direct. "I probably should've been," he tells Backstage, "but 'Green Book' just landed on my lap."
The film, which has won or been nominated for a number of awards this year, including three Golden Globe wins and two SAG Award nods, first took shape three years ago, when Farrelly's friend Brian Hayes Currie told him about a screenplay he was working on. Currie was hoping to write the true story of prodigious black concert pianist Dr. Don Shirley, who in 1962 went touring through the South. For his protection, Shirley hired the toughest bouncer at the Copacabana he could find, Italian-American Tony "Lip" Vallelonga. Farrelly loved the concept. Two months later, he was collaborating with Currie and co-screenwriter Nick Vallelonga, the late Lip's son.
The film takes its title from the travel guide that helped African-Americans navigate racial discrimination and Jim Crow laws across the United States. But at its heart, the film focuses on the strained but loving relationship that developed between Shirley and Lip.
When they set out to cast the two leading roles, Farrelly doesn't mince words: Mortensen wasn't at the top of the list to play a burly Italian-American. He'd initially considered both John Travolta and Jon Favreau, two actors who arguably looked the part much more. That changed, though, when he and his wife caught "Captain Fantastic" (which Farrelly had first avoided, thinking it was yet another superhero film). "He's so different in that than he is in 'Eastern Promises,' than he is in 'Lord of the Rings.' He just disappears in a role," Farrelly says. Vallelonga, too, was taken with Mortensen's transformation into his father: "I was catching him on set out of the corner of my eye, and I thought I was seeing my father," he says on a separate phone call. "It was like I was looking at my father. It was special."
As it turns out, Mortensen loved the script. But he also needed some convincing. The actor didn't think he could do it; he wasn't as concerned with the physical transformation as he was about nailing Lip's heavy accent. Thankfully, he was granted access to a video recording of Lip sharing the story of his travels with Shirley. The tape served not only as inspiration for some of the colorful dialogue that peppers the script but for Mortensen's portrayal of the brash driver.
A recent Oscar winner for his work in "Moonlight," Ali turned out to be a perfect fit to play opposite Mortensen. Not only was he able to nail the regal composure that characterized Shirley, he found a way to mine the humor in the smallest of glances, eye rolls, and sighs. "The best actors are reactors. They don't have to have the line. They can make a reaction to a line funny, and that's what Mahershala did throughout this entire film," Farrelly says.
While Farrelly was focused on not relying on his comfort with comedy when working on the script, Vallelonga concedes that "a talented filmmaker is a talented filmmaker," and says he wasn't worried about whether the filmmaker would do his father's story justice. "Within all the craziness of Pete's movies, there was always a heart. And I don't believe in putting people in a box. If you're an artist, you're an artist."
That "Green Book" ended up being so funny while tackling the ugly everyday racism that Shirley dealt with throughout his tour, however, was ultimately a surprise to Farrelly—and a testament to his actors.
"Until we had Viggo Mortensen and Mahershala Ali performing it," he says, "I had no clue how funny it was."