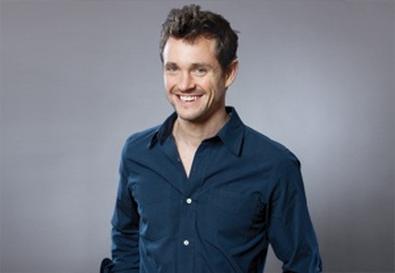 The ashtray turned projectile is what officially made it Hugh Dancy's worst audition. While meeting with a film producer who claimed that Americans make better action movie stars, Dancy recalls the producer saying, "You know, I really should be testing for physical attributes, like coordination. I should just do something like this!" before hurling the ashtray at the Brit.

For the record, Dancy caught it.

Still, even an audition that results in the actor being covered in ash is no match for the audition process Dancy enacts eight times a week on Broadway in "Venus in Fur." In David Ives' Tony Award-nominated two-hander, which moved to Broadway last fall after a 2010 premiere Off-Broadway at Classic Stage Company, Dancy plays playwright-director Thomas, who is desperate to find the female lead for his stage adaptation of Leopold von Sacher-Masoch's erotic 19th-century novella "Venus in Furs." In walks Vanda (Nina Arianda), an unknown young actor who begs for the chance to read for the role. But over the next 100 minutes, the balance of power shifts and tension mounts as Vanda's audition becomes a fierce yet funny psychosexual struggle for control.

When Thomas says, "This is hard. I can't believe I put actors through this," in the middle of a line reading, Vanda tells him, "You're a director. It's your job to torture actors." Not coincidentally, both characters remind the audience that Sacher-Masoch is the source of the word "masochism." So are some auditions really this intense?

"I think it's safe to say that nobody has had that experience," Dancy says with a laugh.
Replacing original lead Wes Bentley in the Broadway transfer meant that Dancy was the new kid on the block among co-star -- and recent Tony nominee -- Arianda, Ives, and director Walter Bobbie. Having missed the original production (he was appearing in MCC's "The Pride" Off-Broadway at the time), Dancy worried that he would have trouble catching up to the rest of the team. But since the play depends entirely on the interplay of its two leads, Dancy's arrival pushed the reset button for everyone.


Hugh Dancy and Nina Arianda in "Venus in Fur" (Joan Marcus)

He credits Ives for creating such a complex relationship between two characters that are using each other to discover themselves. Dancy adds that there is "pleasure" in delivering the playwright's precisely crafted dialogue, which also demands that the actors bounce back and forth between various accents to delineate the intricate plot's hairpin turns. While one takes the upper hand, the other slips into submission.

"One of the reasons why it's so fun is because the play is a series of surrenders," Dancy says. "It's like Thomas is ripping off a bunch of Band-Aids and choosing to abandon himself to whatever's next, to the moment, to wherever it's going to take him. And that is really the quintessential experience of doing a good play and performing live -- throwing away whatever's gone on before and discovering something new in the moment. And when it's working well, it's exhilarating, just as it is in this play for Thomas."

Though Dancy has been performing in "Venus in Fur" since October, his big-screen work hasn't slowed down. Shortly after previews began, Dancy could be seen on the silver screen in "Martha Marcy May Marlene." Now comes the release of "Hysteria," the Victorian-era romantic comedy in which he stars opposite Maggie Gyllenhaal. The ease with which Dancy navigates between mediums is somewhat ironic, since the actor never expected his career to put him onscreen in the first place.

Prepared for Poverty

Dancy didn't expect to find work at all as an actor. He seems envious of students who assume that a job will be waiting for them come graduation day, no matter how unlikely the prospect. "I was suffering from the opposite form of delusion, which was the idea of employment being utterly unrealistic," he says with a laugh. After graduating from Oxford University with a degree in English literature and language, he pursued acting, taking a job as a waiter and introducing himself to agents and casting directors.

"It wasn't that kind of Hollywood story," he says, "where you grow up on a farm and you suddenly walk into a diner and somebody says, 'Oh, my god, you're a movie star!' I did come into it thinking of it as a craft. I hate that word, though. I just think it's radically overused." So what does he prefer to call it? "Work."

He was eventually introduced to an agent who helped him get cast in plays and small roles in a handful of British television series. "When I met my agent, he said, 'You should maybe think about getting an accountant,' " Dancy says. "And I was nodding, but I thought, 'This guy's crazy. What does he mean, an accountant?' It didn't occur to me that I would ever work in TV or film, actually. I just didn't know about that."

But after his turn as the title character in a 2000 TV adaptation of "David Copperfield" attracted the attention of American agents, Dancy began making frequent trips to Los Angeles to audition for movie roles. He now lives in New York -- a move he says was "more the result of my personal life" following his marriage to actor Claire Danes in 2009.

"So much of it is about being able to sit in a room and make a connection with somebody," Dancy says of his career, "and then you get to actually demonstrate whether you can do the job or not. But if you can't do the first thing, you won't get to do the second thing."

And unless you produce or direct your own projects, Dancy says, "the only power that you have as an actor over your career, in some sense, is to say no. The one thing that I think I have tried to be responsible about is actually being picky."

Actors cannot start a career by turning down every opportunity their agent brings forth, however, especially if they hope to have any projects to choose from in the future. And when Dancy was cast as D'Artagnan in the 2001 Musketeers-inspired movie "Young Blades," he learned a valuable lesson during the shoot, even though he almost refused the role.

"I thought, 'This is pretty frivolous and pretty silly, really,' " Dancy says. "But my agent said, 'Oh, just do it,' so I did it. And it was frivolous and it was silly, and I had a fantastic time. I learned that you can just enjoy something. I don't think frivolous and silly is necessarily a bad thing. I was in the wrong."

Telling the Whole Story

Switching between film and theater projects brings with it a singular perspective. "You just aren't afforded the time [during a film shoot] that you get in theater to mine the piece of work and understand what to do with it," Dancy says. "In the theater, the prep work is done in rehearsal, but the real work of understanding it comes when suddenly you're doing it every night, beginning to end, nonstop, in front of an audience. Even if you're lucky enough to get rehearsal for a film or TV, you never get the run-through process. So you never get to the point where you really understand the shape that the story should take and how you can serve it in the shape of your performance. You have to try and do that work on your own [for a film], however you do it."


Hugh Dancy and Felicity Jones in "Hysteria" (Liam Daniel/Sony Pictures Classics)


The big-picture understanding that Dancy brings to his work was evident to Tanya Wexler, the director of "Hysteria," in which Dancy stars as a doctor who inadvertently invents the vibrator while working on a cure for a mysterious illness in prudish 19th-century England.

"He's able to do what a lot of actors don't feel comfortable doing," Wexler says, "which is, he can think from within the character but also from the whole script. A lot of actors don't want to think about too much of the context, because they want to be within the character, just like we are within our own lives. The joke in a lot of film schools is that the extra in the background thinks the movie is about the waiter, because if you're living within the part, that is your whole world."

Discussing Dancy's work shortly after the film's U.S. premiere at the Tribeca Film Festival, Wexler says the actor was involved in every aspect of the six-week shoot and offered his input in the direction of several scenes. He knew not only his place in each shot but added ideas to incorporate unexpected physical comedy and also maximize the time and talents of everyone else on set when the cameras were rolling.

"He's not trying to direct my movie," Wexler adds. "He's trying to help us make something together."

Though Dancy says that he has no directorial aspirations, he knows that what he wants from his career is not far out of reach.

"There's a shifting goalpost," he says, "because the things that are open to you maybe change, but so do the things you want that are just within your grasp. You have to fight for them still."
---

Outtakes
- Dancy has been cast as FBI agent Will Graham in "Hannibal," a new NBC series that provides the origin for the iconic cannibal of "The Silence of the Lambs" and its sequels.

- Born and raised in England, he got a glimpse of the U.S. when his father taught briefly at the University of Pittsburgh. "For the 13-year-old me, Pittsburgh was the most multicultural and exotic place I'd ever been," Dancy says. "We were living next to the kind of Hasidic Jewish area, and there was also a Turkish community. It was just America, you know? It was the melting pot."

- In the upcoming animated film "Dorothy of Oz," Dancy voices a character named Marshal Mallow. "I was playing a marshmallow, so I had pretty much carte blanche," he says, laughing. "Vocally, you can be bolder than you probably would be under most circumstances."

Read more about Hugh Dancy, and his thoughts on sharing good chemistry with his co-stars, at BackStage.com.

Daniel Lehman is a staff writer for Back Stage. Follow him on Twitter: @byDanLehman