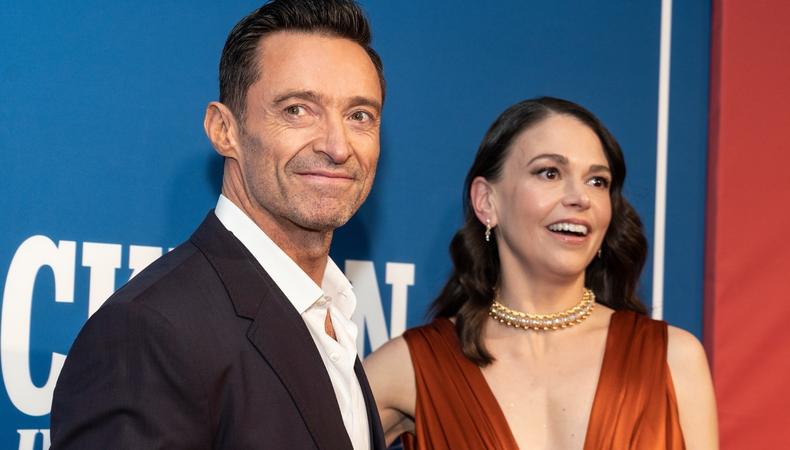 In the Envelope: The Actor's Podcast features in-depth conversations with today's most noteworthy actors and creators. Join host and senior editor Vinnie Mancuso for this guide to living the creative life from those who are doing it every day.
If you've walked past the Winter Garden Theatre at any point this year, you've seen the posters promising three of the biggest capital-letter "names" in Broadway history: "The Music Man." Hugh Jackman. Sutton Foster.
"I avoid that big marquee with our names on it as much as possible," Foster says. The two-time Tony winner and her co-star Jackman both joined In the Envelope on a show-less Monday. We were six days out from "The Music Man" scoring six Tony nominations, including best revival of a musical, plus lead actress and lead actor in a musical for Foster and Jackman, respectively.
Avoiding that marquee, they both say—therefore avoiding the them of it all—is vital not only for creating a tight-knit community backstage, but also for maintaining their shared approach to success on Broadway. "Every show is like, 'Alright, here we go.' We start at square one," Foster says. "We try to forget everything we know."
"You get this chance to live with a character and live within a time frame and a storyline that is the same," she continues. "Some shows are more inspired than others, and some shows surprise you more than others. That's the gift of doing a show for an extended period of time—you get this opportunity to grow with it. And hopefully, when you're done, when you finally say goodbye to that character, you're better at the end than you were at the beginning."
Both actors point to small character beats in "The Music Man"—which is, by design, one of the biggest shows on Broadway—that continue to evolve deep into the revival's run. Foster recalls a moment at the end of Act 1, in which shy, young Winthrop Paroo, played by 11-year-old Benjamin Pajak, finally finds his voice.
"During previews, my focus was on [Jackman's character,] Harold Hill. I would look at him," Foster says. "And I realized, it has nothing to do with him. It's all about Winthrop. So I kept all my focus on this little kid, and the way that moment landed, I felt like it landed because it's all about this kid's light turning back on."
Foster turns her attention to her co-star. "This is interesting; I don't know if I ever talked to you about this, Hugh. Or maybe you noticed. You were like, 'She's not looking at me anymore.' "
"I noticed," Jackman says with a laugh. But the actor, himself a Tony winner, also subscribes to the idea of coming to each performance, eight shows a week, with as clean a slate as possible. "The hardest thing about acting is: You don't know what you don't know," he says.
"You've got to go out there, obviously knowing everything that's going to happen in every line, but pretending you don't, as in life," Jackman continues. "That makes it feel alive. When you're with other actors who are in that same contract of: Alright, let's see what's really happening, now, in the present. It takes courage."
That courage, Jackman notes, often involves not resting on those bold, recognizable names at the top of the marquee.
"Sometimes, it's easier to fall back on things you know work. You think, I know if I do it this way, that gets a laugh," he says. "It's a fine balance. I find it frustrating at times. At times you're like, 'Ah, I don't know what's happening with this scene.' Then you find it, then you lose it. It's excruciatingly beautiful, and I love that about the process."
For both Jackman and Foster, that continual sense of discovery is what makes the Broadway stage feel like reality—and what fuels them through "The Music Man" and beyond.
"It doesn't matter if it's Wolverine or a film or a show or a musical," Jackman says. "I have to feel that everything is based in truth, in groundedness. Even if it's big, or even if we're somehow sort of semi-winking at the audience, it has to feel real to me, or I just can't get through it."
Listen and subscribe to In the Envelope to hear our full conversation with Jackman and Foster.