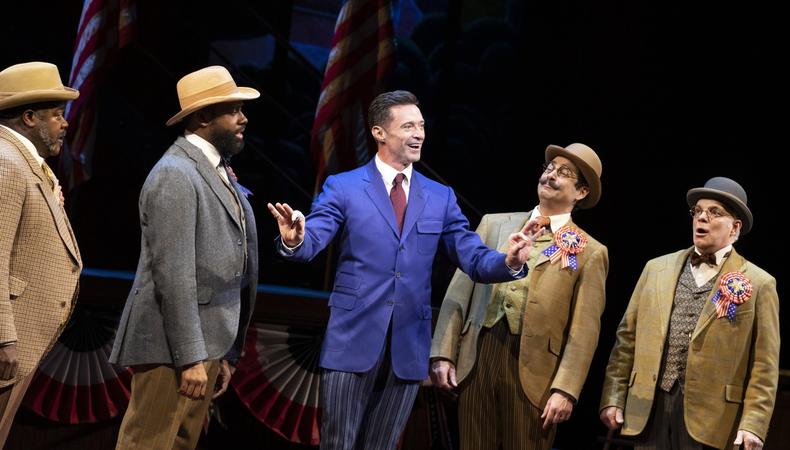 Long before he was starring as Harold Hill in the current Broadway revival of "The Music Man," Hugh Jackman flexed his musical theater chops as Gaston in the original 1995 Australian production of "Beauty and the Beast." Those familiar with the Disney classic know that no other character in the Disney classic sings with the fervor of Gaston. And at first, according to Jackman, neither did he.
"In my contract, they made me have a singing lesson every week," Jackman told Playbill in 2017. "I came to singing late…. I was learning on the job."
Prior to that, Jackman's performance aspirations hadn't included musicals at all. And still, it was not until he worked on the movie musical "The Greatest Showman"—and with vocal coach Liz Caplan—that he was truly converted. "I kind of developed a voice that was not fully mine," he recalled. "Liz really made me fall in love with singing."
His newfound passion for musical theater led him to audition for the Australian production of Andrew Lloyd Webber's "Sunset Boulevard" shortly thereafter. He landed the leading role of Joe Gillis, and from then on, Jackman was known as a song-and-dance man. He won a Tony Award in 2004 for "The Boy From Oz" and has starred in a number of musicals both onstage and onscreen since.
But learning on the job is still a constant for Jackman, and that's true as ever for "The Music Man." This time around, it's choreography that has required some extra work. "I'm not a dancer," Jackman recently told Vanity Fair. "But I can learn it. I can get there."
During the COVID-19–induced Broadway shutdown, Jackman took it upon himself to find a rehearsal studio and work on the show's demanding choreography. "Having all this time, there's no way I'm going to waste it," he said of the year and a half when theaters were shuttered.
Jackman also cited his co-star, two-time Tony winner Sutton Foster, as a motivator. "She can learn a new dance in three hours," he said of Foster, who plays Marian in the revival. "And she's the best dancer you've seen on Broadway." As anyone who's gone to the Winter Garden Theatre since December can attest, Jackman's not so bad himself.
Looking for remote work? Backstage has got you covered! Click here for auditions you can do from home!