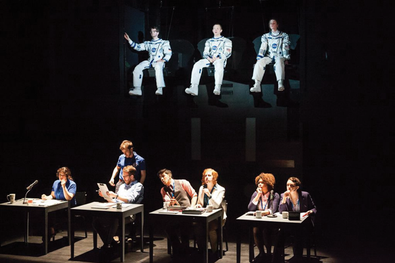 The loudest applause at the 37th Humana Festival of New American Plays did not go to shows' stars. During a performance of Branden Jacobs-Jenkins' "Appropriate," shouts sounded for a swarm of stagehands flooding the stage for a scene change. These are the apprentices—a group of 21 actors who spend nine months in Louisville for a professional training program.
"They are the lifeblood of this organization," says Zan Sawyer-Dailey, casting director for the Actors Theatre of Louisville, which programs the festival. "We're looking for people who are really hungry, not just hungry to be actors but to know the theater."
This year's festival, which closed April 7, featured world premieres from playwrights Will Eno, Sarah Ruhl, Rinne Groff, Lucas Hnath, and Jeff Augustin, among others. This year also marked the first curated by artistic director Les Waters, who joined Actors Theatre in late 2011.
To be eligible for the apprentice program, actors must have completed a four-year college acting program. Anyone who is qualified can audition. Approximately 2,100 auditioned this year, and 100 are called back to apply. The application process includes a personal statement, two letters of recommendation, and an interview.
"It's a nine-month total-immersion program that is designed to prepare them for the world they're about to enter," says Michael Legg, the director of the program. Legg spent five years in New York as a theatrical agent, and he says he's looking for performers with the training, talent, personality, and marketability to succeed. "Whatever it is they're interested in pursuing, we help them move down the path toward making that happen."
During Humana, there is a showcase for about two-dozen agents and casting directors, and from last year's cohort, 17 booked gigs within six months, 12 landed agents, and 8 joined the union. The attrition rate over the last five years is 2 percent.
"As a young theater artist, you just don't get hands-on experience," says festival associate director Meredith McDonough, who was a directing intern at the theater. "I have a career because of it," she adds.
The company also performs a five-show season—including devised work, solo shows, and 10-minute plays—that culminates in the anthology project, a full production that premieres as one of the six at the festival. This year that show was "Sleep Rock Thy Brain," a collection of three short plays on the topic of sleep.
"This is like the first time where I feel like we are a part of the acting company that's here because we also have a full show that we're doing," says apprentice Chalia LaTour, who will attend the MFA program at Yale University in the fall. "Even though you are doing your crew work, we're all a part of this company."