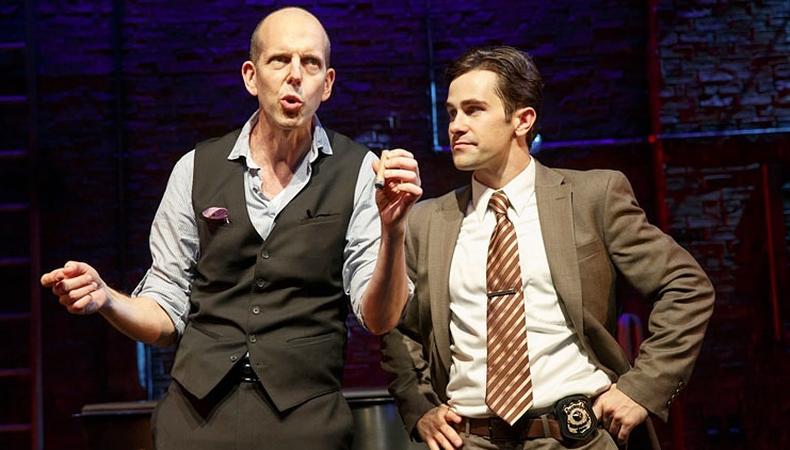 First of all, knowing this will be read by actors, we wanted to start off by saying sorry. Not because you're an actor—we think that part is great! We wanted to apologize for writing a show with 14 characters played by only two performers. By our count, that means 12 of you don't have a job right now because of us. And it gets worse! Let's say we start playing regionally: times that 12 by X number of regional productions and pretty soon we'll have hundreds of unemployed actors on our consciences. Again, we're very, very sorry. But before you consider murdering us at a surprise birthday party—on a related note, go see our show "Murder For Two," currently running at New World Stages—try to see things from our perspective. Try to understand where we were exactly five years ago.
Joe was young, confused, and too tall for his own good. He crashed a grip truck while working as a production assistant on a low-budget film starring TV's own Columbo, Peter Falk. He thought to himself, "What do I do now? How can I put my piano playing to good use? And why is Peter Falk yelling at me?"
Kellen was young, starry-eyed, and red-headed. It was the dead of winter, and he was passing out flyers in Times Square, doing his best to ignore the numbness in his fingers and toes. He wondered, "Where do I go from here? How do I put my red hair to good use? And why is Peter Falk also yelling at me?" (Insert traditional "I want" song here, with backup vocals by the cast of Columbo.)
Luckily in our search for a way to break into a seemingly closed-off business, we found each other at the BMI Musical Theatre Writing Workshop, which is basically speed-dating for musical theater composers and lyricists. We teamed up and decided to write the next great American musical, complete with a cast of thousands and a 700-piece orchestra. And then we noticed something; the economy sucked and theaters were scaling back their seasons by replacing flashy musicals with four-person plays. Producers had always been cheap, but now they were being really cheap. And we suddenly realized our first show as two nobody-writers was never going to be a huge, expensive, Broadway spectacle. So we gave ourselves a challenge. How much could we do with absolutely nothing? A few months later that "absolutely nothing" became a staged reading of a silly, intimate musical called "Murder For Two." (Well, actually it was called "Marcus Stevens IS Detective Marcus IN Detective Marcus Investigates," but that's beside the point.)
So you see, in creating a two-person show, we weren't selfishly trying to deprive you of a job, but we were selfishly trying to get ourselves a job. We looked around and did our best to take advantage of the world's crappy situation. And sometimes that's the best way to get your metaphorical foot in that allegorical door. Honestly ask yourself what the world is missing, and do your best to fill that gap. (That sounds dirty, but it's not.) It's good advice. And it's true whether you're a writer or an actor or probably just about anything else. Like it or not, we seem to be entering an era where being a triple threat isn't always enough. Sometimes it helps to be a quadruple or even a quintuple threat. Learn an instrument. Practice ventriloquism. If you can find a way to drag around your own lighting rig while playing a harmonium, John Doyle will cast you in literally everything!
But back to apologizing. We know it's unfair, but hopefully we can redeem ourselves in your eyes. Remember, we said our first show would never be a huge, expensive, Broadway spectacle. But things are different now. Our first show is behind us. "Murder For Two" opened at Second Stage Uptown last summer and is now running at New World Stages, something for which we're immensely grateful. Suddenly we're getting asked to do awesome things like write essays for Backstage! And while our next show might not include a cast of thousands, we're pushing for a solid twelve. If our cast sizes continue to grow at this rate, our fifth show will employ 2,592 of you! And that's great, because "Murder For Two" has taught us something else. Our shows are only as good as the awesome folks actually saying the words out loud—often with, like, emotions and stuff. So in addition to saying sorry, we'd like to say thank you. Thanks for being a part of this crazy, crazy business. It's the stupidest decision you ever made, but we really appreciate it!
Kellen Blair and Joe Kinosian received Chicago's Joseph Jefferson Award for Best New Musical for "Murder for Two," following its record-breaking run at Chicago Shakespeare Theater. "Murder For Two" played Off-Broadway at Second Stage Uptown and is currently running at New World Stages. Blair and Kinosian were named the 2013 winners of the ASCAP Foundation Mary Rodgers/Lorenz Hart award, and their work has been showcased at the Music Box Theatre on Broadway, the Kennedy Center, and cabaret spaces across the city. Visit their website for more info: www.kinosianandblair.com