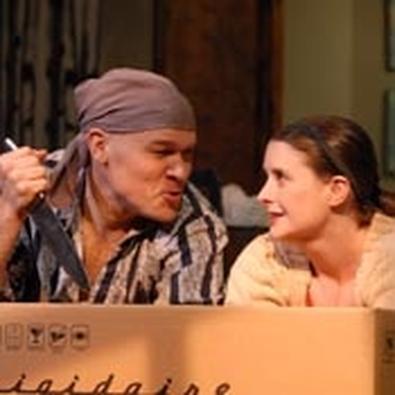 When a whimpering lamb is ritualistically silenced as a prelude to a dinner party, it's clear the gathering isn't going to be your garden-variety schmooze-and-booze fest. Peter Sinn Nachtrieb's savagely funny comedy is a shocker, but the amazing thing about this San Francisco–bred work is how the playwright elicits a cockeyed sort of empathy for the flipped-out characters who inhabit this unnerving dramatic universe, which combines the verbal savagery of vintage Edward Albee with the visceral brutality of Sarah Kane. In director Dámaso Rodriguez's sidesplitting yet thought-provoking L.A premiere, the distinctive voice of a trailblazing playwright strongly resonates.
Nachtrieb explores the thin line between civilized behavior and animalistic demeanor that exists in humans, giving us a harrowing glimpse at the results of people crossing this boundary when they're backed into an emotional corner. Neanderthal male Richard (Doug Newell) not only believes freshly slaughtered animal flesh is required to make the anniversary party for his friends a success; he has additional surprises on the agenda -- including the determination to "spread his seed" among the guests. This makes him a good match for the self-centered and duplicitous Wendy (Vonessa Martin), who arrives with her mild-mannered geek of a husband, Tom (Steven Schub). Tom's kindred spirit is Richard's suppressed wife, Pam (Sara Hennessy), whose defense mechanism against the cruelty of Richard and Wendy is to pretend it doesn't exist. Acts of desperation lead to electrifying developments and an amazing denouement.
The tight ensemble tackles the difficult material with intelligence and skill. The actors demonstrate terrific physical dexterity in fight scenes, masterfully choreographed by Brian Danner. Newell pulls out all stops to convey Richard's sociopathic leanings in a performance of impeccable insight. Hennessy's shrinking-violet housewife is a wonderfully detailed combination of nervous tics and subtle facial expressions denoting Pam's repressed despair. Martin nails the arrogance and selfishness behind Wendy's fake niceties. Schub triumphs as a tragicomic nebbish struggling to rebel against bullies.
Design elements are likewise first-rate. This marvelous production is a fitting kickoff to Furious Theatre's graduation from Actors Equity's 99-Seat Plan to a Letter of Agreement arrangement, now offering substantially increased pay for its deserving actors.
Presented by Furious Theatre Company at the Carrie Hamilton Theatre, 39 S. El Molino Ave., Pasadena. Jan. 24–Feb. 21. Thu.–Sat., 8 p.m.; Sun., 7:30 p.m. (800) 595-4849 or Furious Theatre Company.