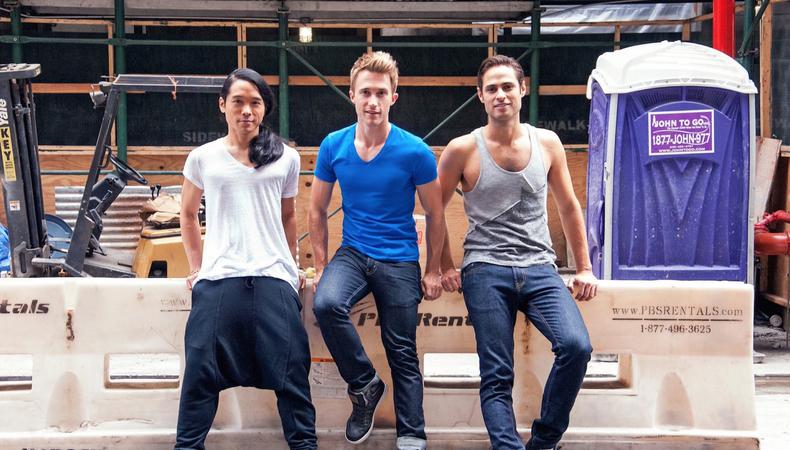 Jon Marcus, a producer on such films as "Boys Don't Cry" and "Hedwig and the Angry Inch," was working on the 2010 Virginia Madsen ABC dramedy "Scoundrels." He was having an argument with ABC's standard and practices department when he realized he didn't want to just talk about breaking the rules, he wanted to actually do it.
"So I literally put my money where my mouth was to see if my cocktail chatter meant anything," Marcus says.
At the time, his friends were passing around a now-defunct blog called the Great Cock Hunt, written by an anonymous gay man about his life in New York City, and Marcus thought it would be perfect for adaptation. "I was thinking of all of the things that you needed for a Web series: Find an underserved niche audience and give them exactly what they want that mass media can't."
Thus "Hunting Season" was born. The series' second, Kickstarter-funded season recently hit Vimeo.
The story follows Alex (Ben Baur), a writer for Gawker who chronicles his sexual dalliances on an anonymous blog, with buddies Tommy (Marc Sinoway) and married TJ (Jake Manabat).
Marcus says he wanted to write and direct after years of producing, but he also wanted to create representations of people not often seen on TV. "After the big burst of 'Queer as Folk' and 'The L Word,' there was disinterest on the part of most broadcasters for gay shows. You couldn't find markets for gay lead characters. There were gay brothers and sisters, and everyone was desexualized and neutered," he says. "I wanted to plant that people still want to see gay people as the protagonists. And I want to show gay people with full sex lives, in the same way straight people have full sex lives."
Marcus acknowledges the landscape for gay characters on TV has changed since the show's first season in 2012, especially with the debut (and recent cancellation) of HBO's "Looking." But that's not a hindrance, Marcus says—if anything, it means he has to focus less on making grand statements and more on fleshing out the characters.
The second season, funded through a $150,000 Kickstarter campaign, brought a couple of functional changes for "Hunting Season," including expanding each episode's running time from about 10 minutes to a more sitcom-length average of around 20 minutes. But the business model has also changed. Rather than screen a censored version for free and an uncensored for purchase, there will be only an uncensored version that viewers can buy for $4.99 or rent for $2.99 per episode. The model is much like Vimeo's other show, "High Maintenance," which will see its next season produced by HBO.
"What's really cool is that there's no such thing as an industry standard. If we're successful, we'll hopefully create a standard," Marcus says. "People are just beginning to become aware of the fact that TV shows cost money. If you want to see something that appeals to you, you have to pay for it. The business models up and down the food chain are changing so rapidly; this is the big experiment to see if we can get people to watch a paid-only model."
Hunting Season - Trailer from The Story Dept on Vimeo.
Like this story? See more of our Now Streaming articles here!