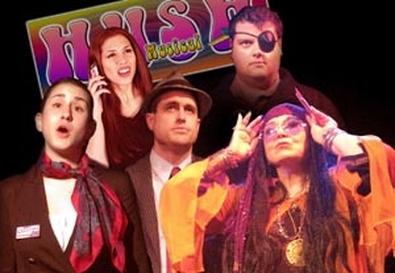 This musical set in an airport terminal is as dull as actually waiting for a flight. Emelise Aleandri's elementary libretto, coupled with Charles Mandracchia's monotonous score, chronicles the shallow troubles of a businessman as he waits in the VIP lounge.
Mandracchia also directs the work, based on Etta Cascini's play "Shhhh!," but the text never moves any kind of action forward. Every song is repetitive, and while a fake Russian hit man and a half-baked meditation guru attempt to create humor (and conflict), the alpha male miraculously finds inner peace before anything bad—or anything at all—happens. There are some pleasing voices, but the only real standout is Madelyn Schwartz as the stewardess, who seems just as aggravated with the passengers as I was with the show.
As "Hush" rambles on about the IRS and the Hudson River plane landing (what does that have to do with anything?), my companion leaned over and asked, "Are we in the right musical?" Sadly, yes.
Presented by Charles Mandracchia, in association with the Frizzi & Lazzi Theatre Company, as part of the New York International Fringe Festival at Le Poisson Rouge, 158 Bleecker St., NYC. Aug. 13–25. Remaining performances: Tue., Aug. 16, 7 p.m.; Tue., Aug. 23, 5 p.m.; Wed., Aug. 24, 7 p.m.; Thu., Aug. 25, 6:30 p.m. (866) 468-7619 or www.fringenyc.org.