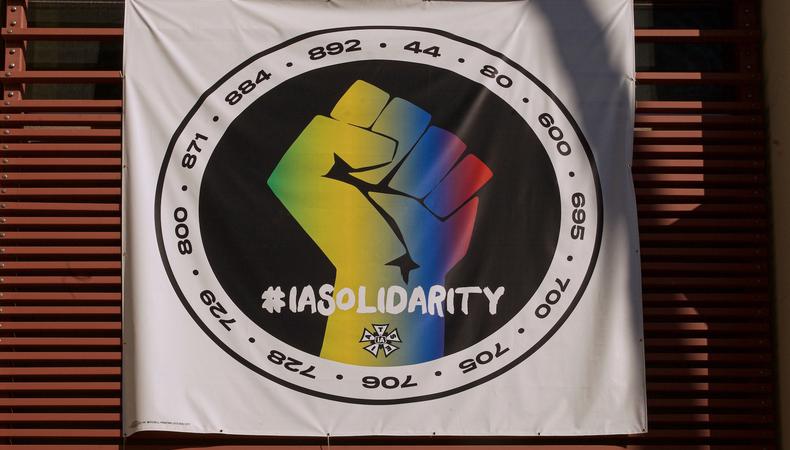 Earlier this month, IATSE members voted to authorize a strike against Hollywood if a deal was not reached with the Alliance of Motion Picture and Television Producers (AMPTP) around higher wages and better working conditions. The strike would have effectively shut down film and television production in the U.S.
On Oct. 16, IATSE and AMPTP reached a tentative deal averting a strike for now, but responses to the specifics have been mixed. Read more below on the developing situation and what might happen next.
What is IATSE?
The International Alliance of Theatrical Stage Employees (IATSE) is a union that represents over 150,000 technicians, such as camera operators, grips, and boom operators; artisans including hair stylists and makeup artists; and other craftspeople in the entertainment industry across live theater, motion picture and television production, broadcast, and trade shows in the United States and Canada.
IATSE is divided into 360 Locals in the U.S. and Canada, which are organized by location as well as discipline (for instance, film and television workers are in a separate Local from theater workers). Crucially, each Local can choose which contract it wants to work on with producers, and multiple Locals can negotiate together on one contract in order to increase their bargaining power.
What is AMPTP?
Alliance of Motion Picture and Television Producers (AMPTP) represents film and television studios such as Disney, Warner Bros., Paramount Pictures, Netflix, Apple+, and Amazon. The organization negotiates all contracts between the studios and the various screen unions, among them IATSE and SAG-AFTRA.
Why are IATSE and AMPTP in conflict?
This past summer, IATSE and AMPTP were negotiating two contracts: the Basic Agreement, which affects 40,000 workers represented by 13 West Coast IATSE local unions; and the Area Standards Agreement, which affects 20,000 workers at 23 Locals in various cities in the U.S., such as New York, Georgia, New Mexico, Illinois, and Louisiana.
Talks on both contracts stalled in September, with the biggest issues being pay increases (especially for work on streaming projects), longer rest periods, and shorter working hours. According to IATSE, 14-hour days with no meal breaks were too common in the industry, and crew members were frequently working jobs that lasted the entire workweek and into Saturday.
AMPTP had presented a deal to IATSE that promised "meaningful improvements in rest periods," but it did not fulfill IATSE's demands. Said AMPTP: "While neither party is getting everything it wanted this bargaining cycle, this package recognizes the crucial role IATSE crew members play as we continue to move our industry forward and provide employment for thousands of employees who work on productions."
In response to the lack of forward momentum and dissatisfaction around the contracts, IATSE leadership requested membership authorization to strike, which members voted for—with an overwhelming 99% in favor. IATSE and AMPTP reentered negotiations in October. On Oct. 13, IATSE announced that unless a deal was reached, the union would go on strike on Oct. 18. Then, at the 11th hour on Oct. 16, IATSE and AMPTP announced they had reached a deal for the Basic Agreement.
What are the terms of the IATSE + AMPTP deal?
The details are still being finalized and drafted into a contract, but according to IATSE, the deal includes "daily rest periods of 10 hours, without exclusions," "weekend rest periods of 54 hours," and "improved wages and working conditions for streaming."
IATSE president Matthew Loeb praised the deal: "This is a Hollywood ending," he said in a statement. "We went toe-to-toe with some of the richest and most powerful entertainment and tech companies in the world, and we have now reached an agreement with the AMPTP that meets our members' needs."
How has IATSE membership responded to the deal?
Reactions to the potential deal have been mixed. Some members have been critical of the details released so far, claiming the agreement does not go far enough. In an Instagram post from the account IATSE Stories, where IATSE members have been sharing their stories of unsafe working conditions, one poster wrote: "A 54-hour weekend plus 10-hour turnaround four nights a week comes out to 94 hours for sleep and ourselves. This leaves [us with] 74-hour work weeks… Why would we want that?" ("Turnaround" is the union term for the time when crews leave for the day before returning for the next. Previously, many crew members would leave work only to have to return eight or nine hours later.)
In addition, the deal included an increase in minimum rates for the lowest-paid members of IATSE, from $16 to $23.50 an hour, with an eventual increase to $26 an hour in year three of the contract. According to the Hollywood Reporter, that is not good enough for some members, who advocated for at least $25 an hour to start.
How has the rest of Hollywood responded to the deal?
Throughout the negotiation process, many celebrities and industry leaders have expressed support for IATSE, including the other Hollywood unions.
After the news of the deal was made public, SAG-AFTRA released a statement from national executive director Duncan Crabtree-Ireland, who said, "We are pleased and relieved that the two sides were able to reach an agreement and that a strike was averted, but there was always more at stake here than an industry shutdown. All workers deserve safe working conditions and fair wages, and this outcome once again demonstrates the power of unity. We are proud of what our fellow union members have achieved."
Yet some were skeptical. Said screenwriter Adam McKay ("Don't Look Up," "The Big Short") on Twitter: "I deleted my tweet congratulating IATSE on their new deal. I posted it an hour after the news broke and am now aware there were concessions that weren't so great. Yet another example of the golden rule: 'Take a beat before reacting.' "
What happens next? Can there still be a strike?
A strike will only happen if IATSE leaders authorize it. For now, members are continuing to work under the old contracts until the new one is ratified, but a number of questions are still up in the air.
For one, members of the 13 West Coast Locals still need to approve the new deal. After the full details of the contract are released to the membership, which may take weeks, the members of each Local can vote on whether to ratify the contract. A Change.org petition has been created to encourage members to vote no on the contract and force IATSE and AMPTP back to the negotiating table. At press time, it has received well over 2,000 signatures. Says the petition: "We want our leaders back at the table and [to] put a strike back on the table. The time for change is now. We do not accept this contract."
Said IATSE in response: "To accept or reject a contract before it has even been written is a disservice to our sisters, brothers, and kin waiting for the details to make an educated decision. We encourage members to attend their Local's town halls, ask questions, and engage in the democratic process."
Another piece of the puzzle is the Area Standards Agreement. There is not yet a new agreement for IATSE members working outside of Los Angeles. According to Huffington Post reporter Dave Jamieson, "The tentative agreement is only for the Hollywood 'basic' contract; folks outside L.A. under the 'Area Standards' contract have no deal yet, but their strike is off the table for now. One local rep tells me: 'Our members are frustrated.' "
What happens if IATSE strikes?
A strike would shut down major film and television production in the U.S., because studios and streamers almost exclusively hire union members. If crew members (also known as "below-the-line" workers) walk off the job, production would grind to a halt. And it seems IATSE members are still game for a strike.
The IATSE Stories Instagram account contains comments from people who are unhappy with the deal: "Loeb should not have accepted this deal. It should have gone to strike," and, "So upsetting that they took the deal. We should be on strike right now, hurting the pockets of the studios; but instead, we continue to work making content with basically the same agreement…. WTF."