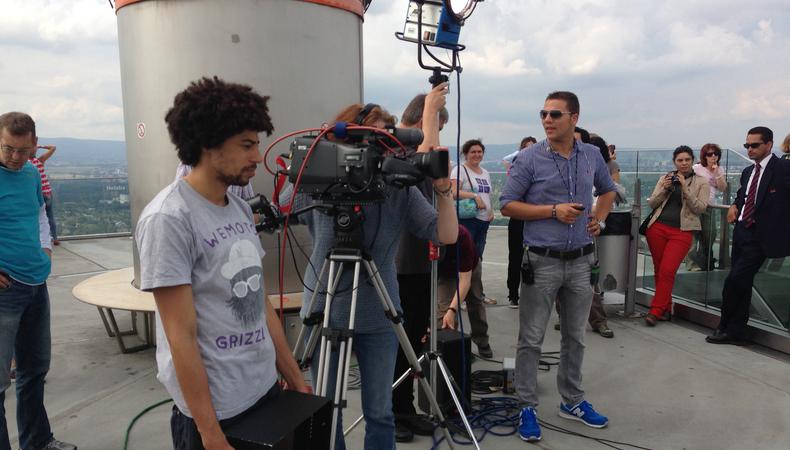 Leaders of the International Alliance of Theatrical Stage Employees (IATSE) have called on their membership to authorize a historic strike after several months of negotiations stalled with the Alliance of Motion Picture and Television Producers.
In an email to its membership on Sept. 20, IATSE leadership said, "Today, the AMPTP informed the IATSE that they do not intend to respond to our comprehensive package proposal presented to them over a week ago. This failure to continue negotiating can only be interpreted one way. They simply will not address the core issues we have repeatedly advocated for from the beginning. As a result, we will now proceed with a nationwide strike authorization vote to demonstrate our commitment to achieving the change that is long overdue in this industry."
The union had been in negotiations on a new three-year contract for its 13 West Coast Studio Locals to improve wages, contributions to health and pension plans, policies around breaks, and residuals from streamers that are comparable to other distribution channels.
Though details of the negotiations have been kept under wraps, representatives from both sides have released statements.
Said IATSE to Backstage, "It is incomprehensible that the AMPTP, an ensemble that includes media mega-corporations collectively worth trillions of dollars, claims it cannot provide behind-the-scenes crews with basic human necessities like adequate sleep, meal breaks, and living wages. Worse, management does not appear to even recognize our core issues as problems that exist in the first place."
The union recently sent a message to members highlighting over 50 reports of workdays running 14 hours or more that were received between January and July 2021.
AMPTP released a statement detailing its proposal to IATSE, which included an "​​economic package for all IATSE members consistent with agreements reached with other unions before the pandemic"; an average 18% pay increase on "certain types of new media productions"; "meaningful improvements in rest periods"; a 10–19% pay increase for assistant production office coordinators, art department coordinators, writers' room assistants, and script coordinators; and an employer contribution of $400 million to cover the deficit in the IATSE Pension and Health Plan.
"While neither party is getting everything it wanted this bargaining cycle, this package recognizes the crucial role IATSE crew members play as we continue to move our industry forward and provide employment for thousands of employees who work on productions," said AMPTP in a statement. "In choosing to leave the bargaining table to seek a strike authorization vote, the IATSE leadership walked away from a generous, comprehensive package."
In order to authorize a strike, 75% of the voting membership in each Local would have to vote yes. A majority vote doesn't guarantee a strike, but rather puts the option on the table, giving IATSE additional leverage in contract negotiations.
If IATSE leadership calls for a strike, the membership of those 13 West Coast Locals will stage an on-the-job walkout. It will be the first time IATSE has gone on strike for film and television production.
Members will be able to vote beginning Oct. 1, and the results of the vote will be announced on Oct. 4.
IATSE represents over 150,000 technicians, such as camera operators, grips, and boom operators; artisans including hair stylists and makeup artists; and other craftspersons in the entertainment industry across live theater, motion picture and television production, broadcast, and trade shows in the United States and Canada.
[UPDATE: Oct. 1, 2021]
In addition to the 13 West Coast Locals, IATSE has also called for a strike authorization for 23 locals outside of California. The 23 locals work on a separate contract that is negotiated with AMPTP. Negotiations for that contract have also stalled.
If IATSE strikes, it will effectively shut down film and TV production around the country.
The union has garnered support from actors such as SAG-AFTRA president Fran Drescher, Bradley Whitford, Kerry Washington, and Mindy Kaling. Jane Fonda and Lily Tomlin posed on the set of "Grace and Frankie" wearing IATSE solidarity t-shirts. The major Hollywood unions have also released a statement announcing that they "stand in solidarity with our IATSE brothers, sisters, and kin."
"The basic quality of life and living wage rights they're fighting for in their negotiations are the issues that impact all of us who work on sets and productions," said the leaders of SAG-AFTRA DGA, Teamsters, and WGAE.
For those looking for more context behind why IATSE might go on strike, the Instagram account @IA_stories has posted first-person accounts from IATSE members and their families. One sister of an IATSE member spoke on how her brother crashed his car after coming home from an overnight work shift that lasted over 14 hours—a regular occurrence in the industry. IATSE members have called out lack of sleep and breaks as harmful to their health. "Thankfully I still have my brother here with me today but I know people who were less fortunate. We need to do better," said the post.
Looking for remote work? Backstage has got you covered! Click here for auditions you can do from home!