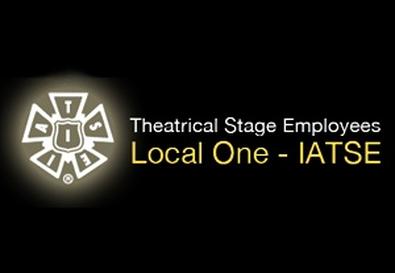 Members of Local One of the
International Alliance of Theatrical Stage Employees (IATSE)
are gathering today near Times Square to protest the use of nonunion lighting and audio technicians on
Spiegelworld's "Empire New York"
tent show. IATSE is calling it the largest stagehand demonstration in the theater district since the Broadway strike of 2007.
Spiegelworld is pitching its tent at 265 W. 45th St. in Manhattan, where "Empire New York" begins previews Tuesday, May 22, for its May 31 opening. "Empire" is a hybrid entertainment show with music, cabaret, circus acts, and more. The labor force is reportedly entirely nonunion.
Hundreds of union stage technicians and supporters were expected to gather on West 45th Street between Broadway and Eighth Avenue today, beginning at 11 a.m.
Local One
president James J. Claffey met with union membership on Friday, May 18, to plan a picket line in front of the West 45th Street tent entrance. According to IATSE, the demonstration is scheduled to continue all day.
"Local One IATSE can't stand by while a nonunion entertainment operation pitches its tent, even temporarily, in the heart of the Broadway theater district, the working home of thousands of entertainment professionals," Claffey said in a statement. "Though the number of Local One IATSE jobs we're talking about are no more than a handful of jobs, we will exercise all our legal rights to ensure these employees have union rights and protections."
The 126-year-old Local One IATSE represents 3,100 stage and studio electricians, set carpenters, sound designers, audio technicians, moving-light operators, riggers, and special effects people in Manhattan, the Bronx, Staten Island, Westchester, and Rockland. Local One members construct, install, maintain, and operate the lighting, sound equipment, scenery, and special effects for Broadway shows; concerts at Radio City Music Hall, Madison Square Garden, and Carnegie Hall; productions at The Metropolitan Opera and throughout Lincoln Center; and entertainment and news broadcasts from CBS, NBC, ABC, FOX, and PBS.
UPDATE:
Actors' Equity Association has offered its support of the protest in a prepared statement: "Actors' Equity Association urges Foster Mollison Entertainment to bargain in good faith with our sister unions, including AGVA and Local One IATSE, to achieve a fair and equitable contract for Spiegelworld 'Empire New York' as it begins its run in the heart of the Broadway theater district. Actors' Equity firmly believes that our sister unions should be represented at this production."
"We are thrilled to be bringing a circus tent to the heart of midtown, but to be clear: this is not a Broadway show, the tent is not a Broadway house, and we don't charge Broadway prices," "Empire" producers Ross Mollison and David J. Foster said in a statement released May 22. "We look forward to providing fantastic entertainment to New Yorkers this summer in our own unique style."