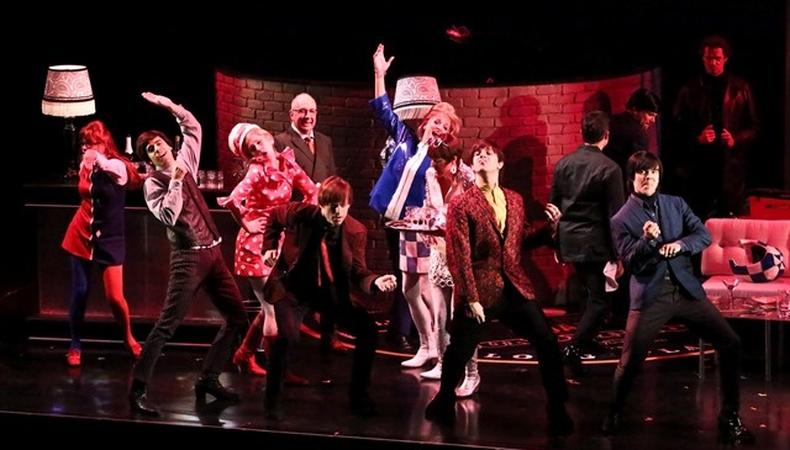 Phyllis Schuringa, artistic associate and casting director at the Geffen Playhouse, took a step back in time to cast the season opener "These Paper Bullets," a fun throwback to the '60s take-off of Shakespeare's "Much Ado About Nothing." The show originally opened at the Yale Repertory and will continue on to the Atlantic Theater Company after its Geffen run. The show was initially intended to as a complete package, but some actors became unavailable, giving Schuringa the chance to be involved in casting a couple roles in addition to all the understudies.
"It was kind of an all hands on deck process," she says. Working with Telsey + Company in New York, Schuringa and team cast Nicole Parker to play the lead character Beatrice (echoing Beatrice in "Much Ado About Nothing"). The role of Leo Messina had been cast, but there was a last minute drop-out, so Schuringa suggested Nick Ullet. Ullet was well-known to the Geffen and the LA theater community having been cast at the Geffen before, but Schuringa says she wasn't sure if anyone in New York would be aware of him, so she sent a clip she found on YouTube with her suggestion. "Everybody at the Atlantic loved that little clip and that's how he got cast."
Schuringa's biggest task may have been casting the understudies (Katie Amess, Georgia Dolenz, Joby Earle, David Alan Novak, Sam Trueman, and Matt Wool). With a company of 15 there were logistical considerations. "It was a patchwork of trying to fit together how to cover these parts with the fewest number of actors and that was like putting together a puzzle." Add to that the musical aspect of the auditions and Schuringa had a fun challenge on her hands.
The four leads make up the band "The Quartos" and perform live, so Schuringa was looking for actors who could play the drum or guitar and sing. Director Jackson Gay was able to attend the one day of auditions to help assess the musicality of the actors. They also put the actors on tape for the musical director Julie McBride, but Schuringa says, "we ended up not needing that tape because the ones that came in and did a great job, it was really, really obvious that they were good for those roles." For the audition, actors sang and played one of their favorite Beatles songs. "Watching them, hearing their Beatles music was great because musicians know that. It wasn't like they had to learn a new song; it was like they could show us something that they already knew. It makes a real joyful [audition]; they could show us their take on the Beatles music."
What Schuringa really looked for were actors with a fun and imaginative take on the material. "Just the ability to be kooky and crazy and to want to improvise with the material…With serious musicianship." The most imaginative actors were the ones that got cast. Schuringa cites Georgia Dolenz (daughter of Monkees member Micky Dolenz), who auditioned for the Beatrice and Higgy understudy as an example of the imaginative actors she saw. Dolenz had auditioned for things at the Geffen before, but it was never the right part. "I finally figured out what she was really, really good at and she's really good at this improvisational humor and playing that period which was really, really fun to me. I mean, that's one of my favorite things that happened. We found a job for Georgia Dolenz in this piece."
Check out this promo clip from the Yale Repertory production:
The show runs Sept. 8-Oct. 18 at the Geffen Playhouse.
Pictured: Frida (Kate Blumberg), Claude (Damon Daunno), Higgy (Ariana Venturi), Leo (Nick Ullett), Ben (Justin Kirk), Ulcie (Keira Naughton), Beatrice (Nicole Parker), Balth (Lucas Papaelias), Pedro (James Barry), and Don Best (Adam O'Byrne).
Inspired by this post? Check out our Los Angeles audition listings!