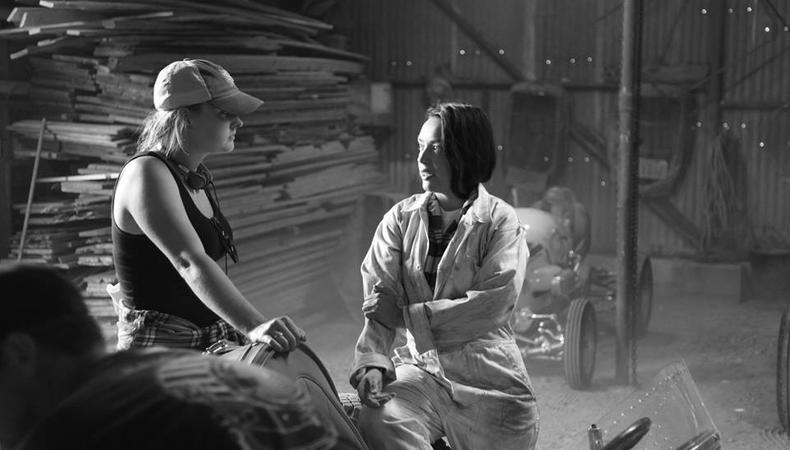 Brenna Malloy's great grandfather had a dirt track in Southern California, so racing was always a passion of hers. Working with Ian Hock, the Chapman University student filmmaker wrote the 2016 Student Academy Award-winning short "Rocket." Set in the 1950s, the film tells the story of passing the love of racing down through the generations. Centering on the emotional journey of Annie Pankratz, the film's casting was crucial. "If you don't have the right person off the bat, you should constantly be on the lookout. It is never worth it to settle. I always have to believe that the actor genuinely wants the role, but furthermore, that the role was meant for him or her," says casting director Missy Hauser.
Malloy already had an idea of an actor to play Annie. "What I was looking for in the role of Annie first and foremost was someone who understood my take on the character. Lizzie Clarke was a godsend and there is no one else I could possibly imagine playing this role," says Malloy. "When I first saw Lizzie's audition tape, I could tell right away that she bled the confidence and pain of Annie's character; she was 100% exactly what we were looking for. She truly transforms herself into her roles," Hauser adds.
Casting Annie's younger counterpart was not as easy. They wanted to find a physically believable actor who had a lot of depth—a challenging order when casting a 10-year-old. "[Lexi Sullivan] was very comfortable in her own skin, understood how to act on film, and proved to really be emotionally open," says Hauser.
While Malloy has learned she needs to come into casting with a specific vision of what she's looking for, she's also learned that it's important to stay open to someone bringing something completely different. Hauser agrees, "While it is important to do your research before stepping into the room, such as what type of physical appearance you are subconsciously hoping for or the inflections and execution of the dialogue that you are listening for, it is critical to keep an open mind. Casting should never be forced." Cameron Diskin was not what they'd envisioned for Weston Hunt, but Malloy says she found that the levity he brought to the role counterbalanced Annie's character. "I knew we stumbled upon someone better than what I originally imagined," Malloy says. For the supporting role of Grace, Malloy had worked with Lacey Hannan before and thought she would be a good fit. "Right away we knew she was perfect for it and needed to look no further," Hauser says.
To bring to life the 1950s Americana vibe, Hauser and Malloy needed non-speaking background performers with the right look. So Hauser says hairstyles, facial hair design, and the absence of piercings played into their decisions. Two of the extras, Hock and Forest Hostetter, were actually part of the creative team.
Malloy didn't let the challenges of the racing stunts hold her back from the story she wanted to tell. She used stunt performers led by stunt coordinator Jennifer Caputo. "The actors were in the cars being pulled around the track at high speeds, but the superb stunt drivers we had did all the driving." Hauser says they let actors know prior to the audition that the project would be "gritty and adventurous," so they could gauge each actor's reaction and make sure the actor was open and fully committed to the role.
"Student filmmaking very rarely showcases great performances. Bad performances most of the time lead to bad films," says Malloy. In addition to casting, knowing how to work with the actors ultimately cast is key. "I love when actors take ownership in the role and make it specifically theirs, but I need for them to be able to take direction and understand right off the bat how their character fits into the overall story…It's all about finding that happy medium and sensing how each actor works. Studying the craft of acting is one of my most useful tools as a director," she says.
Pictured: Brenna Malloy and Lizzie Clarke on the set of "Rocket"
Inspired by this post? Check out our Los Angeles audition listings!